Justified's Erica Tazel Thinks Rachel Is A Mirror Of The Real-Life Marshal Service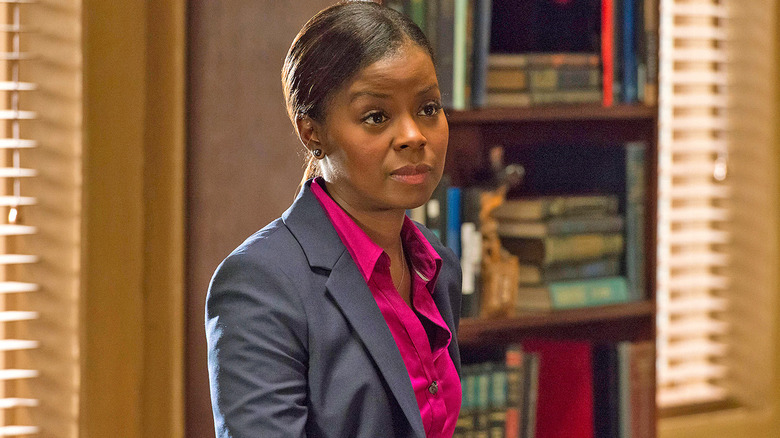 Prashant Gupta/FX
"Justified's" Erica Tazel spent the last two decades amassing an impressive resume of television work, but her most prolific stint came portraying Deputy U.S. Marshal Rachel Brooks during all six seasons of "Justified." Numerous talented performers worked on the series, but it might come as a shock to fans that Tazel was the only actor of color to appear on the show in a lengthy and deep-rooted capacity. And Tazel believes her character reflects a harsh reality that is representative of the real Marshal service.
"In a way it's a mirrored experience, what Rachel goes through in her job and what I do on the show," Tazel said in an interview with Vanity Fair. The actor was responding to a question that inferred the Western is largely a genre made up of Caucasian men. "I think we can count on maybe two hands with some fingers missing the number of female U.S. Marshals we currently have, and then when you look at color, it's even less."
According to an interview with former U.S. Marshal Robert Moore in 2007 (via The Saint Louis American), a total of 57 Black Marshals have served since the time of George Washington and the Judiciary Act of 1789. And as is the case with the fictional character Tazel portrayed in "Justified," the real-life Flora Gant has the distinction of being the only female African-American to serve as a U.S. Marshal.
Art imitating life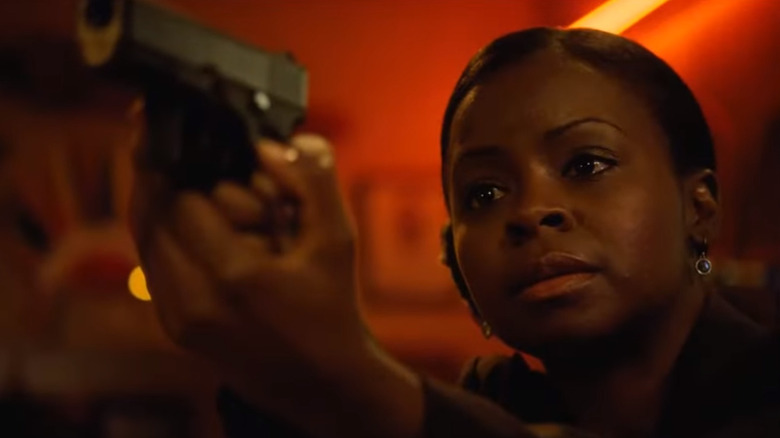 FX/YouTube
Deputy Marshal Brooks (Tazel) first appeared in Season 1, Episode 1, "Fire in the Hole." True, the actor is the only performer of color to significantly appear in the series, but Mykelti Williamson made the most of his recurring role, Ellstin Limehouse, once he showed up in Season 3. And Jean Baptiste (Edi Gathegi) made some noise during his four episodes in Season 5. So, Tazel's thoughts on Rachel mirroring the real-life Marshal service certainly seem justified.
"It's possible that there may have been another woman, but she was probably the only woman of color, maybe even person of color," Tazel said of Rachel's training classes in her interview with Vanity Fair. "Marshals also don't get to choose where they're assigned." Tazel went on to tell the magazine that a "Justified" technical adviser revealed that a breakdown existed that reflected the show's casting needs from the different offices on the production.
"Be it a Japanese speaker, a Latino woman, someone with a particular weapons training, etc. And if you fit that bill, you're sent to that office," Tazel said in the same interview. "So, there's something that Rachel had that got her sent to Lexington. So, you buckle up, you do the work, you get to know the players and you play. I think Rachel has done a phenomenal job at that." Brooks may have been the only person of color in "Justified's" version of the Marshal's office, but she eventually rose through the ranks to become a leader.