Ranking Every Season Of Justified Worst To First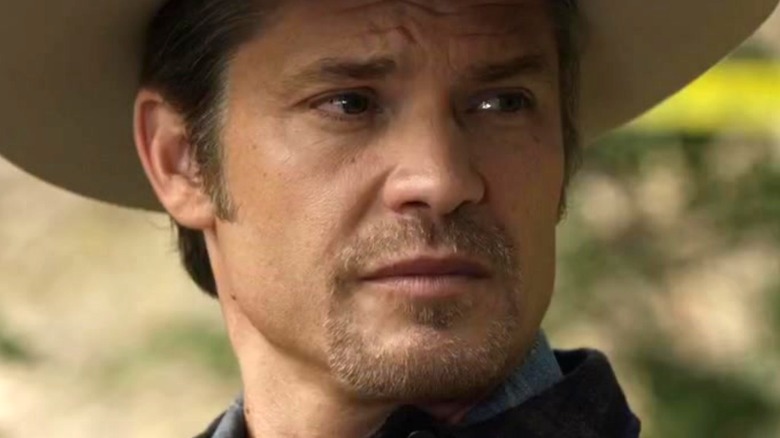 20th Television
Celebrated crime novelist Elmore Leonard's work has been adapted to screens big and small and produced hits that include "3:10 to Yuma" and Quentin Tarantino's "Jackie Brown." However, in 2010, one standout Leonard character would come to the small screen to lead a series on FX that the author himself would call it the best on-screen adaptation of any of his works: Deputy U.S. Marshal Raylan Givens.
Led by Timothy Olyphant, who had previously dazzled audiences for three seasons as a wild Western lawman on HBO's "Deadwood," the FX series was an instant hit. It didn't take long for the series to earn critical praise for known for its talented ensemble cast, thrilling action, high tension, and impeccable neo-noir crime stories. Centered on the maverick marshal, the series chronicles Givens' attempts at redemption after returning home to a small coal-mining town in Harlan County, Kentucky, where he reunites with his estranged family and gets entangled in the criminal activity of one-time friend Boyd Crowder (Walton Goggins).
Across six spectacular seasons, audiences watched as Givens navigated the surprisingly complex world of Harlan County, where the ordinary rules do not apply. Each season offered up a new diabolical villain and put Givens' sharp-shooting and detective skills to the test. While there are no losers in its run, we've tried to rank each season from "worst" to best. We can't blame you if you'd order them differently, though, as each year could easily snag the number one position. Which one tops our list, though? Scroll on to find out.
A murder of Crowes came to Harlan in Season 5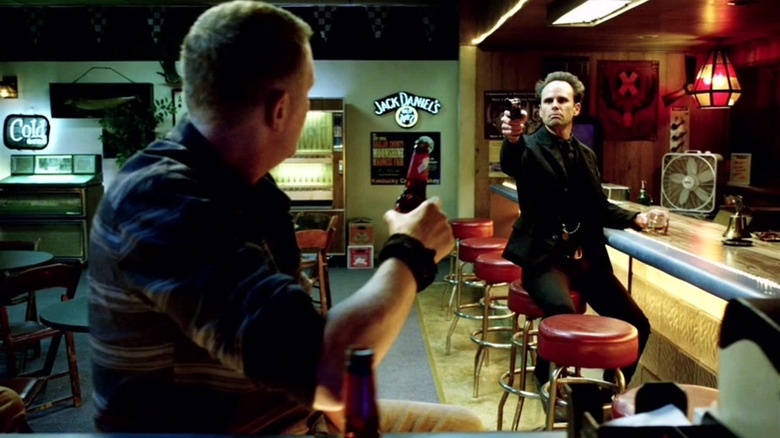 20th Television
A new enemy comes to Harlan County to make trouble in Season 5, with recurring guest star Michael Rapaport joining the series as a relative to Dewey Crowe (Damon Herriman), a bumbling neo-Nazi. When Dewey strikes it rich after a lawsuit against the city, his cousin Daryl along with the rest of his misfit family arrive to take advantage. Their first target is none other than local gangster Boyd Crowder, whose attempt to take over the drug trade following the crumbling of the Detroit mafia in Harlan has proven a challenge. 
Along with this new gaggle of Floridian gator-poachers arrives plenty of family drama, with Daryl's lawyer sister Wendy and her troubled little "brother" Kendall winding up on the wrong side of the law. While Boyd and the Crowe's battle it out, Ava Crowder finds herself in prison and must toughen up to stay alive while Wynn Duffy (Jere Burns) teams up with former Dixie Mafia boss Katherine Hale (Mary Steenburgen) to enact his own agenda. 
Despite the coming war in Harlan, Raylan is sidetracked with his own problems as District Attorney David Vasquez (Rick Gomez) investigates his suspected involvement in the murder of a mob enforcer at the end of Season 4. Though Daryl Crowe and his kind couldn't live up to villains from previous seasons, there are still plenty of high-stakes thrills, suspense, and blood-pumping action in Season 5. Big-name guest stars like Mary Steenburgen, Michael Rapaport, and Alicia Witt bring their A-game to help prop up another fine season. 
Season 1 exploded out of the barrel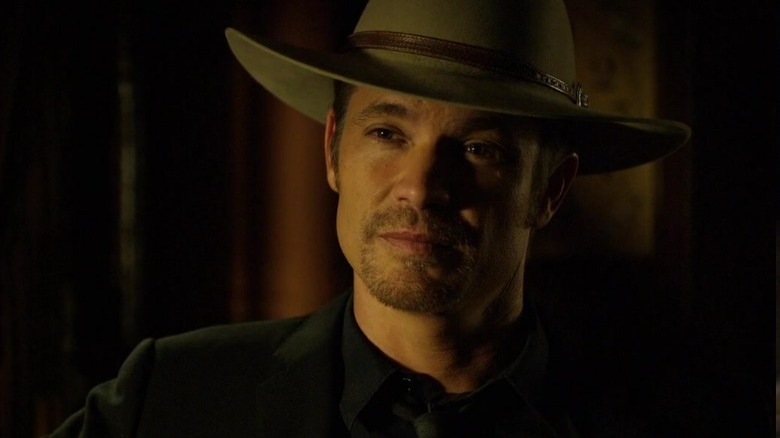 20th Television
Season 1 of "Justified" debuted in 2010 to universal acclaim, with much of the attention centered on the star performances of its standout leads, Timothy Olyphant and Walton Goggin. Its debut episode, "Fire in the Hole," was based on the short story by Elmore Leonard that formed the basis for the series, and it remains one of the best episodes of the entire series.
Early standalone episodes set up Raylan as a quick-drawing lawman, a man with a chip on his shoulder who's never afraid to bend the rules if it means getting justice done. The story sees him re-assigned after a shooting in Miami and arriving back in his hometown of Kentucky, only to find his old flame Ava (Joelle Carter) married to drug runner Boyd Crowder. After putting Boyd in the hospital during a climactic confrontation in the premiere, Raylan discovers that Boyd's drug lord father Bo (M.C. Gainey) has connections to both the mafia in Miami and his father Arlo (Raymond J. Barry), making things more personal.
The season's "case of the week" format dissolved by the end of the season, however, and by the pulse-pounding finale, Season 1 of "Justified" had established itself as one of the best new shows on the dial. Sharply written, with a cast of charismatic characters on both sides of the law, critics lauded the show's debut for its morally grey tone, taut drama, snappy dialog, and deep character work. 
Season 6 was an epic showdown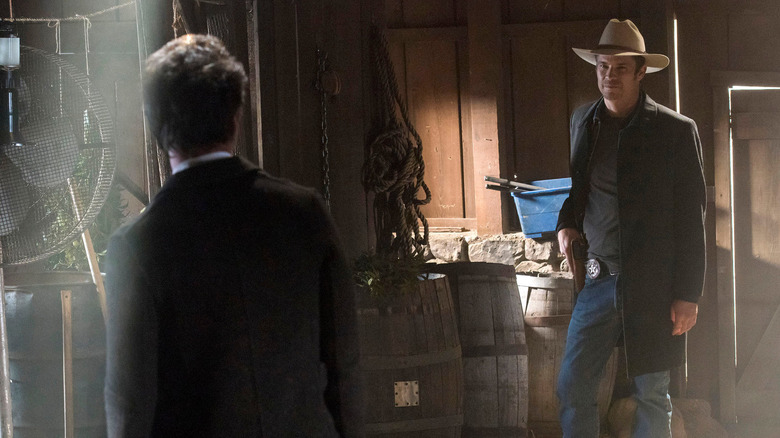 20th Television
For five long seasons it all built to this, and the final year of "Justified" kicks off with the District Attorney's office finally deciding to build a federal case against drug lord Boyd Crowder. Wisely, Marshal Raylan Givens is put in charge of the case, and while Boyd has proven untouchable in the past, Raylan has a secret weapon — his former lover Ava Crowder, who has turned state's witness. 
While Raylan works to put Boyd down, a new major player comes to Harlan county. Producers pulled out all the stops to deliver a big bad worthy of the great villains who came before, and they delivered by casting Hollywood great and Western icon Sam Elliott as Avery Markham, a top Dixie Mafia boss and former Kentucky gangster. Markham returns to Harlan County to join his old flame Katherine Hale and her partner Wynn Duffy, who brings with him steely-eyed enforcer Ty Walker (Garret Dillahunt) and sharp-shooting gunman Boon (Jonathan Tucker).
Back in his old haunt, Markham makes a play for Harlan's marijuana business, but to do it he'll have to take down Boyd Crowder's gang, which puts him in the crosshairs of Raylan. Season 6 will have you on the edge of your seat as Raylan is pitted against his old nemesis Boyd one last time and faces off with cocksure quick-draw cowboy Boon, the first wild gunman who can truly give him a run for his money. An absolute show-stopper in every sense of the term, Season 6 capped off the series with aplomb.
Robert Quarles brought brutality in Season 3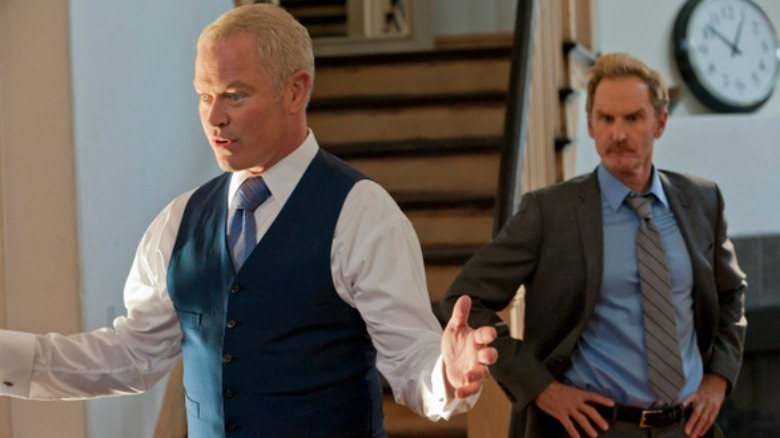 20th Television
The first two years for "Justified" put forth a pair of sinister adversaries for Raylan Givens in the form of local drug lord Bo Crowder and family matriarch Mags Bennett. But neither could prepare him — or viewers — for the pure viciousness of Season 3's baddie, Robert Quarles (Neal McDonough) — a sadistic, sociopathic mafia man from Detroit. Quarles comes to town and links up with local mobster Wynn Duffy in an attempt to take over the drug trade in Harlan County and impress his bosses back home after a falling out with kingpin Theo Tonin. 
Even though there's a new big bad in town, Boyd Crowder is still causing trouble, as his deadly rivalry with surviving Bennett brother Dickie (Jeremy Davies) continues to escalate, complicated by the arrival of the Detroit mafia. As Dickie allies himself with the outlaws in Noble's Holler — led by the deceptively ruthless Ellstin Limehouse (Mykelti Williamson) — Boyd gets help from Sheriff Parlow (Jim Beaver), a local he helps get elected to his new position. 
More than just a dangerous new foe, the presence of McDonough as Robert Quarles helped humanize Boyd Crowder and show that there were villains out there who were even worse. An appearance by Adam Arkin and increased roles for Givens' supporting cast of marshals helped elevate the series to new levels of suspense and drama as the big city mafia brought death and destruction to Kentucky. Debuting with the chilling season premiere "The Gunfighter" and capping off with the shocking finale "Slaughterhouse," Season 3 featured some of the most stunning twists in the series.
Season 4's mystery brought plenty of surprises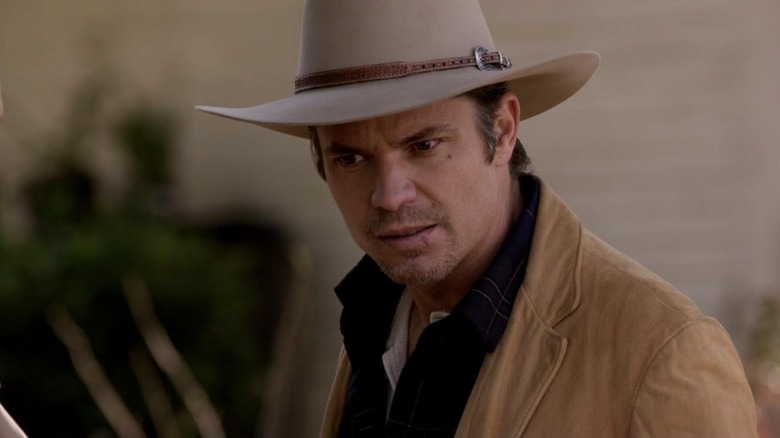 20th Television
"Justified" wasn't usually the kind of show to intrigue audiences with mystery, instead focusing on compelling crime stories punctuated by nail-biting suspense and guns-blazing action. Still, in Season 4 the show told an old-school story that brought a pulp flavor to the show that stands out among other seasons in the series. The story begins with a flashback to an unsolved mystery that shows a major stash of cocaine falling from the sky — accompanied by a man who seemingly died jumping from a plane when his parachute failed to open.
Thirty years later, it's revealed that the man who fell to his death was a patsy who died to cover the tracks of Drew Thompson, a mob informant who is discovered to still be alive and under a new name. With Thompson's identity unknown, every crook in Harlan is suddenly gunning for him, including Raylan's father Arlo, Boyd Crowder, and Wynn Duffy. To hold them all off and get to Thompson first, the marshals will need all the help they can get, including from the hard-nosed goofball Constable Bob Sweeney (Patton Oswalt) and shady Sheriff Parlow.
Meanwhile, Boyd rekindles his romance with his ex-wife Ava Crowder, who joins him in running his gang. He's also beefed up his ranks with new recruit Colton Rhodes (Ron Eldard), an Iraqi veteran who botches a big assignment. Of course, the star of the show is still Marshal Raylan Givens, who makes a sharp, dark turn in the season finale, leaving audiences to wonder just what kind of lawman he really is.
The Bennetts hit the bullseye in Season 2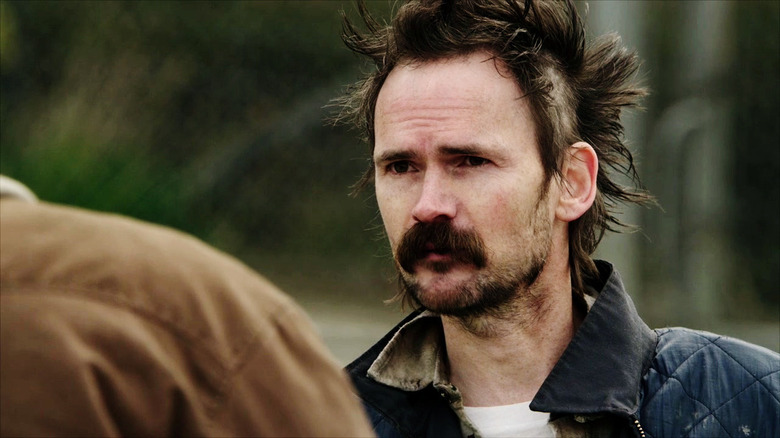 20th Television
After the series' surprising debut wowed critics and riveted audiences, Season 2 of "Justified" came back even stronger. With Bo Crowder off the board after the dramatic Season 1 finale, the series needed a new villain, so in came Margo Martindale as Mags Bennett, a backwoods drug dealer and the leader of a family of miscreants. With their fingers in every pie, they're eager to fill the void left by Bo Crowder's death, much to the chagrin of Boyd, who wants to take his daddy's marijuana business. The season-long story kicked off with the introduction of Loretta (Kaitlyn Dever), a young girl whose father runs afoul of Bennett and pays for it with his life.
Into the family feud rides Raylan Given, whose own kin have a history with the Bennetts. The crooked family proves well protected though, as Sheriff Doyle (Joseph Lyle Taylor) is a member of the clan and able to keep the law away from their criminal activity. However, with Loretta in danger and Boyd's new gang in a power struggle with the Bennetts, the Marshal is more determined than ever.
Meanwhile, Raylan attempts to start a new romance with ex-wife Winona (Natalie Zea), which opens up a dangerous can of worms when ex-boyfriend Gary (William Ragsdale) gets wind of their rekindled affair. Engrossing, adrenaline-pumping, and heartbreaking all at once, Season 2 was truly captivating television. Thanks to powerhouse performances by incoming cast members Jeremy Davies and Martindale — who snagged an Emmy for her efforts — the season proved not just a step up from an already stellar first season but a new high bar that would never be topped.