Marvel's Newest Character Is A Manga And Anime-Inspired Symbiote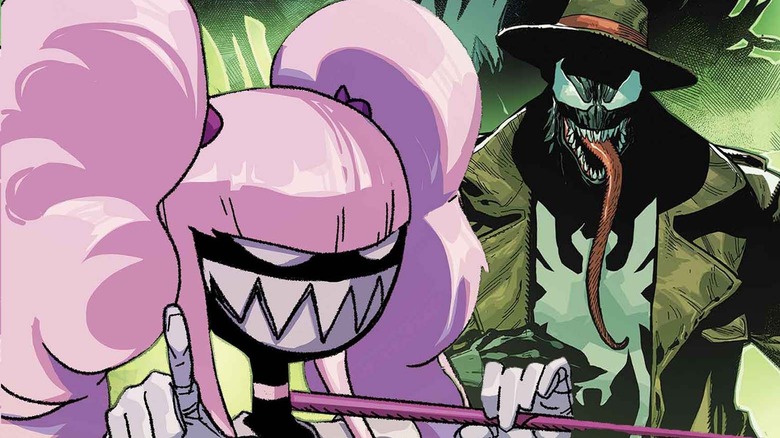 Marvel Comics
*Contains spoilers for "Extreme Venomverse" #4 and 5 from Marvel Comics*
The Venomverse is adding a unique new character to its growing list of symbiotes. In a new look at the upcoming "Summer of Symbiotes," Marvel Comics shared a new manga and anime-inspired symbiote will rise in a brand-new story from writer Alyssa Wong ("Star Wars: Doctor Aphra") and artist Ken Niimura ("I Kill Giants"). Described as a pink-haired "superstar," the cover for "Extreme Venomverse" #3 by Leinil Francis Yu showcases the newest symbiote with a killer smile and a pink bowtie that's not entirely dissimilar to those worn by the iconic heroes of "Sailor Moon." Niimura, known for his work in manga and titles such as the acclaimed digital comic "Umami," brings his distinct style to the character. Additionally, the recently revealed art features a new version of Venom by D.J. Bryant, Venom Noir — who will be the Spider-Verse's Spider-Man: Noir version of the deadly symbiote.
The new hero is the latest venture into manga territory for Marvel Comics.
Marvel has dipped into the world of manga before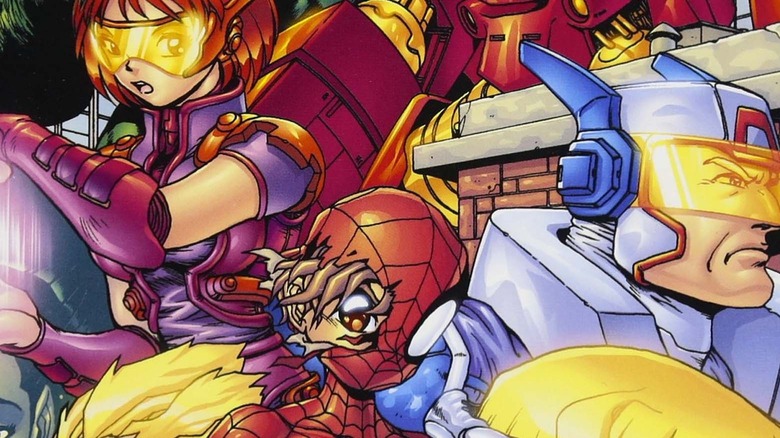 Marvel Comics
Marvel Comics has some experience in the world of manga. In the early 2000s, the publisher introduced the "Marvel Mangaverse," introducing manga-inspired versions of its most popular heroes and villains. 
In recent years, Marvel Comics has teamed up with Viz Media for a selection of manga, with the most notable title being "Deadpool: Samurai by Sanshiro Kasama and Hikaru Uesugi." The series' first two volumes featured the Merc with a Mouth going to Tokyo and joining the Avengers Samurai Squad. The series sold well, getting English translations in 2022. Viz Media also released "Marvel Meow," which collected a series of digital comics by Nao Fuji, following Captain Marvel's cat Chewie as she got into hilarious and heartwarming situations with different heroes and villains from the Marvel Universe. Viz Media is also rereleasing the 2003 comic "Wolverine: Snikt!" from Tsutomu Nihei in a new deluxe edition, which tells a tale of Wolverine battling against a robotic uprising in an alternate reality.
Additionally, In the Oscar-nominated animated film, "Spider-Man: Into the Spider-Verse," Marvel brought Penni Parker from Earth-14512 to the big screen. While her comic counterpart was inspired by different mech series, the film version took even more inspiration from the manga and anime world in her design and mannerisms.
More symbiotes will be introduced in Extreme Venomverse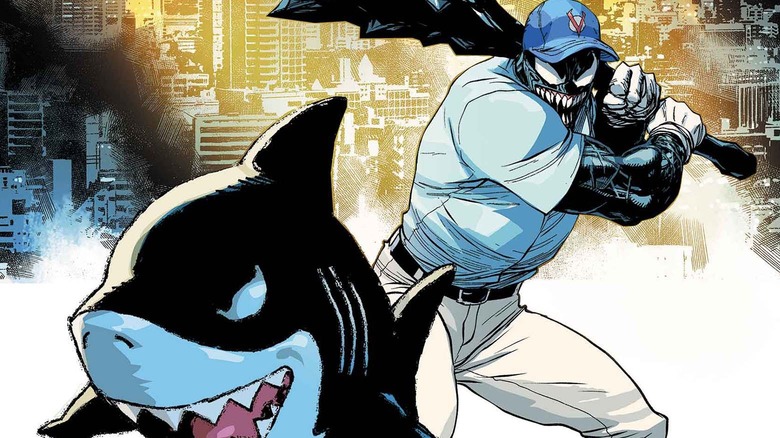 Marvel Comics
The new superstar symbiote and Venom: Noir won't be the only symbiotes starring in their own stories in "Extreme Venomverse" #4 and #5. In issue 4, superstar cover artist and "Demon Days" creator Peach Momoko will introduce a new symbiote plant. Issue 5 will feature the breakout hero, Jeff the Landshark, from "West Coast Avengers" and "Deadpool," getting his own symbiote in a story from Kelly Thompson and Gurihiru. Jordan Blum ("Marvel's M.O.D.O.K.") will pen a story featuring a bat-wielding symbiote who can be seen swinging in the cover of the issue by Leinil Francis Yu (seen above). Lastly, Cody Ziglar ("Miles Morales: Spider-Man") is set to tackle a story featuring a Godzilla-esque symbiote wreaking havoc on the Marvel Universe.
Symbiotes have played an integral role in the Marvel Universe since Spider-Man returned to Earth following "Marvel Super Hero Secret Wars" with his alien black suit. Since then, the mythos behind the symbiotes has constantly been evolving, with the current "Venom" series rewriting the ancient origin of Venom and Eddie Brock. In addition, "Extreme Venomverse" seems to take readers to some of the stranger symbiote corners of the Multiverse — including one where an anime and a manga-inspired hero rises as a terrifying new threat. 
"Extreme Venomverse" #4 from Marvel Comics arrives in comic book stores on July 5, while "Extreme Venomverse" #5 releases on July 19.