The 90 Day Fiance Fight That Ended With A Busted Car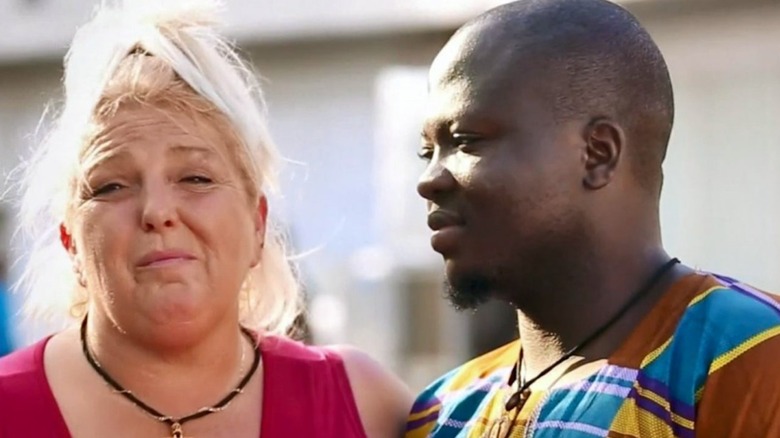 TLC
Anyone who has watched a mere handful of minutes of TLC's "90 Day Fiancé" will be able to tell you that, like many reality shows based on pairing up strangers, most of the entertainment factor comes from the drama. Whether that drama is real, staged for entertainment, or a bit of both, is not always easy to tell. But real or fake, conflict is constantly being sparked between the lovers. Unlike some other shows, "90 Day Fiancé" creates friction by pairing two people who come from completely different cultural backgrounds, one who is American and one who is a foreign citizen seeking a Permanent Resident Card, better known as Green Card, to be able to move legally into the United States. 
Sometimes hearts get broken, and broken hearts can lead to broken property. That's what happened in the case of the contentious lovers Michael Ilesanmi and Angela Deem. In the episode, Angela travels all the way to Michael's home country of Nigeria for a surprise visit. When she's not received with open arms — or even an open front door — Angela takes it upon herself to prompt Michael to come out of the house. How does she do that? She turns her rage on the car that she helped him pay for.
All's fair in love and war
This pairing with a 23-year age gap, like many other couples on "90 Day Fiancé," doesn't seem like an enviably healthy relationship. When Angela arrives at Michael's front door in Nigeria without telling him beforehand and isn't welcomed as she expected, the American woman decides to give Michael an incentive to open the door. "Rene, you see that car?" Angela asks her friend while pointing at said vehicle. "I'm a Nigerian woman married. My car."
Perhaps it's because she considers the car hers that Angela does what she does next. After calling out and knocking on the door Michael remains nowhere to be seen, so Angela begins ripping pieces off the car's hood, yelling, "Tell him I'll break the windows next!"
"Surely there must be easier women for him to scam," wrote u/Ok-Economist8264 on a Reddit post which refers to Angela as "loud, difficult, and disrespectful." It seems to be the overall consensus among viewers online that Michael must've married Angela for the Residence Permit. "His personality is completely different to hers," wrote u/Big_Oil9379, "he's calm and more reasonable and I think he prefers a woman more like him. He just wants the green card."
The fact that it's eventually revealed that Michael cheated on Angela during Season 7 of "90 Day Fiancé: Happily Ever After" seems to support this theory. Mainly due to the infidelity scandal, the couple broke up in early 2023 only to be rumored to have gotten back together not two months later. Whether they will continue to last and Michael will get his green card remains to be seen.