Where Is Angela From 90 Day Fiance Now?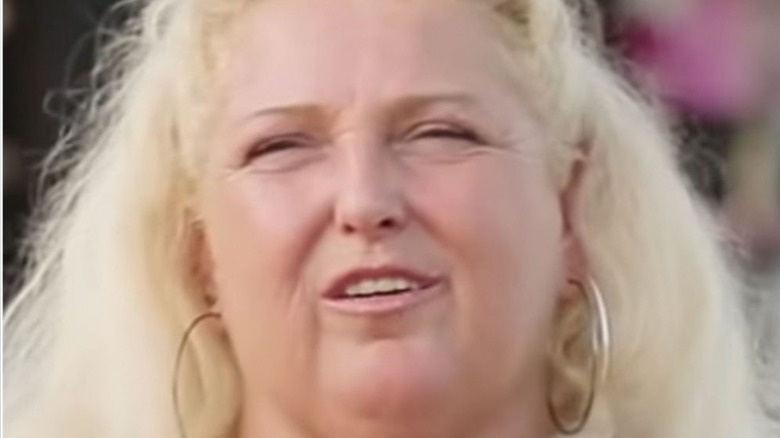 TLC
Fans of "90 Day Fiancé" first met Angela Deem during Season 2 of "90 Day Fiancé: Before the 90 Days." The 52-year-old fell in love with 29-year-old Lagos resident Michael Illesanmi. Angela, born and raised in Georgia, traveled to Nigeria multiple times to solidify her relationship with Michael as the two decided whether or not to marry. Their rocky relationship and Angela's outlandish attitude proved to be one of the show's most entertaining storylines.
The couple jumped shows to "90 Day Fiancé" for Season 7, when it was revealed that Michael was denied his K-1 visa. Despite the rejection, Michael and Angela decided to make their love official in Nigeria. Their January 2020 wedding was captured on the reality show. To date, the franchise continues to document their long distance relationship across their entire collection of shows, including "90 Day Fiancé: Happily Ever After?" "90 Day: Bares All," and "90 Day Pillow Talk." The current season of "Happily Ever After?" has Angela preparing for some major life-changing decisions, but the episodes were filmed last year. If you're out of the loop, you might not recognize Angela after seeing what she's recently done.
Angela got a total makeover
In March 2021, Angela revealed her new self to the world. She appeared in an interview with Us Weekly at nearly half her previous size. The reality TV star underwent three separate surgeries: gastric bypass, liposuction, and a breast reduction, all during 2020. Although this season is currently showing Angela prepping for the surgeries, she's been showing off her new body on Instagram. A recent photo series has the slim Meemaw posing with her four grandkids, who were a motivator for her to decide on the procedures. "I've always wanted to enhance my look for Michael because of his age," she says in the Us interview, "but this journey, you know, people need to know I felt like [I would have] died without the weight-loss surgery."
The process was no walk in the park for Deem, now 55. She told the outlet that the recovery, which took 3 months, "[were] the hardest months of [my] life," and she's made a real change to her eating habits. "It's not a diet, it's a lifestyle," she said. Screenrant recently reported that fans are furious with Angela for refusing to quit smoking for her procedures, but Angela made no mention of smoking in her recent interviews. Only new episodes will tell if the Georgia native has been able to kick her 45-year-old habit. "90 Day Fiancé: Happily Ever After?" is currently airing on TLC Sundays at 8PM and on the TLC Go App.