The Conners: Darlene's Desperation In S5 E19 Has Fans Cringing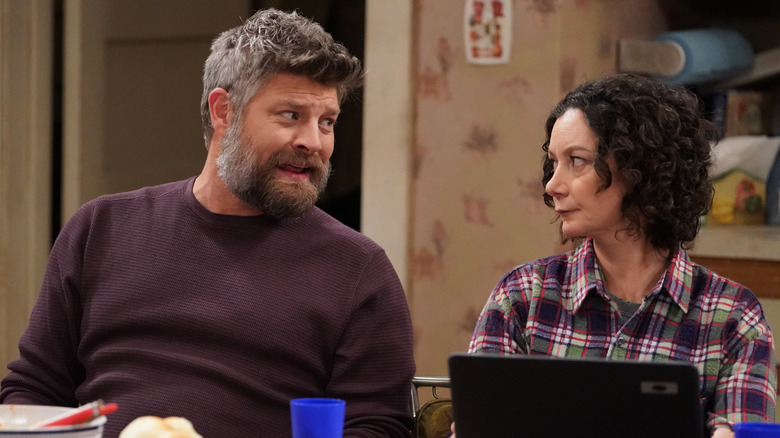 Eric McCandless/ABC
Contains spoilers for "The Conners" Season 5, Episode 19 — "Text Thread and the Marital Bed"
"The Conners" isn't often a sensual show, but when they tackle romance, they're often spot-on. Unfortunately for Darlene Conner (Sara Gilbert) in "Text Thread and the Marital Bed," romance is the one thing she's not getting from her husband, Ben Olinsky (Jay R. Ferguson), and the show's fans definitely weren't feeling the heat between them this episode. Ben has been spending less and less time at home, and she confesses to her aunt Jackie Harris (Laurie Metcalf) that they haven't made love since they moved into their new house. Jackie encourages Darlene to seduce him, leading her to perform an awkward dance that does not get a rise out of Ben. After he lies to her about being too busy to come home for a promised sex date, Ben admits that the stress of keeping the family financially afloat and the move have both done a number on his libido.
Fans of the program and the couple were less than comfortable with how the show portrayed Ben and Darlene's attempt at rediscovering romance. A few viewers had wise advice for those watching along. "Sometimes people need to accept they've reached the comfortable stage of their relationship, it may not be fun, but it's usually less work than the stage where both feel the need to impress and please," said @XGirlNYC. But most of the audience was far more uncomfortable with how hard Darlene was trying, and how hard Ben and Darlene push to try to bring their marital bed back to life during the episode.
Fans squirmed at Darlene's attempted seduction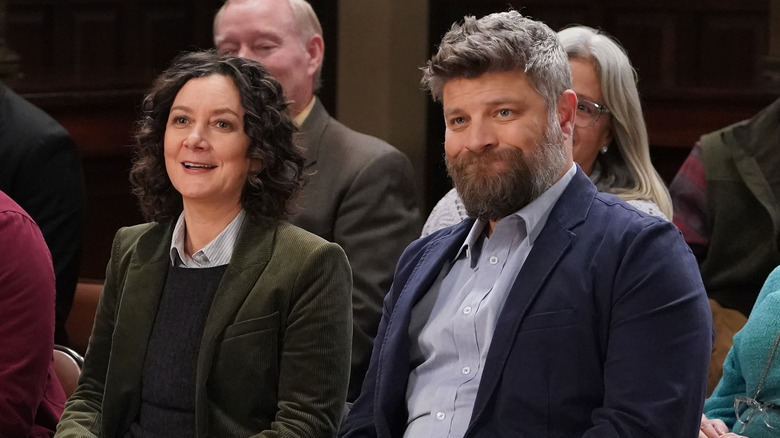 Eric McCandless/ABC
Darlene Conner and Ben Olinsky's romance has always drawn mixed feelings from fans of "The Conners," but Darlene's attempt at seduction fell flat with fans watching along on Twitter. But while most of the show's fans cringed at the moment, they reacted to the scene in completely unique ways.
Some took a gentler, more pleading approach to what they were witnessing. "Darlene don't force it," implored @Music_Is_Me88. They also had a solid compliment for Darlene as she gamboled about trying to appeal to Ben. "Darlene is making a fool out of herself but she looks good in that leopard top," they added. Sometimes compliments and cringing go hand in hand, after all.
And some fans were content to sum everything up with a single sentence. "Darlene is just trying WAY too hard!!!" said @TeamBobbyEwing. 
But if one doesn't try hard for love, what's worth trying hard for at all? At least Ben and Darlene care enough about each other to take the time out of their love life to better benefit their bond and give each other breaks from their stressful lives. Hopefully, their love story will involve less cringing and a whole lot more smiling from viewers at home as the rest of Season 5 plays out.