Law & Order's Angie Harmon Says Sam Waterston Was Her Protector In Their Toxic Workplace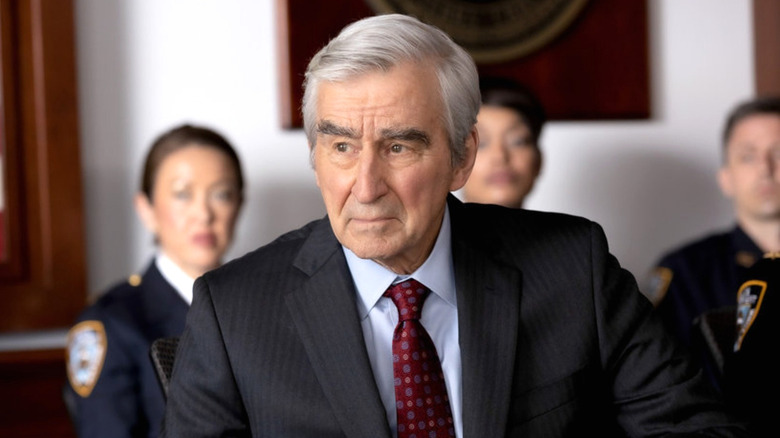 Eric Liebowitz/NBC
"Law & Order" alumna Angie Harmon ("Rizzoli & Isles," "Baywatch Nights," "Women's Murder Club") portrayed Assistant District Attorney Abbie Carmichael when she joined the cast of the hit NBC series in Season 9, Episode 1, "Cherished." Abbie couldn't be a more politically conservative character. She doesn't place much stock in rehabilitating criminals, and Abbie oftentimes finds herself at odds with the rule-breaking Jack McCoy (Sam Waterston). Abbie and Jack might butt heads on the show, but in real life, Harmon was grateful to have a friend and colleague like Waterston watching her back.
"The ['Law & Order'] cast was wonderful, and Sam [Waterston] was always my protector," Harmon said in an exclusive interview with Charlotte Magazine. "But when I first got the job, it was like, 'Welcome to the boys club.'" When Harmon joined "Law & Order" in 1998, the male-dominated roster of actors included the talents of Jerry Orbach, Benjamin Bratt, Steven Hill, and Joe Grifasi.
In fact, the only other female cast member to appear in the "Law & Order" lineup with any regularity was S. Epatha Merkerson, who portrayed Lieutenant Anita Van Buren. Regardless of being one of the only female performers on the show, Harmon acclimated seamlessly when the cast was concerned. And she didn't have to worry about any untoward behavior from the producers with Waterston in her corner.
Waterston came to Harmon's aid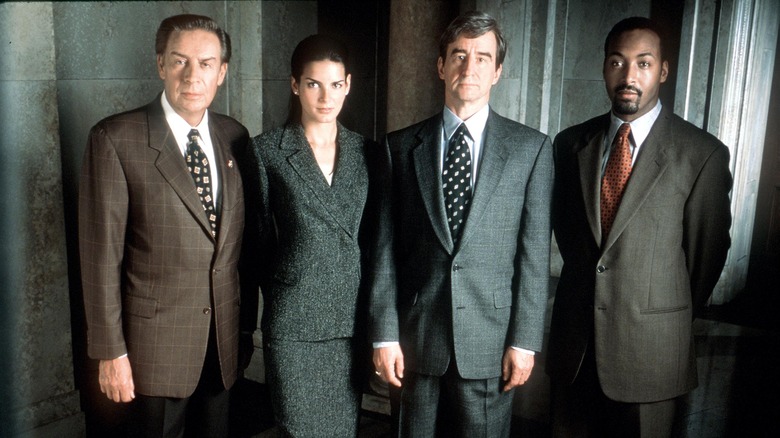 Getty Images
Like Angie Harmon, Sam Waterston arrived late to the "Law & Order" party. Waterston joined the crime drama in Season 5, Episode 1, "Second Opinion," so he did have a head start on his co-star. But even though neither was amongst the original cast members of the series, the two formed a strong bond. And Harmon found a protector who took up for her when things got out of hand on the NBC series' set.
"One time, I showed up to work and had a 104-degree fever but didn't know it," Harmon said during her interview with Charlotte Magazine. "The male producers came in to lecture me about how I should have called because now I'd messed up the entire week. I just remember Sam [Waterston] having to raise his voice to stand up for me." Waterston came to Harmon's rescue, but the work environment she devoted herself to for three seasons should never have been so unprofessional and toxic.
And to Harmon's surprise, the actor discovered she had to take certain precautions while working on "Law & Order." "Within the first week, it was, 'Don't get in an elevator with this guy by yourself.' I was 26 and learning everything," Harmon continued. "And it certainly wasn't a nurturing and collaborative situation." It's a shame that Harmon had to endure such an incongruous work environment, but luckily she had a friend like Waterston by her side.