The Mandalorian Chapter 22: Why The Ugnaught Sounds So Familiar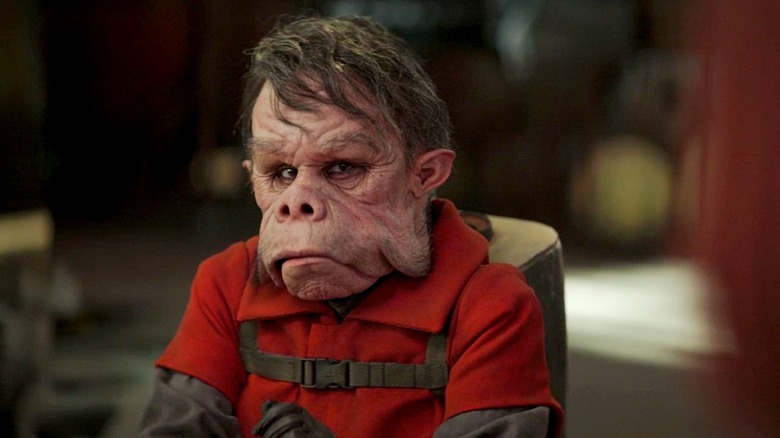 Disney+
While the Ugnaughts were first introduced in "The Empire Strikes Back," it wasn't until "The Mandalorian" Season 1 that we finally got to learn the backstory of one of these creatures: Kuiil. Voiced by Nick Nolte, with Misty Rosas responsible for his motion-capture movements, Kuiil was a moisture farmer from Arvala-7. He was simply trying to peacefully live out the rest of his days after being sold to the Empire, and working as an indentured servant for "three of your human lifetimes." While he helped Din Djarin (Pedro Pascal) keep Grogu safe, he lost his life in the process.
After Kuiil's death in Season 1's "Chapter 7: The Reckoning," we didn't meet any more Ugnaughts until Season 3's "Chapter 22: Guns for Hire," when Djarin connects with Saifir as he and Bo-Katan Kryze (Katee Sackhoff) attempt to find all the rogue battle droids in Plazir-15. While Saifir initially claims there are no malfunctioning droids, Djarin's flattery about the Ugnaught's skills with droids and hard work convinces Saifir to give the Mandalorians the information they seek.
While Saifir's appearance on-screen is brief, we couldn't help but recognize the voice of Dale Dickey. The remarkable character actress has one of the most distinctive voices in the industry, and a surprisingly lengthy and varied acting career.
Her first major film role was 2001's The Pledge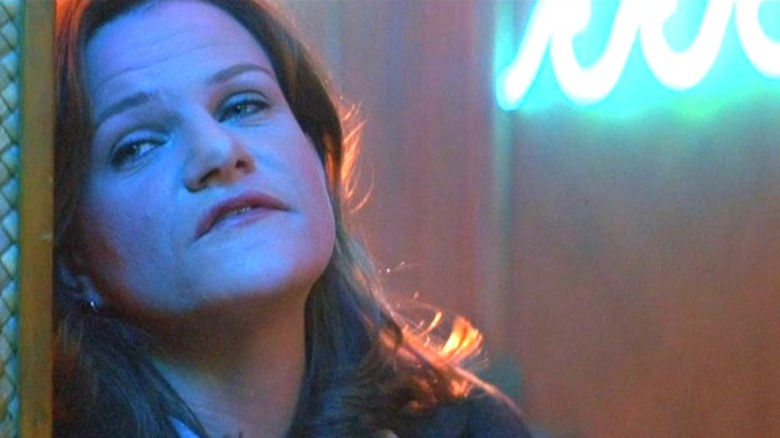 Warner Bros. Pictures
Diana Dale Dickey, known professionally as just Dale Dickey, got her start in theater, performing in Broadway and off-Broadway shows like "The Merchant of Venice," "A Streetcar Named Desire," and "Sweeney Todd." She made her screen debut in 1994's short-lived series "Christy," playing Opal McHone, a role that she would reprise again in 2000's "Christy: The Movie," and 2001's miniseries "Christy: Choices of the Heart." Between 1995 and 2001, she guest-starred on TV shows such as "The Client," "City of Angels," and "The X-Files" before getting the role of Strom in "The Pledge."
Co-starring Jack Nicholson, Aaron Eckhart, and Robin Wright, Dickey plays Officer Strom, one of Officer Jerry Black's (Nicholson) co-workers. After a child is murdered, Black, who is hours away from retirement, promises the little girl's parents that he'll find the killer. While Officer Stan Krolack (Eckhart) and Captain Eric Pollack (Sam Shepard) are convinced the murderer is the intellectually disabled Toby Jay Wadenah (Benicio Del Toro), Black isn't so sure after speaking with one of the child's friends and seeing a picture she drew of a man she'd recently met. He decides to pursue the case on his own.
Dickey's character is a straightforward, no-nonsense police officer, but after the first third of "The Pledge," the film focuses on Black, and we don't see much of her again.
She co-starred on My Name is Earl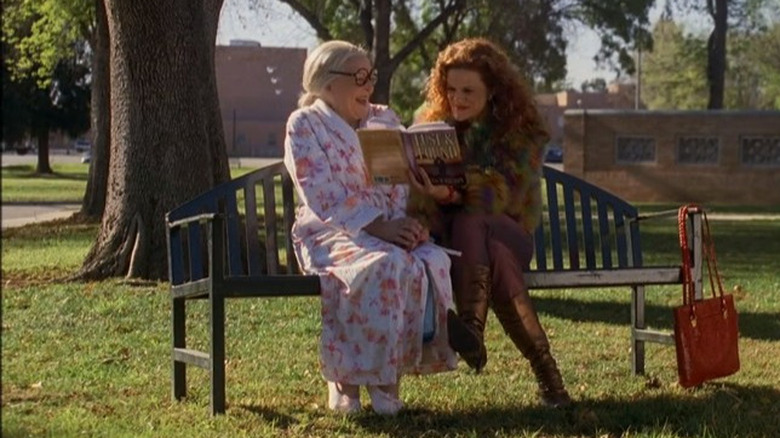 NBC
In 2005, Dale Dickey took on the role of Patty Weezmer — otherwise known as Patty the Daytime Hooker — in "My Name is Earl." Starring Jason Lee as Earl Hickey, Ethan Suplee as his brother Randy, and Jaime Pressly as Earl's ex-wife Joy, the show focused on Earl and his quest to improve his karma after getting hit by a car when he wins a $100,000 lottery ticket. Earl occasionally uses Patty's services for help with his quests, such as when he wants to give companionship to Kenny, a man he used to bully as a child.
Patty is definitely not your typical sex worker, as we find out in Season 1, Episode 23. While Earl is at the courthouse to pay fines and help Gwen Waters (Miriam Shor as an adult and Shailene Woodley as a child), a woman he shot in the butt with a BB when they were younger, Patty is also there. When the judge informs her that her crime is taking money for sex, she protests, telling him that she "was taking burgers for sex. And curly fries for a diddle and a pickle for a 'lookee.'" Dickey recalled her experience on the show on the podcast "You Might Know Her From," and that it was "great fun, particularly when Betty White came on to play my mom."
She won a Film Independent Spirit Award for Winter's Bone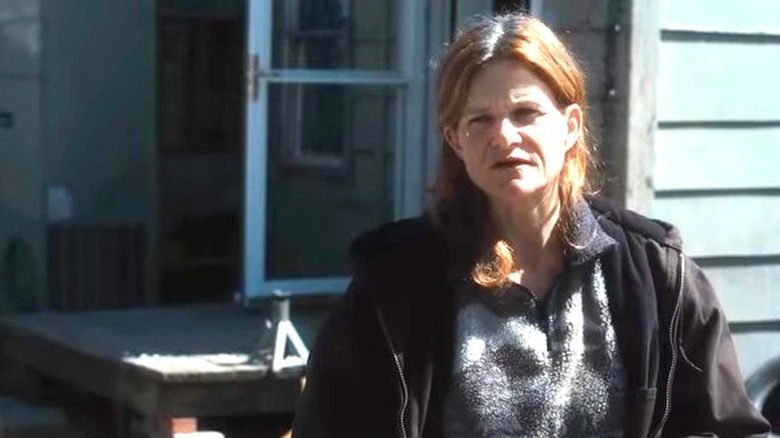 Roadside Attractions
After playing the memorable role of Spooge's (David Ury) Lady in two episodes of "Breaking Bad," Dale Dickey was cast as Merab in "Winter's Bone," in which she won the Film Independent Spirit Award for best supporting female. "Certainly the exposure of that film, the fact that it did so well, that certainly put me at a different level in terms of my agents being able to get me into the room to meet new casting directors," she told Vanity Fair. "So it was a turning point. One thing just leads to the other."
In "Winter's Bone," Jennifer Lawrence portrayed Ree Dolly, a young girl who, after discovering her meth-addict father put their house up as part of his bond, sets out to find him before the family loses their home. Her uncle, Teardrop (John Hawkes), attempts to help, but when Ree tries to approach "Thump" Milton (Ronnie Hall), a meth drug lord, about her father's whereabouts, his wife Merab (Dickey) and the rest of the Milton family beat her up. Eventually, the Miltons take her to her father's body, and she's able to save her family and their home.
Besides winning Dickey the Independent Spirit Award, "Winter's Bone" was also a breakout film for Lawrence and Hawkes, who both received Academy Award nominations for their roles.
She played a werewolf matriarch in True Blood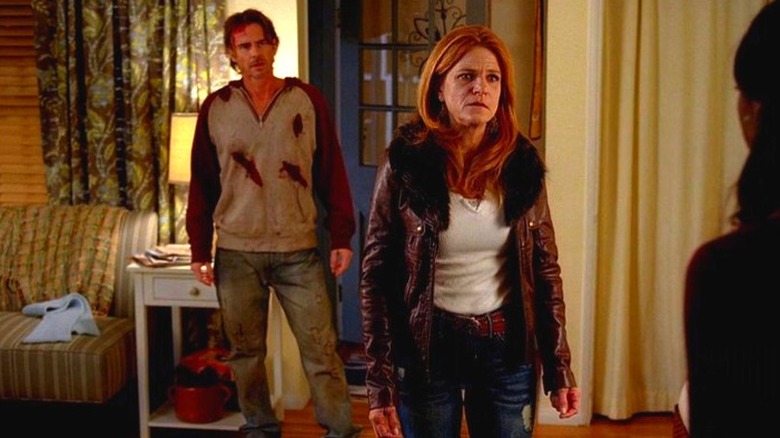 HBO
Dale Dickey's profile rose considerably after "Winter's Bone," and she began to be much sought after for her unique and vivid characters. Following small roles in "Super 8" and "Being Flynn," along with TV series such as "2 Broke Girls" and "Weeds," she starred in "True Blood" Seasons 5 and 6 as werewolf Martha Bozeman. Her son, Marcus (Dan Buran), was the leader of the Shreveport pack she was part of. When he was killed, she and the rest of the pack tortured Sam Merlotte (Sam Trammell) to get information on where his body was.
As a member of a wolf pack, Dickey was around a lot of wolves on set, which were used when the characters transformed. The experience was a bit stressful, in part because as an animal lover, she had to remind herself that they're dangerous animals. "It's like, when you walk into the airport and the police officer is there with a drug dog, I"m always like, 'here doggy, doggy!' 'Don't touch the dog, leave the dog alone.'" she told the podcast You Might Know Her From.
She also remembered all the rules the cast had to follow when the wolves were nearby. "You stay this far apart from the wolf, let the trainers do their job. Don't pet, don't touch, don't engage them. That was the main thing, don't look them in the eyes."
She played a bank teller in Hell or High Water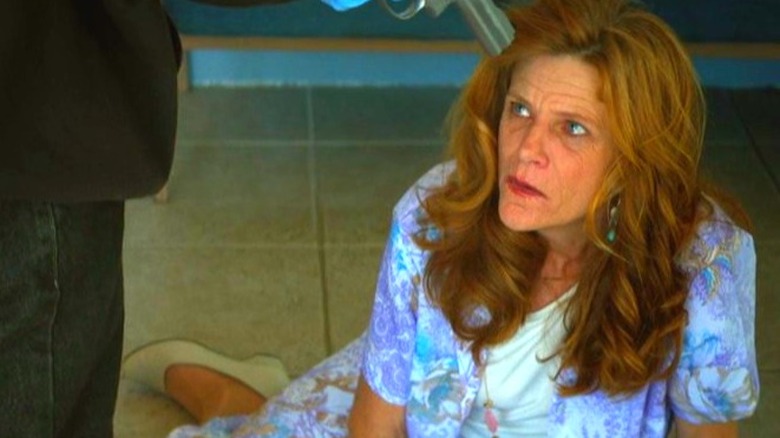 Lionsgate CBS Films
In 2016, Dale Dickey took the role of Elsie, the bank teller in "Hell or High Water." Written by "Yellowstone" creator Taylor Sheridan, the film follows brothers Toby (Chris Pine) and Tanner Howard (Ben Foster), who decide to rob branches of the bank Toby is about to lose his ranch to. The plan is to pay off the loan with the money they've stolen, so Toby can leave it to his sons. The film co-stars Jeff Bridges and Gil Birmingham as the law enforcement that are trying to figure out the identity of the robbers.
Dickey starts off the film, as we watch her walking up to the bank wearing a sundress and smoking a cigarette. While she's initially fearful of the robbers, she quickly becomes more defiant when she realizes the two don't really know what they're doing. She tells them that the bank manager has the keys to the safe, and punctuates it with the statement, "He'll be here soon and I suggest you fellas don't be. All you're guilty of right now is being stupid." This remark sets off Tanner, who feels compelled to make it clear that he is not stupid. Even with such short screentime, Dickey's expressive face says it all, with the Chicago Tribune's John Kass writing, "She's on the screen only for a bit, but those dry, sunken eyes have seen much pleading from hardworking people who never got a bailout from the establishment that runs this country."