Law & Order: Jesse L. Martin Was Ready To Quit If Dick Wolf Rejected His Time Off Request
Jesse L. Martin is a recognizable Broadway face. Although Martin had done some acting for television before his debut as Tom Collins in 1996's Broadway production of "RENT," the iconic musical was really what put him on the map. After starring in the live production of "RENT," Martin landed a long-term gig on "Law & Order" as Detective Ed Green, where he portrayed the character for nearly 200 episodes from Season 10 to Season 18, from 1999 to 2008.
However, in the middle of Martin's "Law & Order" gig, a film adaptation of "RENT" went into production. Although the film did cast some actors who weren't in the Broadway production, many of the characters who appeared in the movie were the same actors who portrayed those characters on stage. Martin's Tom Collins was one of them. Due to conflicting schedules, Martin had to ask for time off from "Law & Order" and according to an interview with Female.com, he was prepared to quit the show if he wasn't given the time off.
When asked if he was nervous about requesting time off, Martin answered, "I wasn't nervous about asking I was nervous about what the answer was going to be. But I was so sure about doing the film that I was willing to do whatever I had to do in order to the film..."
Martin says Dick Wolf made it easy for him to take a break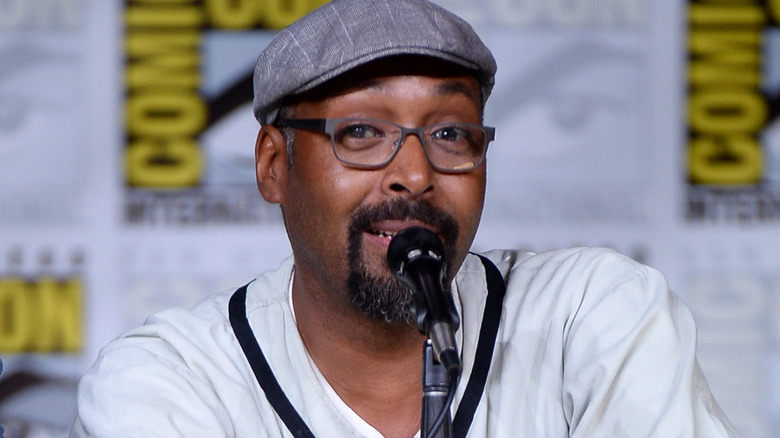 Matt Winkelmeyer/Getty Images
Fortunately, Wolf seemed to recognize the importance of the film for Martin, and he wasn't hard to convince.
"God bless him he really wanted me to stick with the show, so he made it rather easy for me to take off, and do the movie and everybody was saying that is unprecedented like he never does that," Martin explained. "It showed me he had a lot of respect for me and he had a lot of respect for the project because he literally said, 'There is no way you can't do that movie, there is no way, you have to be in that movie.'"
Martin said that both Wolf and NBC made it easy for him to take a leave of absence without any consequences. "I kept thinking and waiting for the other shoe to drop," Martin continued. "Like they are going to fire me and I am not going to have a job next season. That is all I kept thinking and that, of course, didn't happen."
Rather than write Detective Green out of the show, he was shot in the chest at the end of Season 15 and was sent to recover off-screen. Once Martin was done with "RENT," Green returned to "Law & Order" after his recovery.