Law & Order's Jesse L. Martin Struggled With The Transition From Broadway To Network TV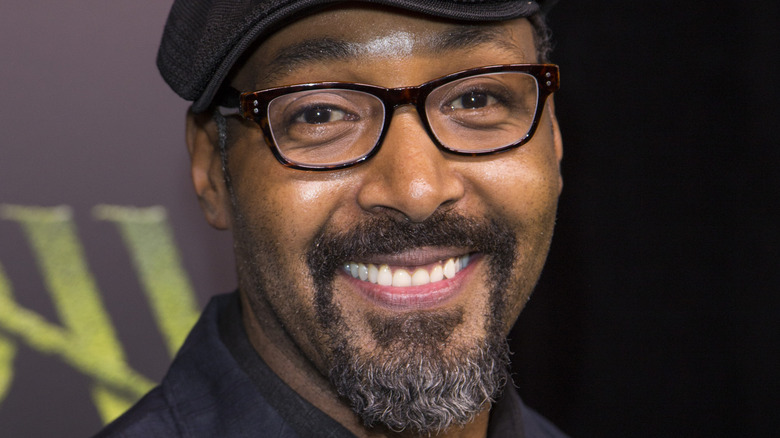 Phillip Chin/Getty Images
Actor Jesse L. Martin may be best known as Detective Edward "Ed" Green on the long-running NBC drama "Law & Order," a role he played for nearly a decade from 1999 to 2008, but the multi-talent's first breakthrough was as a theater actor. Broadway fans might already know that Martin originated the role of Tom Collins during the original Broadway production of the late Jonathan Larson's "Rent" – which proved to be a Tony Award-winning smash hit on the Great White Way in the mid-'90s, per the Daily Press. 
While Martin went on to reprise his role in the 2005 film adaptation, which was unfortunately a box office bomb, the triple-threat actor loved being part of the Broadway community. "Once you're in the Broadway community, you're always in the Broadway community and you're treated as such," Martin told The Actors Work in 2016. "There's a real camaraderie, there's a real brotherhood, real sisterhood if you need to say, and you felt it immediately."
In addition to his theater work, Martin was also featured in films and other television shows before he signed onto "Law & Order," with his early screen acting including guest spots on soap operas like "Guiding Light" and "One Life to Live," as well as a recurring role on "Ally McBeal." Yet, Jesse L. Martin had a tough time making the shift from stage acting to performing in front of a camera.
Jesse L. Martin wasn't prepared for his first screen roles
When Jesse L. Martin first began acting on television, he struggled with transitioning to a medium that had different rules for effective performances. Decades later, Martin told The Actors Work that when it came to filming, "The whole idea of having to hit a mark without looking and the importance of being able to do that, was completely lost on me during my first couple of experiences."
The veteran theater star also didn't know how to project less energy for the screen compared to stage acting, where actors have to reach an entire live audience. Martin confessed, "I was woefully naïve about what you need as a performer on camera." Luckily, he was typically filming projects like "Law & Order" in New York City — a place that boasts a plethora of talented actors, as Martin pointed out — so he was able to learn not only how to dial down his performances while watching them, but also how to better prepare for productions that needed scenes to be filmed quickly and without much rehearsal.
It took some time, but "The Flash" alum gradually became more comfortable with the filming process. "It was definitely a huge learning curve, because again, I grew up in the theater, so performing in front of the camera was a whole different beast," he told The Actors Work.