Ted Lasso S3 Episode 4: Another Villain Puts Nate To Shame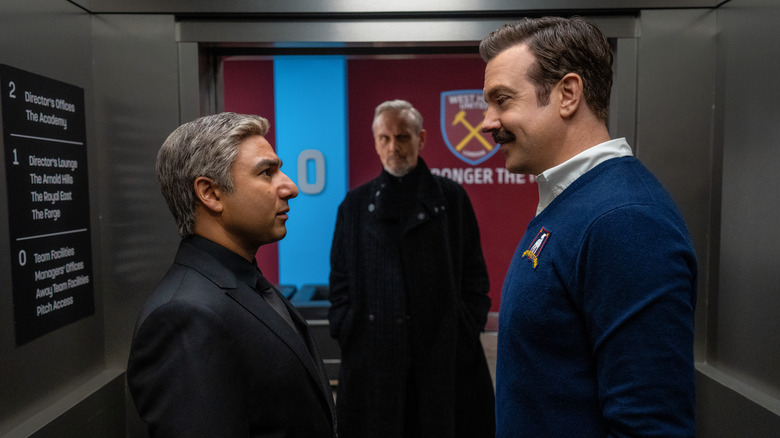 Apple TV+
Contains spoilers for "Ted Lasso" Season 3, Episode 4 — "Big Week"
Nate Shelley (Nick Mohammed) drew ire from "Ted Lasso" fans at the end of Season 2 when he leaked the truth about Ted Lasso's (Jason Sudekis) panic attacks, but he didn't stop there. He also ripped up Ted's "BELIEVE" sign and quit the team in favor of working for Rupert Mannion (Anthony Head) at West Ham United. This is all to say that Nate is definitely in his villain era, though he's still not the narrative's primary antagonist.
This week's episode demonstrates that Nate is not very good at being the bad guy. When Nate is strategizing for the match against AFC Richmond, he can't help but pick up and dust off Ted's action figure after knocking it to the floor. Instead of being mature and cordial with Ted when they run into each other in the elevator, Nate can only hide in the corner. Meanwhile, this episode also provides a look at Rupert's real priorities. He will cheat on his wife, no matter who she is. He asks Nate to call him "Mr. Mannion" in private as a way to demand respect and exude authority, but in public, he tells Nate to call him "Rupert" so that he seems affable and relaxed in front of his friends. Rupert is the real villain, while Nate remains more of an anti-hero.
Rupert is still the real villain of Ted Lasso
Apple TV+
"Ted Lasso" has shown us how low Rupert can sink time and time again, though his bad behavior seems to know no bounds. The latest installment revealed that he's cheating on his wife, Bex (Keeley Hazell), with his assistant. Seeing Rebecca (Hannah Waddingham) call him out for his infidelity feels triumphant, especially after learning that their marriage was also the product of his adultery. Rupert is set in his ways, but Nate still has the potential to turn things around. Slowly but surely, Nate is noticing the difference between Rupert and Ted. Rupert will do and say anything to get what he wants, while Ted is genuinely interested in Nate's well-being. For Rupert, Nate is only a means to an end, and it's only a matter of time before he figures that out.
Nate was AFC Richmond's long-suffering kit man before Ted recognized his coaching talents, though Rupert's redeeming qualities are harder to pinpoint. When we first meet Nate, he's inherently good-natured, while Rupert has been disrespectful and mean-spirited from the start. Between the two, Nate is clearly the lesser of two evils. Hopefully, Rupert's tower of lies will come crashing down and Season 3 will end Ted and Nate's rivalry. Ted has already shown the audience his capacity for forgiveness, so a reconciliation between the two is ripe for the taking. It's highly possible that Nate will get a redemption arc, while all Rupert will be getting is another divorce.