Why The Plazir-15 Lab Tech From The Mandalorian Looks So Familiar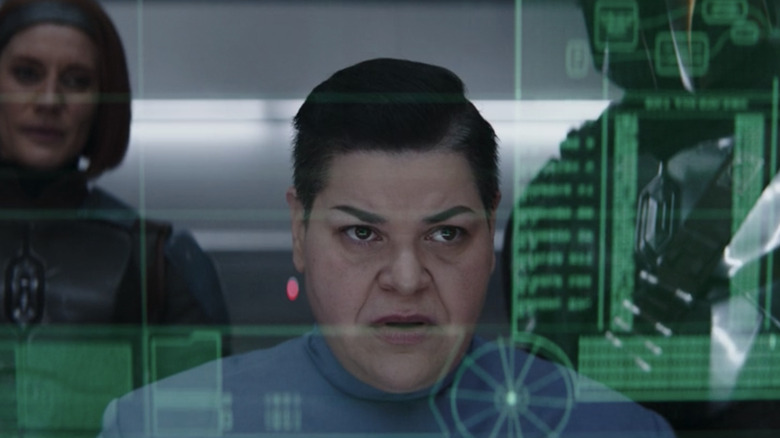 Disney+
"Chapter 22" of "The Mandalorian," takes the titular bounty hunter Din Djarin (Pedro Pascal), and Bo-Katan Kryze (Katee Sackhoff) to the vibrant planet of Plazir-15 in search of Bo-Katan's former allies – who had abandoned her after she lost the Darksaber in Season 2. When they arrive on Plazir-15, they discover that the planet has been using repurposed imperial battle droids that have recently started malfunctioning.
At one point, Din and Bo-Katan examine a malfunctioning super battle droid with the help of a lab technician, who puts the droid on a slab as though they're examining a dead body in the morgue. This scene is crucial to the plot of the episode, as the lab tech in question helps uncover nanodroids inside of these malfunctioning droids — pointing our heroes in the direction of a secret conspirator who aims to bring down the monarchy of Plazir-15. If this lab tech looks familiar, it's because she's played by Jen Kober –- who has worked across a wide variety of film and television projects dating back to the early 2000s. Here's everywhere you might have seen this no-nonsense lab technician before.
Kober had a small but important role in HBO's Treme
HBO
HBO's "Treme" is a drama series that focuses on the city of New Orleans in the aftermath of Hurricane Katrina and how the city's residents try to rebuild their lives after such an immense natural disaster. The series was notable for its large ensemble cast, including Steve Zahn, Khandi Alexander, John Goodman, Rob Brown, and Melissa Leo, and its honest depiction of New Orleans culture before and after Katrina.
Among this enormous ensemble cast was none other than Jen Kober, who appeared in six episodes of the series as Andrea Cazayoux, an associate of civil rights lawyer Toni Bernette (Leo) who attempts to track down missing prisoners after the hurricane flooded the Orleans Parish Prison. This is particularly important in Season 1 when Toni and Andrea work to track down a missing prisoner named David "Daymo" Brooks (Daryl Williams) at the request of LaDonna Batiste-Williams (Khandi Alexander) — who is Daymo's older sister.
Daymo's tragic fate is revealed in the Season 1 finale of "Treme." Although Andrea Cazayoux appears only sparingly after that, fans of the series will likely recognize her as a crucial part of this significant Treme storyline.
She appeared in multiple small roles throughout the 2010s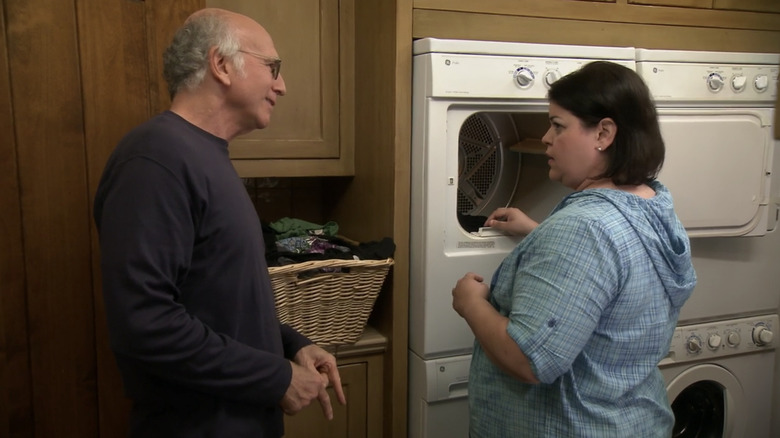 HBO
Following her work in Treme, Jen Kober spent much of the 2010s working in small parts across a wide variety of television and film projects. In 2011 she appeared in the "Curb Your Enthusiasm" episode "The Safe House," in which she played a woman named Dale who is staying at a safe home for survivors of domestic violence – and whom Larry David believes is lying about her past since she "looks like she could take care of herself."
In 2012, Kober appeared in "The Mindy Project" episode "Hiring and Firing," playing a woman named Deena. She also appeared in the Sylvester Stallone and Robert de Niro-led comedy film "Grudge Match" in 2013 (playing an unnamed female boxer), and in 2015 starred in episodes of "The Middle" and Kevin Heart's "Real Husbands of Hollywood."
She also appeared in a 2019 episode of "The Righteous Gemstones as "Denim," a worker at the local Piggly Wiggly grocery store who fights with Judy Gemstone (Edi Patterson). Indeed, Jen Kober has popped up across all sorts of television and film projects throughout the 2010s, and it's easy to see why many fans might recognize her in the newest episode of "The Mandalorian."
In recent years she's appeared in American Horror Story and Hacks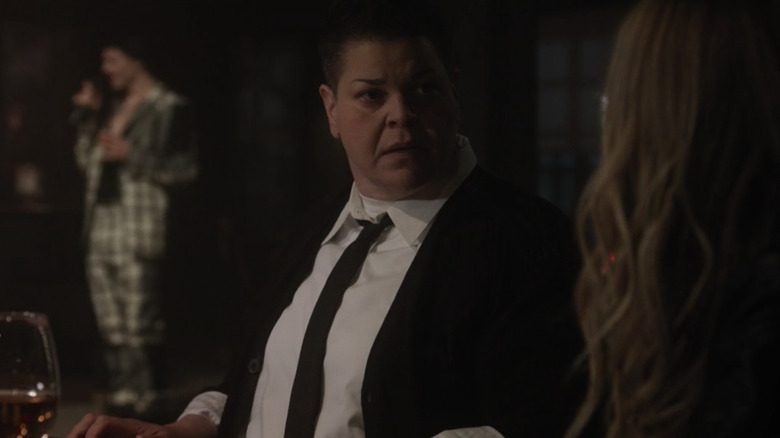 FX
Jen Kober also played a minor part in "American Horror Story: Double Feature" in 2021, appearing in two episodes as the Hostess at "The Muse" – a piano bar and restaurant in Provincetown that is featured prominently in "Red Tide," one part of the titular double feature in this season.
This hostess can be seen in the episodes "Cape Fear" and "Thirst." Though she doesn't speak either time (something that infuriates Leslie Grossman's character, Ursula Khan), the Muse itself is one of the most important locations in the entire season – lending its name to the miracle drug that the town's inhabitants take to stimulate creativity, and which turns them into bloodthirsty monsters if they don't have any talent.
Kober also appeared in one episode of the HBO Max original "Hacks," a series led by the legendary Jean Smart that focuses on an aging Las Vegas comedian and her mentor. Indeed, "The Mandalorian" is just one of many prolific television series on Jen Kober's resume. Although her part is relatively brief, she manages to make the most of her screen time again – helping Din Djarin and Bo-Katan Kryze solve the mystery of the malfunctioning droids, leading to the capture of Helgait (Christopher Lloyd).