The Mandalorian Ch 22 Cements [SPOILER] As A Star Wars & Star Trek Legend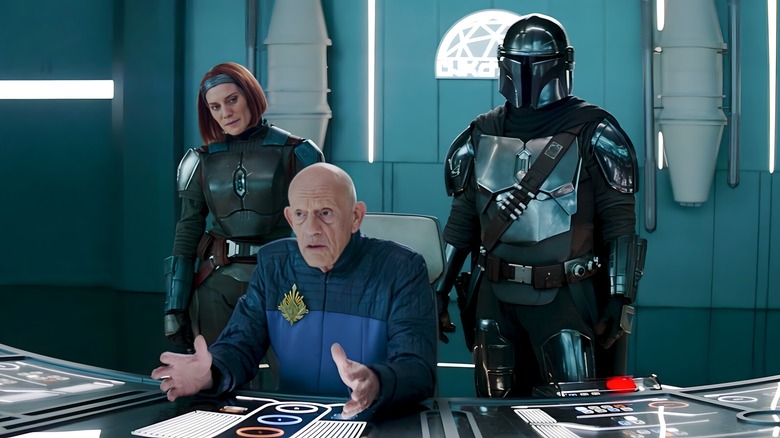 Lucasfilm/Disney+
Contains spoilers for "The Mandalorian" Season 3 Episode 6, "Chapter 22: Guns for Hire"
The first and last minutes of "The Mandalorian" Season 3, Episode 6 continue Bo-Katan Kryze's (Katee Sackhoff) newfound mission to unite all Mandalorians, but the bulk of the episode is devoted to a "Blade Runner"-themed plot. As the Dutchess (Lizzo) and Captain Bombardier (Jack Black) gleefully hijack Bo-Katan and Din Djarin (Pedro Pascal) to deal with dangerous droids that are going mysteriously rogue, the Mandalorians harness their extremely different investigative skills and styles to get to the bottom of the situation. After they follow the proverbial breadcrumbs to the culprit — and learn a surprisingly heartwarming lesson about droid sentience and their attitude toward humanity, courtesy of a truly insightful mechanical barkeep (Seth Gabel) — they discover that the person behind the droid uprising is one they already met earlier: the secretly Separatist-minded Commissioner Helgait.
Portrayed with characteristic offbeat wryness by veteran actor Christopher Lloyd, the conniving yet ultimately remorseful Helgait is a perfect "villain of the week" character ... who just so happens to survive the episode, setting up potential future appearances. Incidentally, with his magnificent "Star Wars" franchise debut, "The Mandalorian" Chapter 22 also cements Lloyd as both a "Star Wars" and "Star Trek" legend, as the actor has also appeared in "Star Trek III: The Search for Spock."
Christopher Lloyd is now a Star Wars and Star Trek villain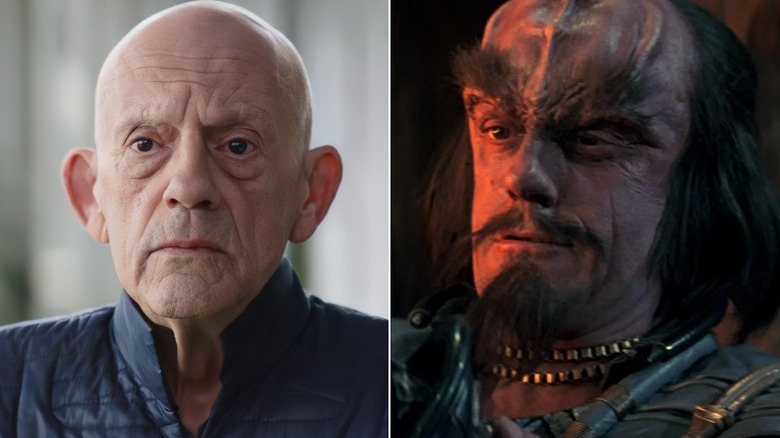 Lucasfilm/Disney+/Paramount Pictures
Fans of the "Star Trek" franchise might note that Lloyd's "The Mandalorian" turn isn't the first time the actor has appeared in a villainous role in an iconic star-themed sci-fi franchise. In 1984, he played the main antagonist in the third "Star Trek" movie, "Star Trek III: The Search for Spock." Lloyd's Kligon commander Kruge is a powerful villain who seeks to weaponize the Genesis terraforming device, and finds himself in a ruthless collision course with the skeleton crew of the USS Enterprise.
Having now officially joined the ranks of actors who are in both "Star Trek" and "Star Wars," Lloyd has the luxury of playing two radically different villains in the franchises. The understated, yet politically frustrated Helgait is a far cry from the theatrical Kruge, and both make worthy additions in the actor's lengthy and impressive résumé.