The Mandalorian Chapter 22 Sports Two Star Trek Connections (One Is From Picard)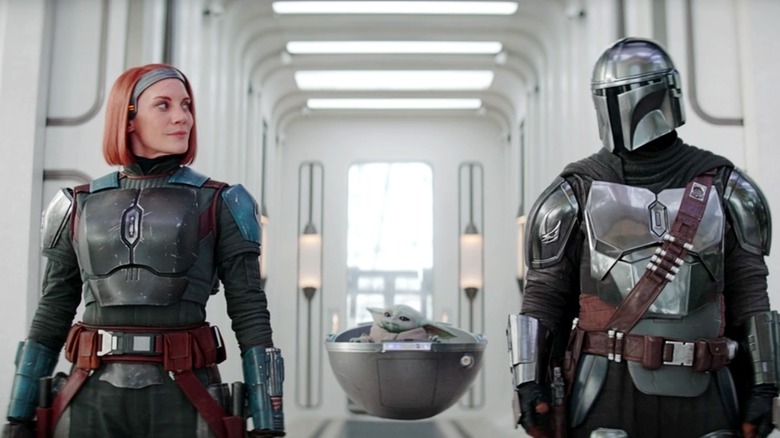 Lucasfilm/Disney+
This article contains spoilers for "The Mandalorian" Season 3 Episode 6, "Chapter 22: Guns for Hire"
"The Mandalorian" has jumped the shark in many ways since it first premiered on Disney+ in 2019. But will paying tribute to the "Star Trek" franchise be the straw that breaks the camel's back? If one is of the belief that there's a rivalry between both sci-fi franchises, then "Chapter 22" might not go down so well. Of course, most genre fans are probably more than happy to see the influence of "Star Trek" find its way into the "Star Wars" galaxy as it's all just entertainment at the end of the day.
"Chapter 22" of "The Mandalorian" features two "Star Trek" connections, including one nod to "Picard." The first connection is none other than Christopher Lloyd, who plays Commissioner Helgait in the latest episode. While most sci-fi fans remember Lloyd as the wacky scientist "Doc" Brown in the "Back to the Future" series, he also portrayed a character named Commander Kruge in "Star Trek III: The Search for Spock."
Of course, it's possible that Lloyd was given the part simply because he's a great actor and a favorite among sci-fi fans. However, there is one element of "Chapter 22" that seems like an obvious nod to the "Star Trek" franchise.
The Mandalorian's possible connection to Picard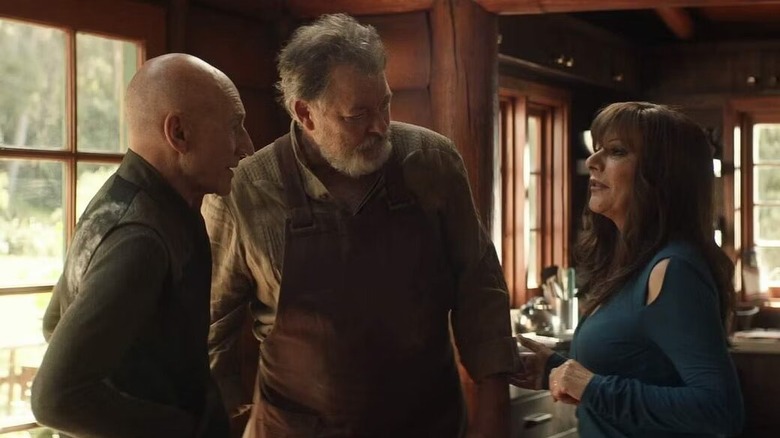 Paramount+
"Chapter 22" of "The Mandalorian" introduces a lubricant for droids known as Nepenthe. This is also the name of a planet in the "Star Trek" universe, as well as the name of a "Picard" Season 1 episode. The episode in question sees Jean-Luc Picard travel to the aforementioned planet to visit Will Riker (Jonathan Frakes) and Deanna Troi (Marina Sirtis).
At the same time, it's possible that "Picard" and "The Mandalorian" were both influenced by the real-world origins of Nepenthe. It was a potion used in ancient times to help people forget about their pain and sorrow. Prior to "Picard" and "Mandalorian," the tonic was mentioned in works by famous writers such as Edmund Spenser and Edgar Allan Poe.
That said, it's still rather strange that two "Star Trek" connections found their way into "Chapter 22." It remains unclear if they were intentional, but they should create some interesting discussions among fans of each franchise all the same.