Why The Impractical Jokers Make Sure Even The Worst Pranks Make It To Air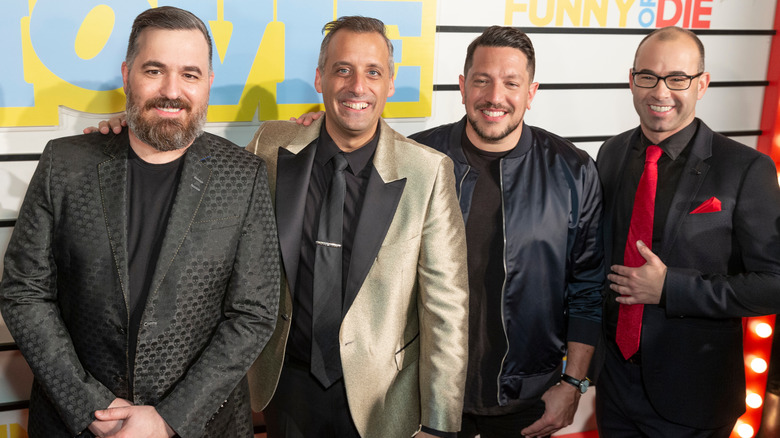 lev radin/Shutterstock
Few shows can reach quite the level of chaos that "Impractical Jokers" experiences regularly. But amidst the years of embarrassing pranks and grueling acts of public humiliation, sometimes even the Jokers admit things can get a bit stale. But whether they're pushing things too far or not going far enough, you'll still probably see all of it on the show.
The current "Jokers" team, consisting of Sal Vulcano, James "Murr" Murray, and Brian "Q" Quinn, recently spoke with Deadline to promote the show's 10th season. The trio is asked what they normally do when they find a bit isn't working the way they intended. Murr admits that, while some jokes are better than others, nothing will usually stop a moment from airing. "Sometimes we do stinkers," he comments. "But we don't leave them on the cutting room floor. We air almost everything. We almost get arrested doing it, but almost everything gets aired." Vulcano adds that, along with the team learning from their mistakes, there is also an economical reason for this, explaining, "If we are going to spend production's money, we've got to make sure we can't burn it. So for better or worse, we are kind of transparent."
The Jokers have been lucky in that they've stayed relatively fresh over the years while also never dipping their toes into massive controversy. But a more recent occurrence regarding the show has nevertheless left fans with questions.
Joe Gatto's exit caused a strange shift on streaming services
At the end of 2021, Joe Gatto left both "Impractical Jokers" and the Tenderloins comedy troupe as a whole to focus on his family. But the sadness felt by his absence would soon be replaced with confusion thanks to the actions of streaming services.
Following Gatto's exit, a select group of episodes was removed without explanation from HBO Max and TruTV. It's not entirely clear as to why Episodes 9 and 24 from Season 4, Episode 12 from Season 7, and Episodes 16 and 25 from Season 8, along with YouTube clips from these episodes, were taken down. Notably, however, many of these episodes feature Gatto in awkward situations involving physical contact or body exposure, such as kissing random strangers, massaging people with his hands, and wearing a speedo in public. It's more than likely that the content of these episodes didn't rub the right way with the networks.
These may be some rare instances where the Jokers' pranks come back to haunt them, but it's not looking like that'll stop their manic mayhem anytime soon.