Murder Mystery 2 Fails To Outdo Fellow Netflix Whodunit Glass Onion's Debut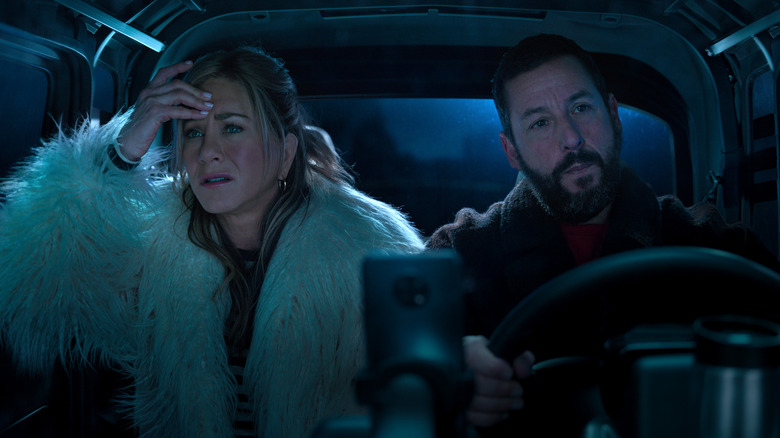 Netflix
As Jennifer Aniston and Adam Sandler have come to find, the world of Netflix murder mysteries is a fickle beast. Even with the duo's combined star power and their big marketing push from Netflix, their film "Murder Mystery 2" has failed to trounce "Glass Onion: A Knives Out Mystery" on the Netflix Top 10 chart.
Though "Murder Mystery 2" still managed to pull in a respectable 64,420,000 hours of streaming time during its debut weekend, it still didn't surpass the excellent 82,140,000 hours that "Glass Onion" notched back in December 2022. While "Murder Mystery 2" is likely getting a sequel, considering its cliffhanger ending, it's also clearly not the streamer's top whodunit. Perhaps it's time for a re-branding.
There are a several possible reasons why "Murder Mystery 2" didn't conquer the "Knives Out" franchise on the Netflix Top 10 chart. Chief among them is the fact that the "Murder Mystery" franchise simply isn't as good.
Knives Out hit better with critics and audiences than the first Murder Mystery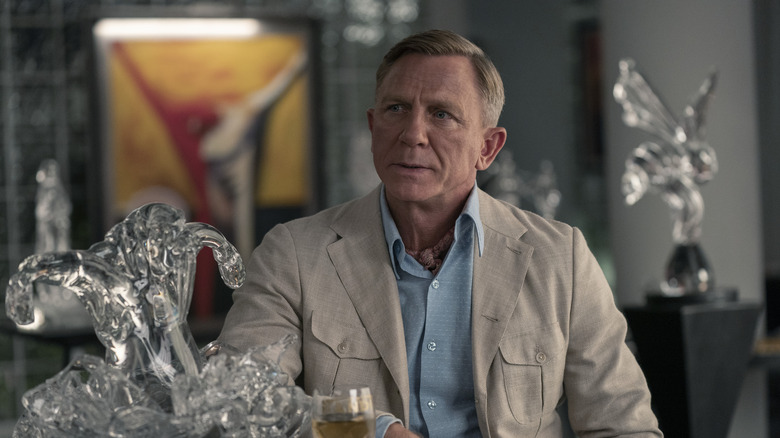 John Wilson/Netflix
"Knives Out" earned rave reviews and even an Academy Award nomination when it premiered in theaters in November 2019. At that point in time, the first "Murder Mystery" was just a surprise hit for Netflix. But in the years since, fans have reminisced fondly about only one of those films. Thanks to its ace supporting cast, acclaimed writing, and indelible central character, "Knives Out" has withstood the test of time on both Twitter and Reddit. It's no surprise that its sequel pulled in such big numbers when it debuted.
"Murder Mystery," on the other hand, failed to take off with critics, only earning a 44% critics' score on Rotten Tomatoes. Many pointed to its uninspired action, half-hearted attempts at jokes, and awkward aping of Agatha Christie tropes. However, even its audience score of 45% was far below the 92% that "Knives Out" earned, indicating that the movie simply didn't have as many fans as Rian Johnson's thrilling whodunit. It also didn't drum up any buzz come Oscar season, whereas its spiritual cousin "Knives Out" went on to receive renewed attention at the 2020 awards.
Now, considering the fact that "Murder Mystery 2" has similarly failed to take off with critics, it stands to reason that its inevitable third outing won't exactly break Netflix records, either. However, given Netflix's track record of pushing both mediocre and excellent films with equal devotion, "Murder Mystery 2" still has a chance of getting ten more sequels and a spinoff series. But perhaps we're speaking for a lot of people when we say: Please, no.