Ted Lasso Season 3: Fans Are Lamenting A Deleted Rebecca Scene In Episode 1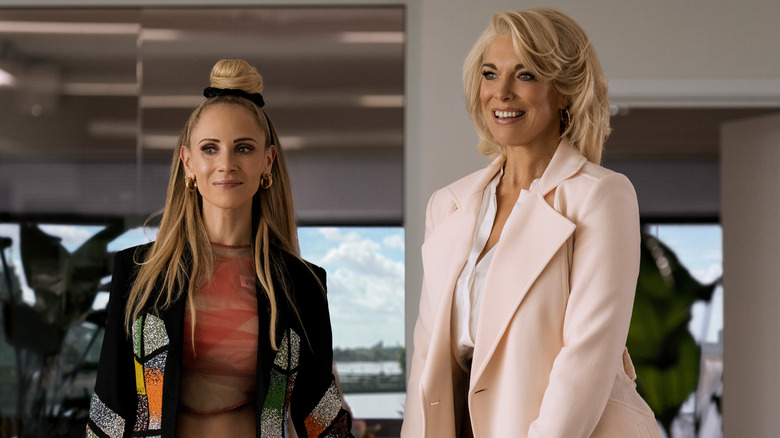 Apple TV+
"Ted Lasso" may focus on a fictional Premier League football team, but the female characters are just as important to the narrative. Rebecca Welton (Hannah Waddingham) is the reason Ted Lasso (Jason Sudeikis) came to Richmond in the first place and her emotional journey is a main through-line in Season 1. Ted encourages her to accept kindness, one biscuit at a time. She's undoubtedly made a lot of progress, but Waddingham didn't want Rebecca to get her act totally together in Season 3, and the actor got her wish. It's obvious that Rebecca is eager to beat Rupert Mannion (Anthony Head) and West Ham United, so a biscuits-with-the-boss moment is definitely in order.
Unfortunately, it looks like a Rebecca scene shown in the Season 3 trailer was omitted from the final cut of Episode 1. Ted Lasso costume designer Jacky Levi confirmed that the scene was deleted when she posted a picture of Waddingham wearing a costume from the trailer on her Instagram account, captioning the image, "A favourite that didn't make the cut!" 
The photo quickly made its way across the internet and fans weren't too happy to hear that they missed out on new Rebecca content. "But... then why was it in the trailer?? I feel betrayed," said Twitter user @dckrstarx. Other viewers were similarly saddened by the exclusion. "Actually heartbroken over this one," wrote Twitter user @caitywelton. From the looks of the trailer, a new outfit isn't all fans missed out on. 
Ted Lasso fans may have missed out on a biscuits with the boss scene
In the trailer for Season 3, Rebecca is shown eating biscuits in her office around the 1:08 mark, followed by a shot of Ted in the same room. While the clip is brief, her outfit matches the photo Jacky Levi posted on Instagram, which shows Hannah Waddingham wearing a gray pencil skirt paired with a red sleeveless blouse. Eagle-eyed fans suspect that the deleted Rebecca scene would have been the first biscuits with the boss exchange this season.
"At least we'll always have her* in our hearts," lamented Twitter user @stuckinrevmode, who couldn't help but theorize about the scene in question: "*Probable solo biscuits with the boss scene that was cut."
Biscuits with the boss scenes are always good for a laugh, so fans don't understand why the scene was removed — especially after it was teased in the trailer. "The scene was in the trailer tho right? A shame they had to cut it," said Twitter user @emjaysudoku. Twitter user @Lasso_kin didn't appreciate losing another example of Rebecca's fabulous fashion sense, writing, "How could they deprive the world of this look?"
Other viewers had a more extreme reaction. "Jail for cutting it," joked Twitter user @juliietburke. For hardcore Rebecca fans, disappointment is an understatement. "It should be a crime to not air scenes she's in," wrote Twitter user @Writtenndust.
Hopefully, the minds behind "Ted Lasso" will eventually release this deleted scene, along with other behind-the-scenes content.