Law & Order's Location Played A Big Role In Jesse L. Martin's Decision To Audition
Longtime fans of the television drama "Law & Order" will always think of Jesse L. Martin as Edward "Ed" Green, the character he played for nine seasons. The "Law & Order" detective pairing of him and Jerry Orbach's Lennie Briscoe is consistently a favorite among viewers. But television wasn't Martin's first love; that honor would always be given to the theater.
After cutting his teeth on roles in "Timon of Athens" and "The Government Inspector," Martin was part of the original cast of 1996's "Rent," which would go on to sweep the Tony Awards. His character, the HIV-positive professor who falls in love with Angel (Wilson Jermaine Heredia), resonated with Martin. "There is a little bit [of him in me]," he told Film Monthly. "I mean, first of all, I have to say that if I wasn't an actor, I would probably be a teacher."
What also resonated with Martin was New York City itself, which Martin moved to in 1987 after growing up six hours away in Buffalo. His love of the city helped him decide to take the role of Ed Green. "The bigger decision was the fact that it was 'Law & Order' and the fact that it was taking place in New York because that was the only place that I wanted to be," he said. "I am not a Los Angeles person."
He was happy to join Law & Order because it filmed in New York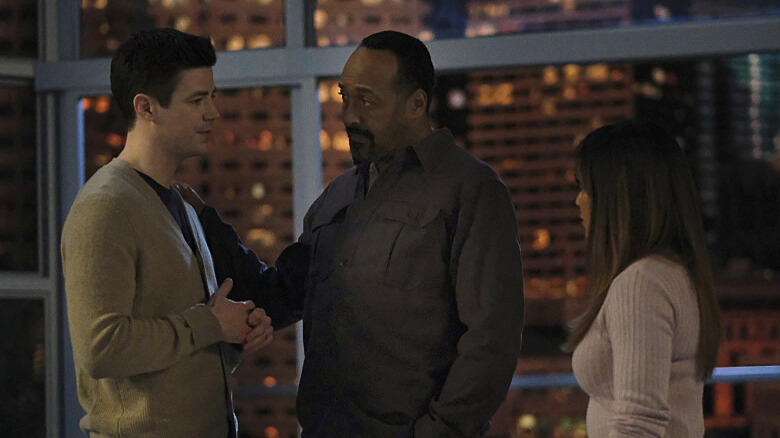 Bettina Strauss/The CW
For Jesse L. Martin, New York City is where he wants to be, and, as the established location choice of "Law & Order," it made it much easier to choose the role. "I want to live here," he told Film Monthly. "I think it is way more vibrant; there is way more opportunity, there [are] cultural opportunities here that you are just not going to get anywhere else, and anything that is amazing in this world is eventually going to come through New York City."
The real reason Martin left the "Law & Order" franchise was because, after a decade working in television, he wanted to get back to the theater, which is exactly what he did. From 2010 to 2011, he co-starred with Al Pacino and Lily Rabe in the Broadway production of "The Merchant of Venice," playing Gratiano. Ironically, despite his emphatic declaration of staying in New York, three years later, he took the role of Joe West in the series "The Flash." Filmed in Vancouver, British Columbia, the show managed the feat of getting Martin out of New York. "The city itself? It's all right," Martin told the Globe and Mail. "It's not New York City. That's home for me. It's not tough to live here. It's beautiful. It's really nice. Once you get used to the rain, it's all good."