What's The Song In The Second Barbie Teaser Trailer?
Come on "Barbie," it's time to party!
After months of waiting for a longer trailer, moviegoers have been graced by the appearance of a second clip reel for the upcoming Greta Gerwig-directed adventure centered around everyone's favorite doll. And accompanying all of that action is a slightly-remixed version of a familiar summery tune. That's the iconic Beach Boys song "Fun, Fun, Fun" accompanying Barbie through her daily adventures. And the music is just one sunny component in a trailer that piles on the pink as well as the bright, cheerful atmosphere. Though the movie's plot remains somewhat obscure, Barbie (Margot Robbie) appears to be going on an adventure with her erstwhile companion Ken (Ryan Gosling). They end up in Barbie's bright pink car together, driving across a rainbow-laden desert. And what better music for a road trip than the Beach Boys?
"Fun, Fun, Fun" definitely cements the film's desire to deliver summery joy to its consumers, and no other band has more experience with beachside fun in the sun than the Beach Boys. But the origin story behind "Fun, Fun, Fun" is, unlike "Barbie," based around a true story. Here's how one of the world's biggest bands ended up writing a song about the rebellion of a real-life teenager.
The Beach Boys are the soundtrack of the summer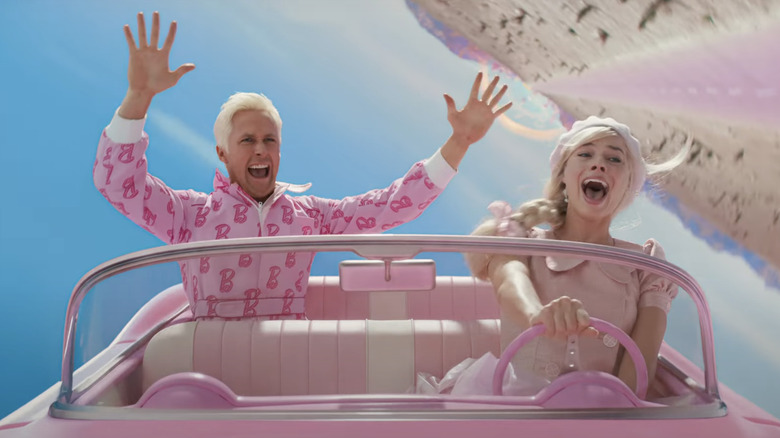 The Beach Boys have been the soundtrack to many a generation's summer fun; in fact it's arguable that no other band is more closely linked with the notion of sand, surf, and the sense of freedom the year's hottest months brings to us all. The music group has gone through tumult, lineup changes, and inter band fighting, but they're still out there touring at press time, and "Fun, Fun, Fun" is still on their set list most nights.
And it turns out that the fast-driving teen at the center of the song was a real person. According to KSL, "Fun, Fun, Fun" is based on the foibles of Shirley England, daughter of the owner of a Salt Lake City, Utah radio station. Per an interview with England conducted by KSL in 2007, she did indeed take her dad's T-Bird to a hamburger stand instead of going to the library like she told her father she would. This resulted in her being grounded and, well, the T-Bird being taken away. 
"So I was kind of complaining to the staff at the radio station that I was in a bit of trouble, and the Beach Boys heard it," Shirley explained. Inspired by Shirley's tale, Mike Love and Brian Wilson crafted the song's lyrics on their drive back to the airport. The rest has passed into classic rock legend. As has Shirley's ability to get into teenage mischief; she admitted to KSL that her father took her car away several more times. But she admits she's proud of her rock 'n' roll legacy.
"Oh it's my favorite!!! I told my husband, when I die, I want on my tombstone, 'She had Fun, Fun, Fun,'" England said.