How Michael Chiklis Behaved On The Set Of AHS: Freak Show According To Evan Peters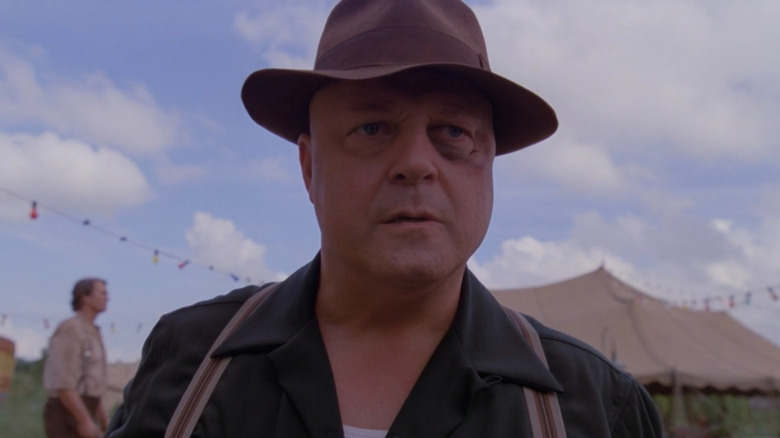 FX
While "American Horror Story" uses a revolving door of returning cast members to play different characters with each new storyline, some actors only appear in one season. Michael Chiklis is one of them. The minds behind the series took advantage of the actor's intimidating presence by casting him as a strong man named Dell Toledo in "AHS: Freak Show." Despite his affable demeanor, it's clear that Dell has a violent streak. He's jealous and mean-spirited, making him the opposite of his son, Jimmy Darling (Evan Peters).
Dell's only redeeming quality is that he eventually develops a relationship with Jimmy, though Evan Peters says Chiklis couldn't be more different behind the scenes. During an interview with Gold Derby, the "AHS" star revealed that Chiklis was incredibly helpful and kind on set. "He was there every take, you know, just being my dad," Peters explained. "Being what I needed in the scene ... he's such a sweet, nice guy that it's not like, you know, you're intimidated by him or anything. He's just very welcoming and nice."
Even though he made some great connections behind the scenes, Chiklis admitted that he most likely won't return to "AHS."
Michael Chiklis was unfailingly kind during a shocking season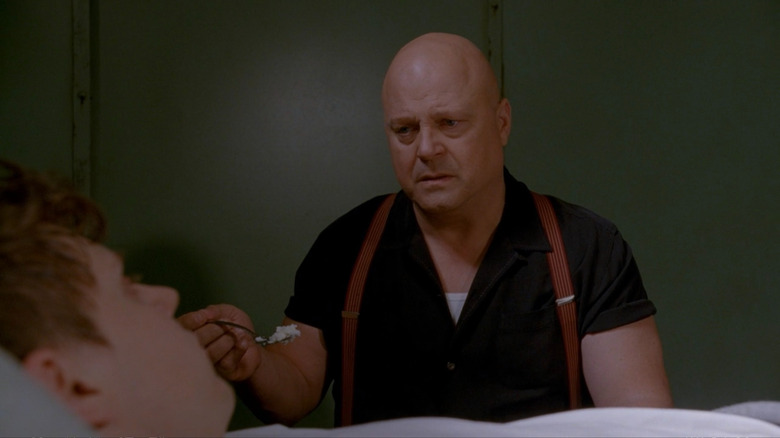 FX
Several "AHS" actors have revealed they were never the same after starring in the series, though that isn't very surprising considering the show's jarring subject matter. "American Horror Story: Freak Show" explores themes like marginalization, bigotry, and voyeurism, with Dell just one of several antagonists making life miserable for everyone. A majority of the characters die before the final episode and happy endings are scarce. It's a dark season and Michael Chiklis revealed during an interview with Larry King that he struggled to adapt to the increasingly sinister narrative.
"I mean, that was one of the darkest years of my career," the actor explained to King. "I think it's one thing to do a horror film in the context of like two months or something like that, but to live in that for six months, it just became ... I don't know. Maybe it's because I'm an empathetic person and I just sometimes start to take things on, but it was so dark and it was so nasty."
It makes sense that Chiklis had a hard time adjusting; Evan Peters had a similar realization about being desensitized to the show's brutal material. Even though he probably won't make a comeback to the "AHS" universe anytime soon, Chiklis did a great job playing a circus strongman, a classically noble and stoic figure, as a cold-hearted villain.