DC's Worst Artist Is Getting Hilarious April Fool's Comic Covers
DC Comics is bringing in one of its least talented artists for a series of covers, as writer Tom King is bringing his trademark terrible artistry for some upcoming April Fools' variants. King — the prolific writer behind "Batman," "Mister Miracle," and "Strange Adventures" — is showcasing his drawing skills with the joke variant, which will make you believe that anyone is truly capable of getting their own DC Comics covers.
King has become one of the comic book industry's most acclaimed writers. He had the redefining run of "The Omega Men" with artist Barnaby Bagenda, the ground-breaking "The Vision" series with Gabriel Walta (which served as a small inspiration for "WandaVision"), deconstructed the classic New Gods hero Mister Miracle in a self-titled series alongside Mitch Gerads, and penned an 80+ issue run on DC's main "Batman" series alongside David Finch, Clay Mann, Mikel Janin, Lee Weeks, Gerads and more talented artists. Currently, King is writing the ambitious "1st Issue Special" mashup series "Danger Street" with Jorge Fornes and was revealed to be the new writer for "Wonder Woman" for DC's "Dawn of DC Initiative" with Daniel Sampere.
Now, a long-running gag about King's terrible sketches at conventions is becoming a reality, as new April Fools' covers are set to show off the Eisner Award-winning writer's drawing skills which are hilariously atrocious. No stranger to the con circuit, he has become known for doing awful sketches for those requesting them — with proceeds going to charity or towards his collaborators. The images often feature stick figures of DC heroes and villains, with accompanying text often featuring an apology for the horror he's created. DC Comics has turned those sketches into actual variant covers, as King's unique artistic talent gets the official comic book treatment.
Tom King isn't an artist for good reason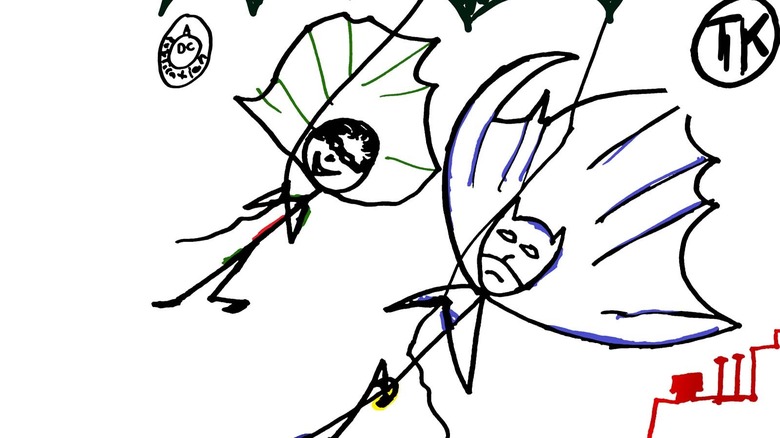 Getty Images
The open-to-order variant covers from Tom King will be featured on three upcoming DC Comics titles. On April 4, King's variant for "The Joker: The Man of Who Stopped Laughing #7" features Batman taking on the Clown Prince of Crime, as the two iconic characters become stick figures, with Joker cornering the Dark Knight with teased new weapon, Joker Fish. King manages to capture Joker's trademark psychotic smile, Batman's cape and cowl, and not much else.
Also on April 4, King returns to the main "Batman" title in one of the most unexpected ways imaginable, as he recreates the iconic Bob Kane and Jerry Robinson cover for the 1940's debut issue of the Caped Crusader for "Batman" #134. Stick-figure versions of Batman and Robin swing over Gotham as King, once again, apologizes for subjecting readers to his artwork. While Batman and Robin are instantly recognizable, even in their most frail forms, it's easy to see why King hasn't joined the likes of Frank Miller, Jack Kirby, and George Perez amongst the most talented dual writers-artists in the industry, as he's only gotten the first part down pat.
King's final variant cover is for his own "Danger Street" limited series alongside Jorge Fornes and Dave Stewart. The image features a literal Danger Street, Lady Cop (with text focusing on her police hat), and The Creeper living up to his name, saying "boo." Like his other covers, it's hard to tell if the talented writer or a toddler drew them, which is part of why they are so great. "Danger Street" #5 arrives in comic book stores on April 11.
King's artwork comes during an impressive time for the writer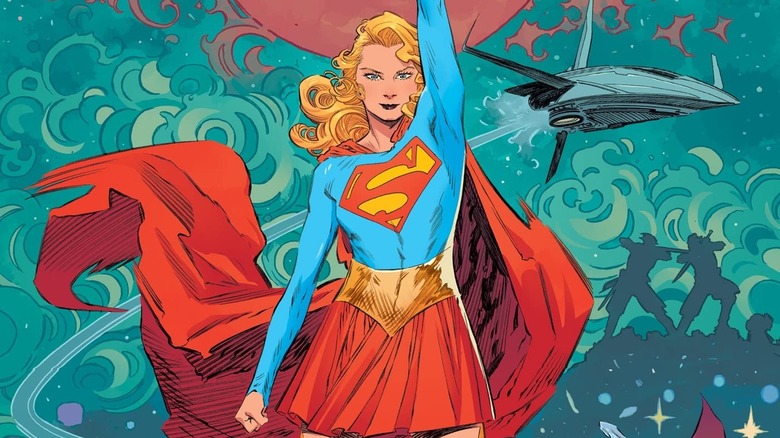 DC Comics
The stick figure covers starring DC heroes from Tom King are obviously a funny joke from the publisher, as they fit in the theme of celebrations for the gag-day. However, King's having quite a fine year — as a writer. He recently wrapped up "The Human Target" miniseries alongside Greg Smallwood, "Gotham City: Year One" with Phil Hester, and the current ongoing limited series "Danger Street" with Jorge Fornes.
Besides tackling the new arc of "Wonder Woman" with Daniel Sampere, King is also tapped to write the debut issue of a revival of "Batman: The Brave and the Bold" anthology alongside frequent collaborator Mitch Gerads, which will focus on the first encounter between Joker and Batman.
King is also set to play a role in the upcoming slate of live-action DC Universe projects from James Gunn. King and Bilquis Evely's gorgeous recent miniseries, "Supergirl: Woman of Tomorrow," is getting a live-action adaptation as part of Gunn's first phase of the new DC shared cinematic universe. King will also be part of DC Studio's writer team.
So, while the joke covers highlight one of King's lesser talents, his writing skills are on full display across different facets of DC Comic projects. Readers interested in picking up one of King's awful and amazing April Fools' sketch covers should know they will release throughout the first two weeks of April.