DC Reveals New Wonder Woman, Flash, Hawkgirl Series, And More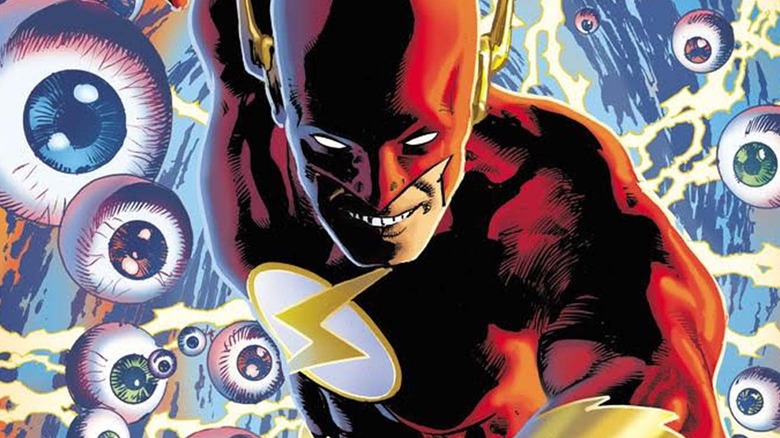 DC Comics
The "Dawn of DC" initiative is continuing its announcements for its 2023 lineup of comics, with "Superman," "Unstoppable Doom Patrol," "Green Arrow," and "Cyborg" being among some of the most exciting early announcements. Now, DC Comics is revealing what's coming next in its superhero universe as several popular heroes will be starring in new ongoing series from notable creators.
In May, DC Comics will release a free special issue, "Dawn of the DC Primer," which will drop new details about new titles. The one-shot from Joshua Williamson and Leandro Fernandez will follow up on Amanda Waller's quest to protect the DC Universe from its greatest threats, as she's assembled her own superteam from across the Multiverse. The special will take a closer look at secrets, emerging threats, and connective stories readers will see in the "Dawn of DC."
While the current "The Flash" and "Wonder Woman" series will get epic sendoffs for their 800th issues, four new books were also revealed: "The Flash" by Si Spurrier and Mike Deodato Jr., "Wonder Woman" by Tom King and Daniel Sampere, "Steelworks" by actor Star Trek actor Michael Dorn and Sami Basri, and a new "Hawkgirl" series from Jadzia Axelrod and Amancay Nahueplan — the latter of which will feature the mainline debut of a popular character from DC's young adult graphic novels.
Flash and Wonder Woman will see their current series end in grand fashion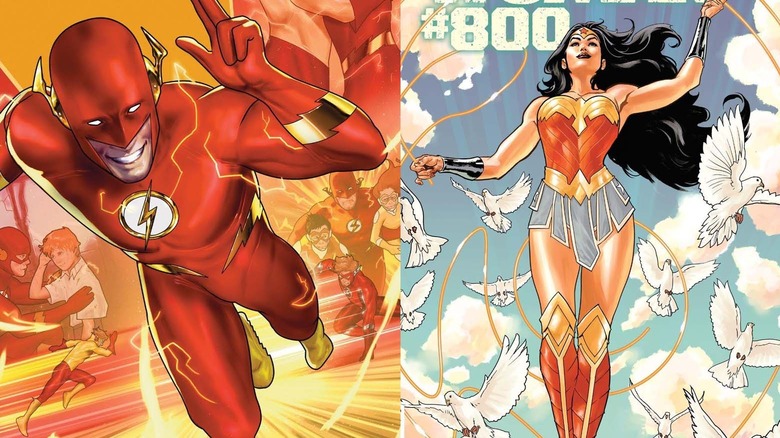 DC Comics
The current "The Flash" and "Wonder Woman" series will conclude ahead of their "Dawn of DC" launches. The 800th issue, which features covers from Taurin Clarke and Yannick Paquette, will see some of the industry's biggest names working on the book.
Writer Mark Waid, who helped create Bart Allen during his legendary "The Flash" run, will return to the title alongside past creators on the series, including Joshua Williamson ("Dark Crisis on Infinite Earths"), Geoff Johns ("Flashpoint Beyond"), and current scribe Jeremy Adams. In addition, artists Fernando Pasarin, Oclair Albert ("Hawkman"), Todd Nauck ("Stargirl"), Carmine Di Giandomenico ("Batgirl"), Scott Kolins ("The Flash"), and Mike Deodato Jr. ("Avengers") will draw "The Flash" #800. The issue will come to comic book stores on June 6.
Becky Cloonan and Michael W. Conrad's "Wonder Woman" will also be ending, with the hero finding herself trapped in dreams as she tries to escape before it's too late. Tom King ("Supergirl: Woman of Tomorrow"), Joëlle Jones ("Wonder Girl"), Daniel Sampere ("The Flash"), Jen Bartel ("Blackbird"), and more creators will contribute to the oversized issue. "Wonder Woman" #800 will be released on June 20.
Hawkgirl and Steelworks are surprise, but welcome announcements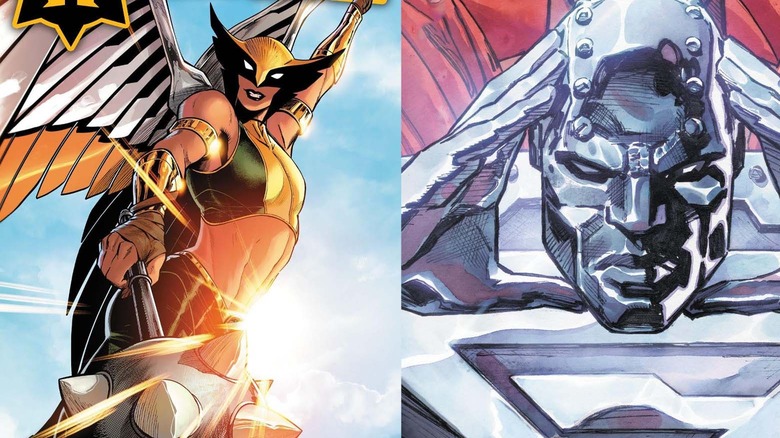 DC Comics
"Hawkgirl" is getting her own series from Jadzia Axelrod and artist Amancay Nahuelpan, where Kendra Saunders starts anew following the Justice League's surprise disbanding at the end of "Dark Crisis on Infinite Earths." "Hawkgirl" will also feature the popular new trans hero Galaxy, who appeared in Axelrod and Jess Taylor's "Galaxy's: The Prettiest Star," who will make their first appearance in the official DC Comics canon. The main cover comes from Nahuelpan and Adriano Lucas.
"Kendra Saunders, the winged warrior better known as Hawkgirl, has been one of the DC Universe's greatest heroes for a long time, serving as a member of both the Justice League and the Justice Society," the synopsis reads. "But with the Justice League disbanded, Kendra decides she needs a fresh start and heads to Metropolis to begin a new life. That life is quickly interrupted by a mysterious villain with a powerful connection to the Nth Metal that makes up Hawkgirl's wings and weapons."
Meanwhile, actor Michael Dorn, who voiced Steel in "Superman: The Animated Series" will pen a new "Steelworks" series with Sami Basri (and a cover from Clay Mann) featuring the hero struggle with deciding to continue on as the metal hero and balance his life at Steelworks.
"While John's professional life is firing on all cylinders, his personal life is even better, as his on-again, off-again relationship with Lana Lang might be back on, permanently," reads the summary for the upcoming series. "Now he must decide whether it's time to give up being Steel once and for all. But does John even know who he would be without his superhero identity? How does the other Steel—John's niece, Natasha Irons—feel about his momentous decision? And does any of that matter if Steelworks crumbles around him when he lacks the superpowers to fight back?"
Flash and Wonder Woman get new creative teams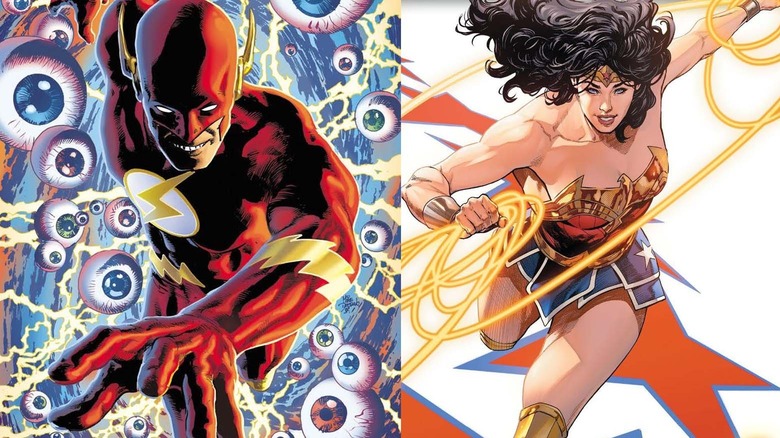 DC Comics
"The Flash's" new creative team will see Si Spurrier ("Suicide Squad: Blaze") be joined by Mike Deodato Jr. (who also drew the first issue's cover) as DC's synopsis for "The Flash" #1 teases a "cosmic horror" ahead for Wally West, as something beyond the Speed Force will come calling.
As explained in the synopsis, "Wally West has never been quicker, more fulfilled, more heroic. His loving family is around him. And yet something is off. Very off. His evolving understanding of his powers has opened Wally to new avenues of sci-fi adventure, and attuned his senses to strange new ideas. Something whispers from the dark vibrations beyond the Speed Force, and as Wally experiments with creative new approaches to his powers he encounters new realms, mysterious allies and mind-shattering terrors. Starting with a prelude in the soon-to-be-legendary The Flash #800, the chronicles of the Fastest Man Alive take an action-packed turn towards cosmic horror."
"Supergirl: Woman of Tomorrow" writer Tom King and Daniel Sampere (who drew the cover above) will be the new creative team for Wonder Woman, which will see Amazonians banned from the United States and Diana trying to navigate a new world while uncovering a mysterious murder.
"After a mysterious Amazonian is accused of mass murder, the U.S. Congress passes The Amazon Safety Act, barring all Amazons from American soil," the synopsis reads. "To carry out its new law, the government sets up the Amazon Extradition Entity (AXE) task force to remove those who don't comply by any means necessary. In her search for the truth behind the killing, Wonder Woman now finds herself an outlaw in the world she once swore to protect."
The new "Dawn of DC" titles are coming this summer from DC Comics.