The Troubling Reason Amazon Canceled A League Of Their Own (And What It Means For Future Shows Like It)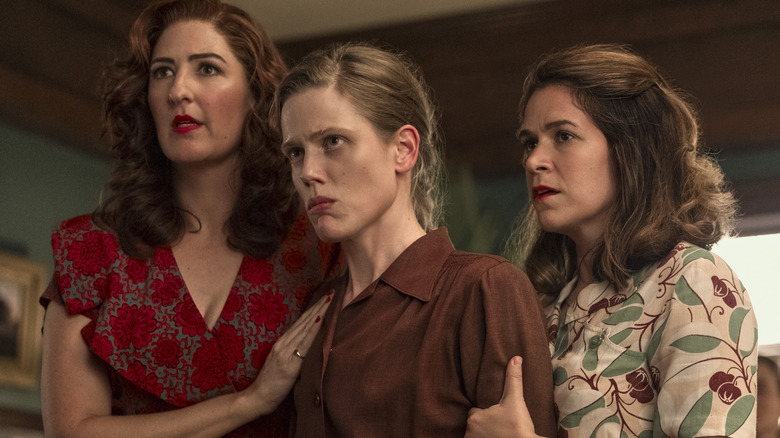 Anne Marie Fox/Prime Video
When "A League of Their Own" was given a shortened second season and canceled by Amazon Studios, its large and loyal fanbase had one question on their lips — why? The Hollywood Reporter has endeavored to, in part, answer that question. In an article explaining how Amazon Studios chooses to pick up, renew, and cancel its programming under the regime of new network head Jennifer Salke, "A League of Their Own" is revealed as a seeming victim of the streamer's search for a signature, audience-pleasing but roundly inoffensive breakout hit. The article claims that Amazon Studio's concentration on feedback from focus groups changed how promotion for "A League of Their Own" Season 1 was handled and may have ultimately led to its cancellation.
In the case of "A League of Their Own," those who participated in focus groups for the show seem to have been uncomfortable with the series' strong LGBTQ focus, their responses contributing to a ranking system that factors into what's renewed and how it's presented at the studio. It was allegedly suggested in a meeting held to discuss how the show would be advertised that its queerness be underplayed based on data from this group. 
While the system was eventually reevaluated and dropped, at least partially due to co-producer Will Graham's questioning of several Amazon executives and concern about the system's biases, it's stated that the focus group's rankings are still too large of a factor as to how shows on the streamer are treated. The outlet claims that "A League of Their Own" was a prime example of how queer-focused shows are dropped by the network. And the system seems to tilt still in one direction. "All this perpetuation of white guys with guns — it's a self-fulfilling prophecy," said an unnamed source in the Hollywood Reporter article.
A League of their Own isn't the only LGBTQ-focuesed show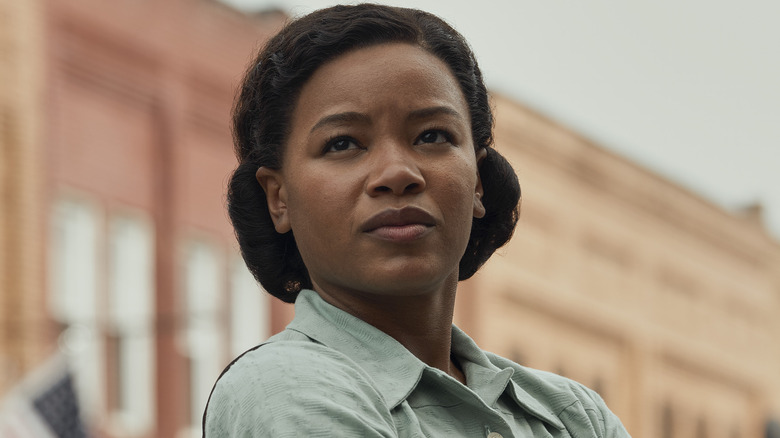 Amazon Studios
An unnamed executive in the Hollywood Reporter article discussed how "A League of Their Own" was treated by Amazon Studios as "a proxy for how diverse and inclusive shows are treated" at the streamer. And the network's reliance on focus group data ignores one thing: it couldn't have foreseen the fact that "A League of Their Own" has pulled in critical acclaim, awards season attention, and a loyal fanbase that hired a plane to carry a banner demanding more episodes of the show to fly over Amazon Studio's headquarters.
All of those things factor into a strong fanbase willing to pay to watch the Peaches bring home a pennant. Still, "A League of Their Own" lingered on for months without being renewed, despite what were reported to be very strong streaming numbers domestically. The show's short reprieve is one more blow in a series of punches to the gut that LGBTQ drama fans have endured in recent months. 
The series' cancellation is just one of many queer-focused programs that have met their ending. GLAAD's 2022-2023 edition of their Where We Are on TV study notes that series as diverse as "Gentleman Jack," "The Owl House," and "Warrior Nun" have all been given the axe in the past year. That resulted in a 1.3% decrease in queer characters, resulting from the loss of 22 such individuals. Even when studio heads are supportive, another season is not guaranteed. Even with Jennifer Salke's support and enthusiastic response from audiences and critics alike, "A League of Their Own" was still axed. 
Fans of diverse media are grimly braced for more bad news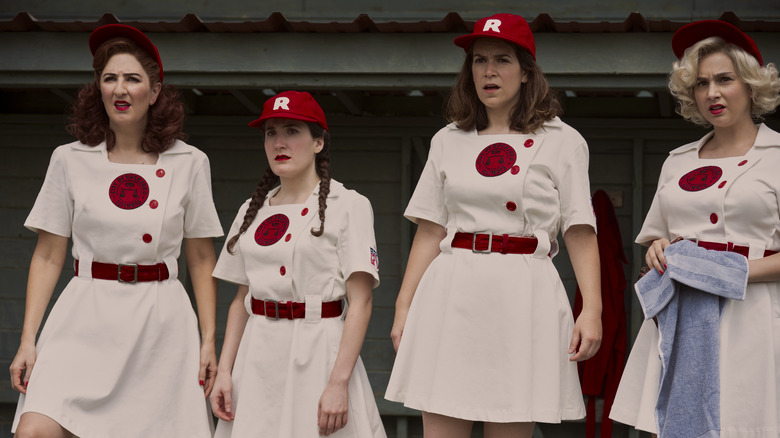 Anne Marie Fox/Amazon Studios
With so many LGBTQ-focused series dying swift deaths, fans of diverse media are fully braced to lose more of their faves. Sadly, the cancellation of "A League of Their Own" will contribute to the decimation, which continues to point to an unbalanced television landscape. GLAAD reported that 175 more characters won't be factored into the 2023-24 Where We Are On TV survey due to further cancellations and character deaths. That's one sad factoid, and points to the further erosion of queer representation. 
Yet the news isn't all grim. Several hit shows continue to carry queer representation and don't seem set to stop any time soon. There are queer characters on the megahit CBS series "Ghosts," and HBO's "Our Flag Means Death," neither of which seem close to cancellation any time soon. And at least "A League of Their Own" fans will get to see how the Peaches' journey ends, even if it won't exactly be getting "six seasons and a movie."