Marvel's Secret Invasion Trailer Is Giving Fans Total Winter Soldier Vibes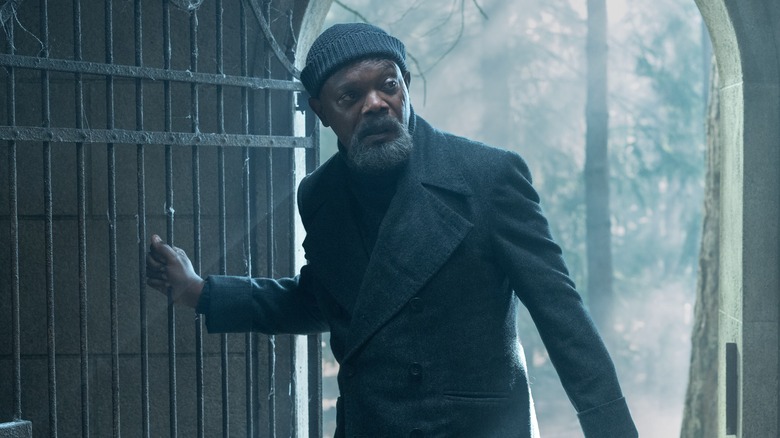 Marvel Studios/Disney+
It's no secret that some fans think the Marvel Cinematic Universe has needed a change of direction for quite a while. But fortunately, it seems like the upcoming Disney+ series "Secret Invasion" might be just the trick. Focusing on the return of Nick Fury (Samuel L. Jackson) following an extended hiatus, the show will follow the aging agent as he takes down a hidden army of Skrulls who are assuming positions of power all around the world. 
It's fair to say the last few years have seen the MCU's quality fluctuate. But overall, the franchise has cultivated a zanier lineup since the start of Phase 4, with movies and shows such as "Doctor Strange in the Multiverse of Madness" and "She-Hulk: Attorney at Law" focusing on the more outlandish and comical side of the Marvel Universe. But the apparently dark and gritty tone of "Secret Invasion" is not only hinting at a breath of fresh air for fans, but it is also inviting comparisons to one of the franchise's most acclaimed entries. YouTube user @srayj commented on the trailer, "This is giving me very strong 'Captain America: The Winter Soldier' vibes. The political intrigue, the gritty action ... It looks amazing!" The 2014 Oscar-nominated Phase 2 entry remains a top-tier Marvel offering for many fans almost a decade later, so a comparison to "Winter Solider" is certainly a positive omen.
This is what the MCU needs right now
For some fans, the trailer for "Secret Invasion" brings back memories of the franchise's golden days. Some have even gone as far as to claim that the show's similarities to "Captain America: The Winter Soldier" may be just what the doctor ordered, such as YouTube user Louis Berry, who commented, "'The Winter Soldier' vibes is what The MCU needs right now." Redditor u/Bulldog_Knight holds similar opinions, having tired of many of the recent MCU offerings. "Hoping this series has a similar tone to Winter Solider," they comment. "I enjoy when Marvel is fun and colorful, but when it's over done you get 'Love and Thunder.'"
As "Winter Soldier" contains a successful mix of espionage, political commentary, and slick action, it's safe to say that "Secret Invasion" might be worth the hype. In the trailer comments, YouTube user @lomazko7 expressed high hopes for the series given the comparisons, saying, "Really hope this is on the same level as 'Winter Soldier' or 'Civil War' because this is ... potentially the best show yet." 
"Secret Invasion" might finally be a show that unites Marvel fans after years of sometimes polarizing content. And while "Invasion" might have the spirit of "Winter Soldier," it's bound to be its own beast worthy of binging.