The Guardians Of The Galaxy Vol. 3 Soundtrack Has Dropped On Streaming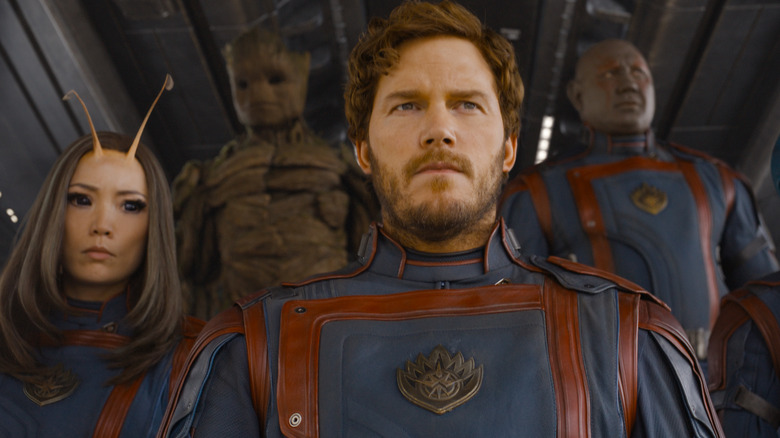 Marvel Studios/Walt Disney Studios Motion Pictures
It's time to face the music.
Marvel Studios and director James Gunn have finally released the highly-anticipated "Guardians of the Galaxy Vol. 3" soundtrack. The soundtrack's debut coincides with tickets for the threequel going on sale. Seeing as "Vol. 3" will wrap up Gunn's trilogy, and is expected to be the final time audiences see this iteration of the Guardians together, the release of the soundtrack is extremely bittersweet.
The first two "Guardians of the Galaxy" films featured their own distinctive soundtracks, with the first "Awesome Mix Vol. 1" consisting of tracks from the '60s and '70s. Standouts from Peter Quill's (Chris Pratt) first mixtape are Blue Swede's "Hooked on a Feeling" and "Moonage Daydream" by David Bowie. "Awesome Mix Vol. 2" features tracks from the same era, including Fleetwood Mac's "The Chain" and the evergreen "Mr. Blue Sky" by Electric Light Orchestra.
With the third film's soundtrack, Gunn is going a bit more experimental, which should excite fans of the franchise.
Radiohead, Bruce Springstreen, and more appear on Awesome Mix Vol. 3
James Gunn took to Twitter on Monday to drop the Apple Music and Spotify links for the "Guardians of the Galaxy Vol. 3" soundtrack. Titled "Awesome Mix Vol. 3," the soundtrack features 17 tracks. "Vol. 1" and "2" feature 12 and 14 tracks, respectively. In a 2022 interview with Entertainment Weekly, Gunn candidly discussed how he worked hard to outdo himself with the third film's soundtrack. "I worked twice as hard on this soundtrack as I did on both the first two soundtracks combined," the director teased.
Looking at "Vol. 3's" tracklist, it's clear that it features some deep cuts. Audiences will remember that Star-Lord/Peter Quill now has a Zune, which means he's not just beholden to the music of his youth, and the tracklist expertly showcases how the Guardian's tastes have changed. The first track on the album is Radiohead's "Creep (Acoustic Version)," a song released in the early '90s, well after Quill left Earth. Another major standout is "Crazy On You" by Heart. However, the most notable inclusion is Redbone's grooving "Come and Get Your Love," which was prominently featured in the first film's soundtrack. As the final track on "Awesome Mix Vol. 3," it'll be interesting to see how the song is tied into the film.
"Guardians of the Galaxy Vol. 3" hits cinemas on May 5 2023.