Is Blue Beetle In The DCEU Or James Gunn's DCU?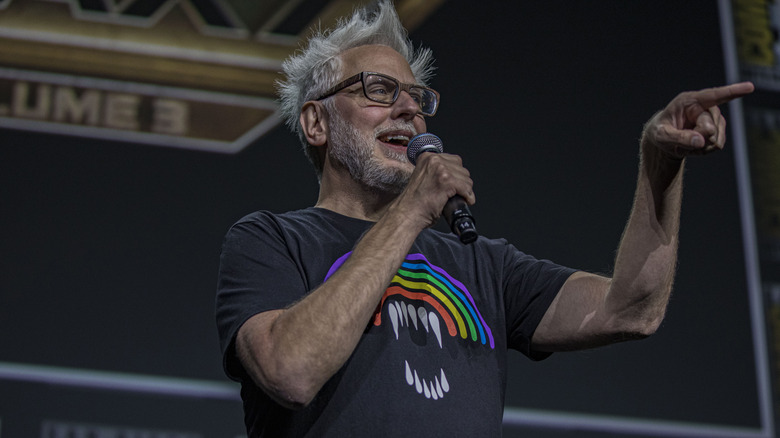 Daniel Knighton/Getty Images
DC has long tried to play catch up with the entertainment universe crafted by their friendly comic book competitors at Marvel. Although DC has some truly fantastic and beloved characters in their repertoire like Batman, Superman, and Wonder Woman, the film division has stumbled in their attempts to emulate the overwhelming success of the MCU. Luckily, DC has undergone a massive shakeup that sees James Gunn taking the reins, and he has been given creative control to steer the DC ship, similar to Marvel's Kevin Feige.
As such, several of the movies that were in production long before Gunn's arrival have their connections to his upcoming cinematic universe in question. Releasing an official video address through DC's official YouTube channel, Gunn confirmed that "Shazam! Fury of the Gods" always occupied its own special sliver in the old DC universe, and that the character does have a place in his future. Gunn then spoke about the next movie on the horizon, which is "Blue Beetle," and he said that the story focuses on a marvelous kid who is definitely a part of the DCU. In other words, "Blue Beetle" is part of Gunn's DC Universe.
Blue Beetle was considered a big part of the old DCEU as well
Gunn explained that there were four movies that were already in production before he arrived: "Shazam! Fury of the Gods," "Blue Beetle," "The Flash," and "Aquaman and the Lost Kingdom." Gunn then clarified that movies that don't fit within his vision are very much still allowed to exist and be created, giving an example of Todd Phillips' upcoming "Joker" sequel, and how these films will be considered part of DC's "Elseworlds" brand. This means that these movies will be given liberty to do their own thing, and their events and outcomes won't have an effect on the cumulative story being shared across multiple movies like the rest of the DCU.
During an interview with The Hollywood Reporter in 2022, "Blue Beetle" star Xolo Maridueña spoke about the audition process for the role, and how then-current DC Films chief Walter Hamada told him, "This role of Blue Beetle is going to be really important to this universe. We want to just make sure that whoever we go with is a real person and we're not just hiring a face. It's about more than what's in front of the camera." Although the plans for the grander DC movie universe have changed greatly since then, it sounds like Blue Beetle does have a place in James Gunn's vision.