Ant-Man And The Wasp Gets New International Poster, TV Spot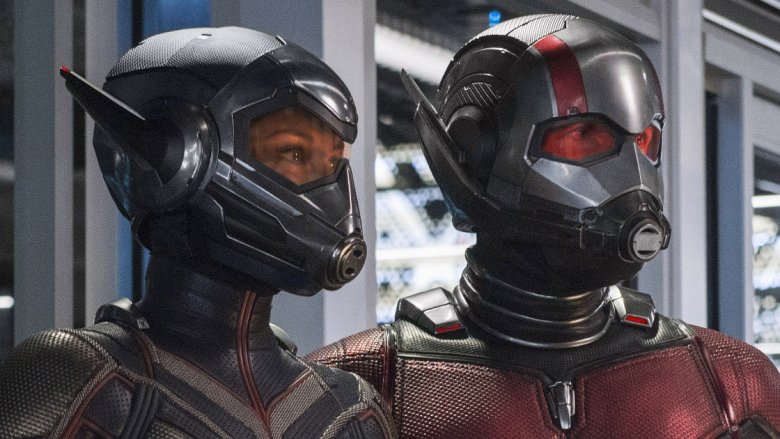 Twice the crime-fighting superheroes, twice the sweet promos. 
Marvel has rolled out a fresh international poster and a new television spot for its fast-approaching sequel Ant-Man and the Wasp. 
Courtesy of Comic Book Movie, the one-sheet meant for overseas audiences shows Paul Rudd's Scott Lang and Evangeline Lilly's Hope van Dyne standing back-to-back, seeming to exude an aura that warns, "Don't mess with Ant-Man and the Wasp." Look carefully, and you'll spot a tiny Ant-Man and the Wasp hidden within the poster as well. 
The newest video footage features Scott's former cellmate and member of his crew Luis, played by Michael Peña, diving into all the high-octane action by riding shotgun alongside the Wasp in an epic a car chase — the one teased in other Ant-Man and the Wasp trailers where a Hello Kitty PEZ dispenser suddenly turns enormous. 
Check out both the poster and the new TV spot at the bottom of this article. 
Directed by original Ant-Man filmmaker Peyton Reed, Ant-Man and the Wasp also stars Michelle Pfeiffer as the original Wasp Janet van Dyne, Hannah John-Kamen as the villainous Ghost, Walton Goggins as Sonny Burch, Bobby Cannavale as Paxton, Randall Park as Jimmy Woo, Tip "T.I." Harris as Dave, David Dastmalchian as Kurt, Judy Greer as Maggie Lang, and Laurence Fishburne as Bill Foster, who has been both Black Goliath and Giant-Man in the Marvel Comics canon. 
Ant-Man and the Wasp will be the first Marvel movie to follow after Avengers: Infinity War, a fact that has left many wondering what the film's tone will be like and how its story will address Ant-Man's absence from Infinity War. As screenwriter Christopher Markus previously explained to The Hollywood Reporter's Heat Vision, "Ant-Man, the franchise, is very light-hearted. It's fun. It maybe even skews younger. If we were to put Ant-Man in this extremely heavy movie, and then have to say to the guys who are making the Ant-Man movie, 'Yeah, he went through hell, but now go ahead and have your little romp and we'll pick it up afterwards,' that's why we have to really sort of manage your interconnections and go, 'Let's go and hold off so you can enjoy that without feeling a bad taste in your mouth.'"
Here's the official plot synopsis for Ant-Man and the Wasp: "From the Marvel Cinematic Universe comes Ant-Man and the Wasp, a new chapter featuring heroes with the astonishing ability to shrink. In the aftermath of Captain America: Civil War, Scott Lang grapples with the consequences of his choices as both a superhero and a father. As he struggles to rebalance his home life with his responsibilities as Ant-Man, he's confronted by Hope van Dyne and Dr. Hank Pym with an urgent new mission. Scott must once again put on the suit and learn to fight alongside the Wasp as the team works together to uncover secrets from the past."
Ant-Man and the Wasp will buzz into theaters on July 6. 
NEW: Latest #AntManandtheWasp TV spot gives us yet more snappy lines from the one and only Luis! (@realmichaelpena) pic.twitter.com/3mXu3mJzP2

— Ant-Man News 🐜 (@AntManNews) June 1, 2018