Modern Family's Eric Stonestreet Used His Own Mom As Inspiration For Cam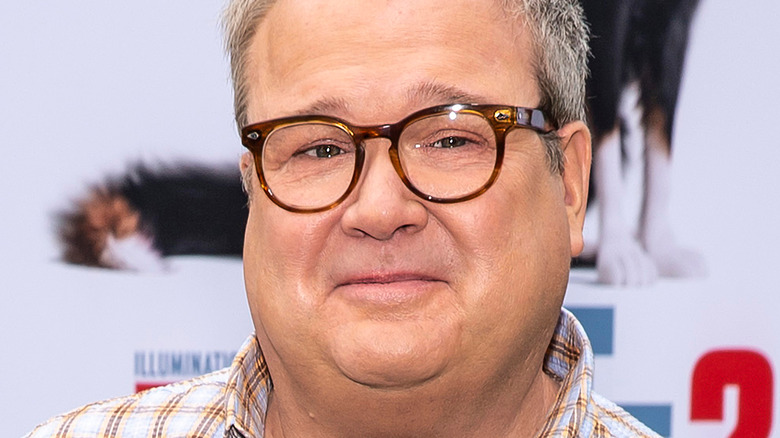 Ovidiu Hrubaru/Shutterstock
"Modern Family," one of television's most adored and awarded sitcoms, broke barriers with its unique formatting and commitment to authentic representation. The series unconventionally blends a mock-documentary style with an endearing family comedy that quickly captivated viewers of all ages. From the all-star cast including Julie Bowen, Ed O'Neill, Sofía Vergara, and Ty Burnell, a scene-stealing actor stands out from the rest with Eric Stonestreet as the hysterical Cameron "Cam" Tucker. 
His on-screen husband Mitchell (played by Jesse Tyler Ferguson) frequently balances Cam's more dramatic antics and clownish nature by keeping a level head. This often leads to an abundance of the series' funniest moments as the pair portray a heartwarming and loving relationship. The couple's normalizing depiction of a gay relationship (and eventual celebratory legal marriage) was a groundbreaking moment for television which forever changed the medium (as illustrated by Indiewire).
As a straight man himself, Stonestreet is exceedingly conscious of how important his role as Cam is to the LGBTQ+ community, which he told HuffPost in 2016. He also notes the power of television's influence, which elevates Cam's sometimes silly character into something much more powerful. In an Ask Me Anything (AMA) with Reddit, Stonestreet revealed the beautiful and illuminating inspiration behind Cam's iconic character. 
Stonestreet's mother heavily inspired Cam's sweet nature
Reddit's AMA format allows fans to directly ask creative talents like actors, writers, and directors their burning questions about their favorite films or TV series. "Modern Family's" Eric Stonestreet answered the foundational question behind his character Cam when prompted by Reddit user u/Pirate_Redbeard, who celebrated Stonestreet's role as Cam, writing "You my friend, are the best gay character I've ever seen on TV. How do you do it?" Stonestreet's response is both moving and inspiring. 
"By not necessarily playing Cam as a gay man. I am playing him as a passionate enthusiastic man, who stops and smells the roses. I am also using my mom and her personality as a guide post." This heartfelt reply is evident in Stonestreet's performance, which both avoids harmful stereotypes and honors his mother's lively attitude. It is also seen on more than one occasion in Cam's endearing enthusiasm across all 250 of "Modern Family's" hilarious episodes. 
Stonestreet's approach is key to Cam's sweet-natured character, which avoids becoming a hurtful caricature. By drawing on his mother's personality as inspiration, he brings out Cam's truly unique spirit that reflects "Modern Family's" diverse audience. This detail leads to a more relatable role that normalizes queer relationships through accessible and prominent representation. His mother's temperament is a moving and fitting origin for Cam's positive outlook on life that repeatedly uplifts Mitch, his family, and the audience in a plethora of stirring episodes.