Whatever Happened To Sliimeyhoney After Shark Tank?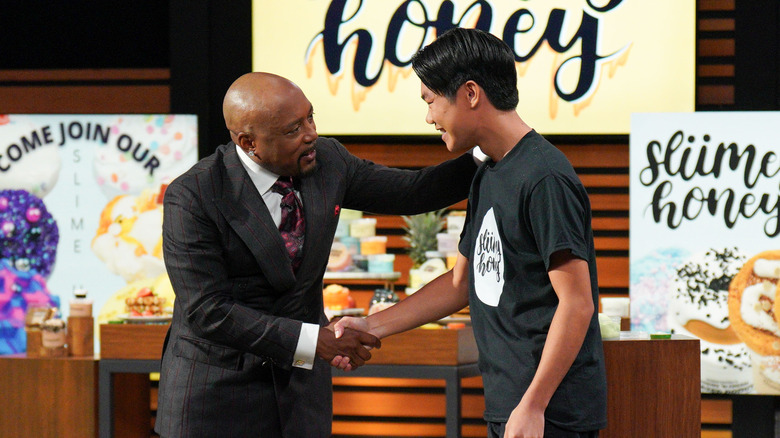 ABC/Christopher Willard
"Ever since I was little, my parents always told me, 'Never play with your food,'" Mark Lin said to kick off his pitch on "Shark Tank." "But food is so much fun to play with!" That impulse was the inspiration behind Sliimeyhoney, Lin's food-centric slime company, which creates tactile, anxiety-relieving slime based on different foods. Sliimeyhoney boasts scented varieties like Iced Cinnamon Roll, Thin Mints, and even Avocado Toast that sell for between $10 and $16 each, plus shipping.
When Lin went on "Shark Tank" in December 2022, the 17-year-old entrepreneur had been making slime for two years, first hawking his gooey wares on Etsy before upgrading to his own website. Frankly, the teen businessman didn't seem like he needed much help. Before appearing on "Shark Tank," Sliimeyhoney had already netted $1.2 million with a 70% profit margin. Still, Lin wanted an investor who would function as a mentor, and he found one in Daymond John, who invested $150,000 for 20% equity in Sliimeyhoney.
Sliimeyhoney sold out within days of its episode airing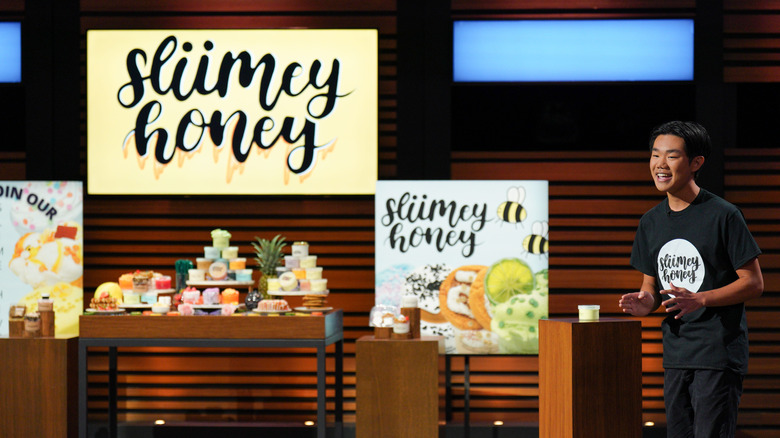 ABC/Christopher Willard
"As seen on 'Shark Tank'" are powerful words — powerful enough to even buoy companies that leave without a deal. Still, it helps if a business already has a robust social media following prior to its "Shark Tank" appearance. That was true of Sliimeyhoney, which marketed its goods directly to its then-900,000 TikTok followers.
The "Shark Tank" appearance gave Sliimeyhoney the extra push to sell out of all its merchandise. On December 8, six days after the episode aired, the Sliimeyhoney Instagram account posted that they were out of stock. "Due to our 'Shark Tank' appearance, our shop has experienced an influx of orders, surpassing our expectations several times over," the post read, continuing, "I've dreamed of being on 'Shark Tank' since I was little and this experience has surpassed my wildest dreams."
Daymond John seemed excited to lend a helping hand to the company's success, though he was just as eager to beat out Kevin O'Leary's offer ("You got a partner and we defeated evil all at the same time," he quipped). It's unclear how involved John will be after closing the deal, or if the terms of the deal changed off-camera. In any case, Sliimeyhoney seems to be doing just fine, with or without a mentor.