Jurassic World: Fallen Kingdom Eyeing $140 Million-Plus Domestic Debut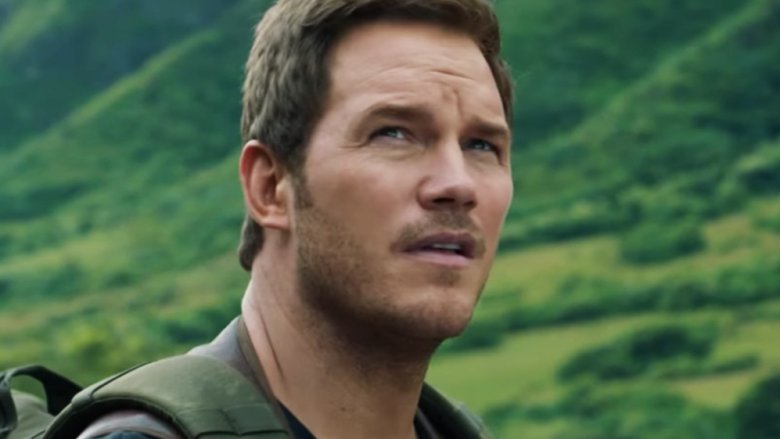 When Jurassic World: Fallen Kingdom touches down in theaters, it's expected to roar. 
The Jurassic World sequel is set for a June 22 launch, when, according to industry tracking, the film could take home upwards of $140 million at the domestic box office in its opening weekend. Some outlets have reported the pic's debut earnings as coming in around $130 million minimum, but Variety pins Jurassic World: Fallen Kingdom as making as much as $150 million in its first three days out in North America. 
Fallen Kingdom will actually start pulling in the green stuff in tons of overseas territories before it opens stateside. The J.A. Bayona-directed film is scheduled to open in Belgium, France, Germany, Indonesia, Korea, the Philippines, and Switzerland on June 6; in Croatia, Cyprus, Denmark, Greece, Hong Kong, Hungary, Israel, Italy, Lebanon, Malaysia, the Netherlands, the Middle East, Portugal, Russia, Serbia and Montenegro, Singapore, Slovenia, Spain, Switzerland, Thailand, Ukraine, and the United Arab Emirates on June 7; in Austria, Bulgaria, Estonia, Finland, Iceland, India, Latvia, Lithuania, Mongolia, Norway, Pakistan, Poland, Romania, South Africa, Sweden, Taiwan, Turkey, the United Kingdom, and Vietnam on June 8; and in China and Egypt on June 15. Like fans in the U.S., moviegoers in Argentina, Australia, Bolivia, Brazil, Central America, Chile, Colombia, Czech Republic, New Zealand, Paraguay, Peru, Slovakia, Trinidad, Uruguay, Ecuador, Mexico, and Venezuela will get to see Fallen Kingdom starting on June 22, with Thursday previews kicking off on June 21. 
It's unclear exactly how much money the dinosaur sequel is expected to make globally, but it's a sure-fire thing that Fallen Kingdom will earn a good chunk of change in the time between its first international launch on June 6 its domestic one on June 22. 
The original Jurassic World was projected to make as little as $110 million and as much as $140 million over its opening weekend when it was released in 2015, but ended up shocking the industry by securing a then all-time record opening of $208.8 million. (This was, of course, before Star Wars: The Force Awakens and The Last Jedi soared to the top of that list.) Jurassic World still stands as the fourth-biggest opening of all time, coming in behind the two Star Wars pics and Marvel's Avengers: Infinity War. 
Jurassic World: Fallen Kingdom stars Chris Pratt as Owen Grady, Bryce Dallas Howard as Claire Dearing, Ted Levine as Ken Wheatley, Rafe Spall as Eli Mills, Toby Jones as Gunnar Eversol, Justice Smith as Franklin Webb, B. D. Wong as Dr. Henry Wu, James Cromwell as Benjamin Lockwood, Geraldine Chaplin as Iris, Isabella Sermon as Maisie Lockwood, Daniella Pineda as Dr. Zia Rodriguez, Alex Dower as Anton Orlov, and Kevin Layne as a submarine pilot. Jeff Goldblum is set to make a cameo appearance in the film, reprising his Jurassic Park franchise role as Dr. Ian Malcolm. 
Here's what to expect from the Jurassic World sequel: "It's been three years since theme park and luxury resort Jurassic World was destroyed by dinosaurs out of containment. Isla Nublar now sits abandoned by humans while the surviving dinosaurs fend for themselves in the jungles. When the island's dormant volcano begins roaring to life, Owen (Chris Pratt) and Claire (Bryce Dallas Howard) mount a campaign to rescue the remaining dinosaurs from this extinction-level event. Owen is driven to find Blue, his lead raptor who's still missing in the wild, and Claire has grown a respect for these creatures she now makes her mission. Arriving on the unstable island as lava begins raining down, their expedition uncovers a conspiracy that could return our entire planet to a perilous order not seen since prehistoric times. With all of the wonder, adventure, and thrills synonymous with one of the most popular and successful series in cinema history, this all-new motion-picture event sees the return of favorite characters and dinosaurs–along with new breeds more awe-inspiring and terrifying than ever before."
Catch Jurassic World: Fallen Kingdom in U.S. theaters on June 22.