John Owen Lowe Was Hesitant To Work With Dad Rob Lowe On Netflix's Unstable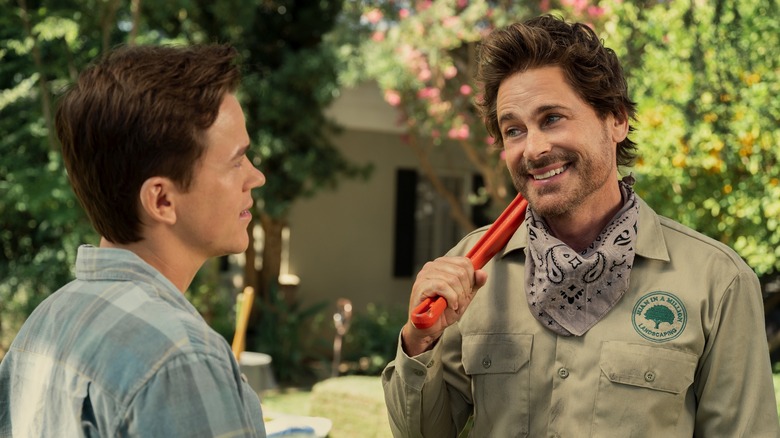 Netflix
It's hard enough to live in the shadow of a successful parent when you're pursuing a career in the same line of work. But when you're an actor and your father is someone as famous as Rob Lowe, that shadow expands in all directions, becoming a seemingly inescapable vortex. That's the challenge John Owen Lowe has been facing and based on his most recent gig, it's hard to say that he's actually forging his own path. After all, instead of being the lone Lowe on his new show, he decided to star opposite dear old dad. 
John Owen's new Netflix series, "Unstable," is an entertaining scenario for fans to observe as the fictional father-and-son dynamic very much mirrors his real-life career struggle. The show follows a socially awkward Jackson Dragon (John Owen) as he begins to work at the biological research company that his highly eccentric father, Ellis Dragon (Rob), has successfully been running. With this tug-of-war hitting close to home, it's no surprise to learn that leading up to the production of the series, John Owen was hesitant to take on this new venture with his father.
In the show, Jackson's main reason for the career move is to help Ellis, who has been reeling since the death of his wife, avoid spiraling down a pit of despair while simultaneously proving he isnt just riding his dad's coattails. This is a real struggle John Owen knows all too well. "The show is about a son who wants to get out of his father's shadow, and I am literally a son who wants to get out of my father's shadow," John Owen told Variety. 
John Owen Lowe says he's constantly compared to his father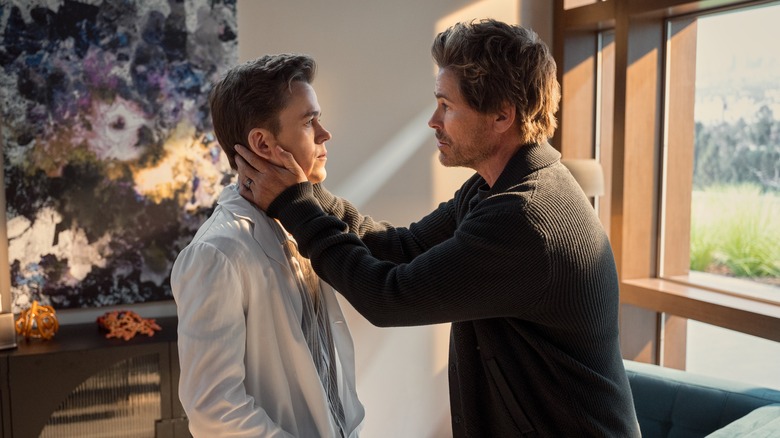 Netflix
With the "nepo baby" discourse at an all-time high, some fans may find it hard to sympathize with John Owen Lowe when it comes to his personal quest of carving out an acting career independent from his father's Hollywood elite status. But that doesn't erase John Owen's very real struggles. "The number of times I got compared to my dad, and the number of times he was brought up in conversation, made me so uncomfortable that I wanted to move as far away from that as possible," he told Men's Health. But now, instead of running away from this issue, John Owen has shifted course, turning directly into it.
The real father-son dynamic in "Unstable" won't be too unfamiliar for comedy fans, as audiences have already embraced this type of on-screen connection. "Schitt's Creek" has already laid out the foundation, as father and son Eugene and Dan Levy joined forces for the Emmy award-winning comedy series, with the younger Levy becoming just as big a star in his own right as a result.
Now with "Unstable," John Owen's choice to stop running from his father's success is proving to be a much better choice. "I have adopted a new perspective on that, which is, when you're lost in the forest, sometimes the only way to get out is to go deeper into the forest," he told Variety.  And for how exactly he's getting more comfortable working with his dad, John Owen revealed, "I like to tell him sometimes that he has a punchable face — and I don't have one of those because my jawline isn't quite as chiseled."