1923's Helen Mirren Booked The Role With No Script After Meeting Taylor Sheridan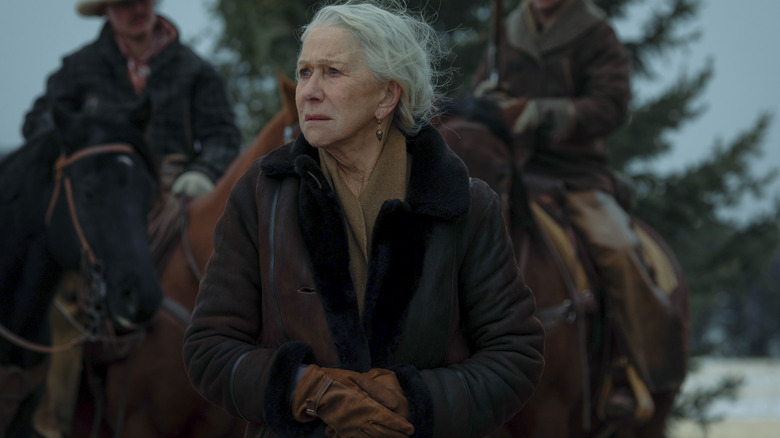 Emerson Miller/Paramount+
Helen Mirren has had a go at franchises as of late. In addition to starring on the big screen in projects like "Shazam! Fury of the Gods" and "Fast X," she's also popped up on the highly successful "Yellowstone" spinoff series "1923." She plays Cara Dutton, the matriarch of the Dutton family at this point in time, and if the role seems specifically catered to Mirren's sensibilities, there's a good reason for that.
The actress spoke about her most recent TV project to Deadline, and when asked about initially booking the part, Mirren explained, "I think the original approach came through my agent. And as one normally does, you say 'Oh that's interesting. I would love to read a script.' And he said, 'Oh no no no there is no script.' That's unheard of! How can I agree to something if I haven't read a script?" Mirren soon learned that Taylor Sheridan, the creator of the "Yellowstone" universe, likes to write parts for the people he knows are playing them. It was a unique approach, but it earned Mirren's curiosity and led to a fortuitous meeting.
Helen Mirren enjoyed her first meeting with Taylor Sheridan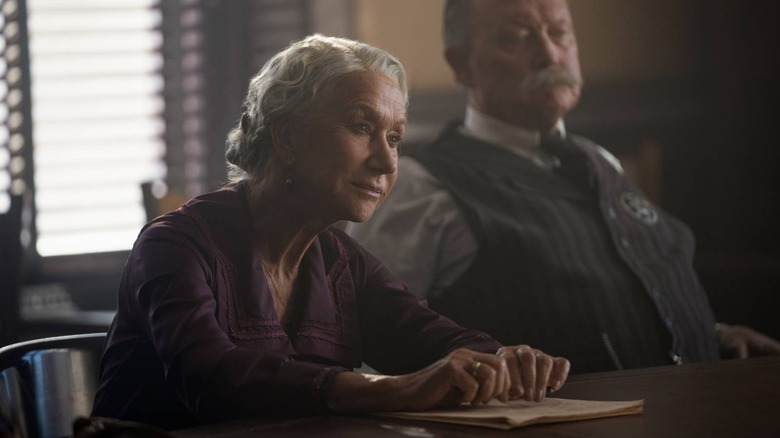 Christopher Saunders/Paramount+
Taylor Sheridan's approach to crafting characters is nothing new. In fact, in a profile on Esquire about roping Harrison Ford into "1923," a similar story played out where the actor met with Sheridan in Texas to go over the project and how Sheridan needed a commitment from Ford to star in it before he would have a script ready. Apparently, it doesn't matter how many decades an actor has been in Hollywood; Sheridan needs someone to sign on before typing on his keyboard.
Mirren went through the same process, wanting to meet with him before agreeing to do anything. Later in her Deadline response, Mirren admitted, "I went to meet with him in Texas and had a wonderful time. I knew of his work with Hell or High Water and Wind River. I thought his work was extraordinary. He came with huge credentials as far as I was concerned. I just really enjoyed his company. So I thought, 'Yeah okay and I'll jump in the deep end and have a go.'"
It may have been a risk on Mirren's part, but it's one that paid off. She concludes by saying how working on "1923" was one of the best experiences of her life. And the good times will continue with "1923" getting picked up for a second season.