1923: Brandon Sklenar's Secret To Playing Spencer Is Not Emoting Too Much
Emerson Miller/Paramount+
Though he'd already delivered notable turns in projects like "Temple," "Mapplethorpe," and "Emily the Criminal," Brendan Sklenar was hardly a household name prior to appearing in "1923." You better believe people know him now, with the actor earning raves for his turn as the lion-slaying Spencer Dutton on the series. Though he's yet to set foot on the Dutton Ranch in "1923," he's already becoming one of the best-loved characters in Taylor Sheridan's greater "Yellowstone" narrative.
Like many powerful men in Sheridan's world, Spencer is very much the epitome of the strong and silent type. In fact, he rivaled even Harrison Ford in terms of screen time spent glaring into the distance during the first season of "1923." As Sklenar recently told Reel School, learning to keep the emotion of a moment corked is indeed the key to playing the character. "Taylor's writing is such that it's on the page. And as an actor you think 'oh, this is an emotional scene' and you want to jump on it as an emotional scene," he said, adding, "But you have to keep everything so internalized."
Knowing when to get emotional on 1923 is a juggling act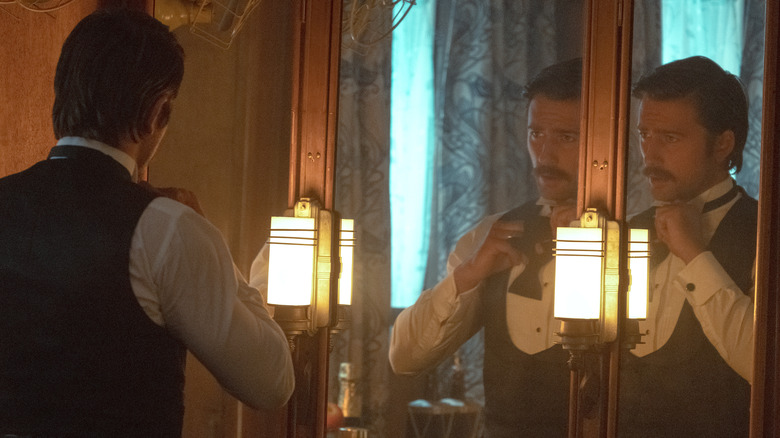 Emerson Miller/Paramount+
Claiming that internalization is the key to playing Spencer, Brendan Sklenar told Reel School that it's also the hardest part of his job on "1923." "You have to pick your moments of when these colors are being revealed," the actor noted, adding that the trickiest part of keeping the emotions in is creating a rich inner monologue for the character, "so that there is a life underneath and you're not just staring off into the distance." 
Sklenar adds that it was even trickier to learn when and how to let the inner life bubble up to the surface after working so hard to keep it just below, stating, "What was a different process in ['1923'] was constantly pulling it back and restraining things ... and crafting when those colors are shown."
Even as Sklenar spent his share of screen time gazing longingly at the horizon (or into the piercing blue eyes of his onscreen paramour Julia Schlaepfer), the actor made the most of any moment where Spencer Dutton was required to break his steely facade and let those "colors" through. Some might even argue that those moments ranked among the most emotionally resonant of the show's inaugural season. They'd likely also note such scenes were all the more impactful since they came so few and far between. With "1923" set to return for a second season, it's a safe bet Sklenar and Sheridan will stay the course on the Spencer front moving forward.