Did Theo Rossi Tease A Possible Sons Of Anarchy Reunion?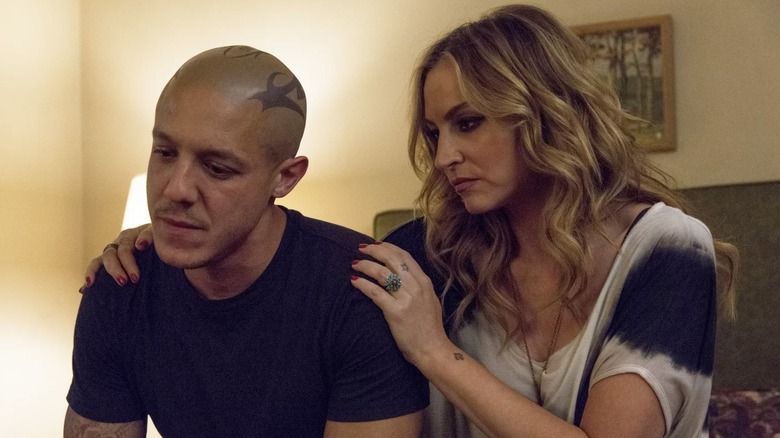 FX
It's no surprise that when a successful, long-running TV series ends, fans are usually left wanting more. The same goes for FX's hit show, "Sons of Anarchy," which, after seven seasons, came to a conclusion back in 2014. Even though a spinoff series, "Mayans," arrived four years later, many fans still wonder if there is more story to tell when it comes to the original series. Based on recent comments by Theo Rossi, who played "Juice" Ortiz, "Sons of Anarchy" may have some gas left in the tank.
At a panel discussion for the film "Emily the Criminal," Rossi was asked about a possible "Sons of Anarchy" continuation. "There might be something coming up where we're all back together, which is insane," he replied (via Deadline). Rossi went on to explain that whether or not this onscreen reunion happens, his connection to his castmates will not be affected. "If it happens, it's wild, but if it doesn't, it would be perfect and really cool because we also talk every day," he said. "Mayans" has already proven that Sutter still has more story to tell, which gives fans a reason to believe that a "SOA" follow-up could actually happen.
The SOA continuation may surface as a movie
When "Sons of Anarchy" was in its prime, Theo Rossi believed its ongoing success was solely due to the fans. "We knew that we were in something that was rarefied air," he said on the "Emily the Criminal" panel. "We were the people's champ. Everybody loved us, but no one in Hollywood gave a s*** about us." Rossi added that he also believes it was the cast members' real-life friendships that got fans' extra attention. "We couldn't walk two seconds without people being super-hyped that we were all together and we were all friends," he explained. The question remains, however, will that be enough for new "SOA" material to emerge?
Although Rossi himself got to perform on the series through most of its run, his character — like much of the main cast — didn't make it to the finale. With chatter about a new "Sons of Anarchy" spin-off in the works, fans must wonder how and when it might happen. One way to go might be with a full-length feature film, as in the case of "Deadwood: The Movie" and "El Camino: A Breaking Bad Movie." When asked if this might be the case for "SOA," Rossi smiled and responded simply, "It's totally different. It's really cool." Fans will interpret that in many ways as they wonder if there's more in store for SAMCRO.