Sons Of Anarchy Creator Kurt Sutter Once Hinted At A Series About Jax's Sons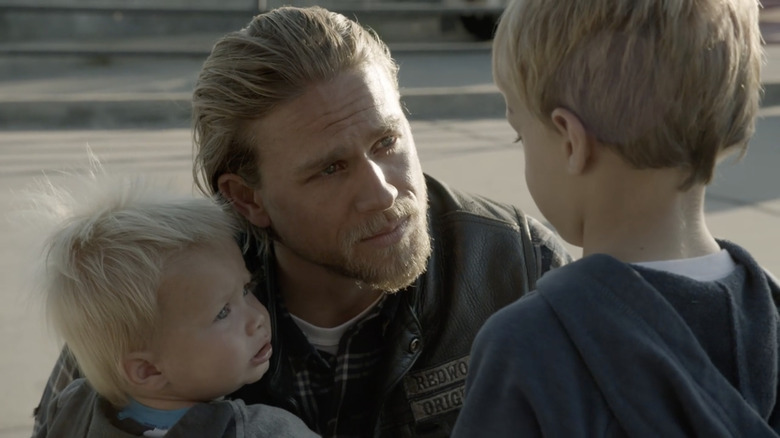 FX
After seven seasons, the "Sons of Anarchy" took their final ride in 2017, departing the small screen for good with the spinoff series "Mayans M.C." left to fill the void. With that show coming to a close, fans of motorcycle-based crime dramas probably didn't think they had much to look forward to. Still, Kurt Sutter, the man behind the popular FX series, says there is a possibility there could be more story to tell revolving around the sons of Jax Teller (Charlie Hunnam).
Kurt Sutter was the creator and showrunner for every "Sons of Anarchy" season, which all received impressive scores on Rotten Tomatoes. Sutter would also create and serve as executive producer on the "Mayans M.C." spinoff. But for many, it seemed like he was finished with SAMCRO and anything relating to the property. Especially since he decided to take his talents to Netflix with the western drama "The Abandons." But it appears Sutter isn't done with "Sons of Anarchy."
There have been rumors of his desire to make a prequel series following the First Nine that started the titular criminal outfit after returning home from the war in Vietnam. Still, that particular project has yet to go into development. And now it seems instead of going backward with "Sons of Anarchy," Sutter says it's not outside the realm of possibility to think that a sequel set of entries that follows the third generation of Teller boys could happen at some point down the road.
Abel and Thomas could bring the series back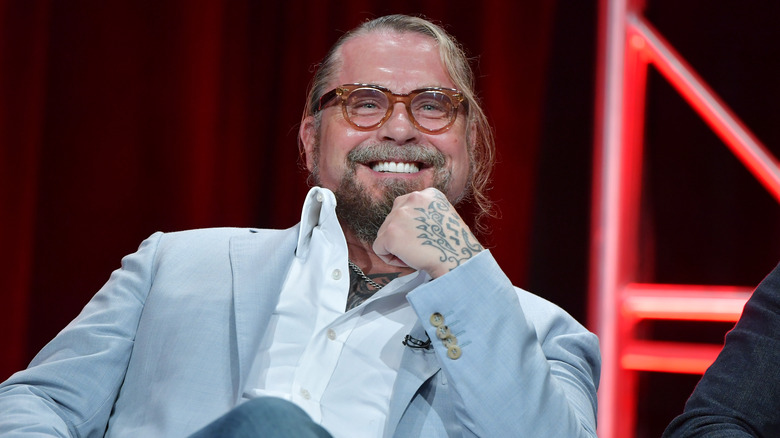 Amy Sussman/Getty Images
Jax Teller may be dead, but "Sons of Anarchy" is still very much alive, at least in its creator's mind. According to Kurt Sutter, if there is enough demand, another chapter of the SAMCRO legacy could emerge, focusing on a pair of Tellers that have yet to receive the spotlight. "Perhaps thinking ahead at some point, if any of us are still alive, that there might be a series of events that takes us down the line into the future that perhaps sets up some kind of dynamic for Jax's sons to become aware of who his dad was and things like that." Sutter told Tom Arnold on his podcast, "100% Honest. Pretty Much." "That, for me, is the dream quartet, if you will."
While nothing has been officially set in stone, watching the two biker princes learn about their family's legacy, rebuild what their grandfather started, and possibly fight for the SAMCRO throne could be an intriguing direction for the potential series to take. Either way, a time jump with new players at the forefront and a few familiar faces along the way could be just the thing to reignite the franchise. And this isn't the first time news of more "Sons of Anarchy" on the horizon has happened. With all of this chatter about more "SOA" from so many of the big names from the series, it's probably difficult for fans not to get their hopes up that, in some way, "Sons of Anarchy" will ride again.