Extraction 2 Trailer: Tyler Rake Lives In The High-Octane Chris Hemsworth Sequel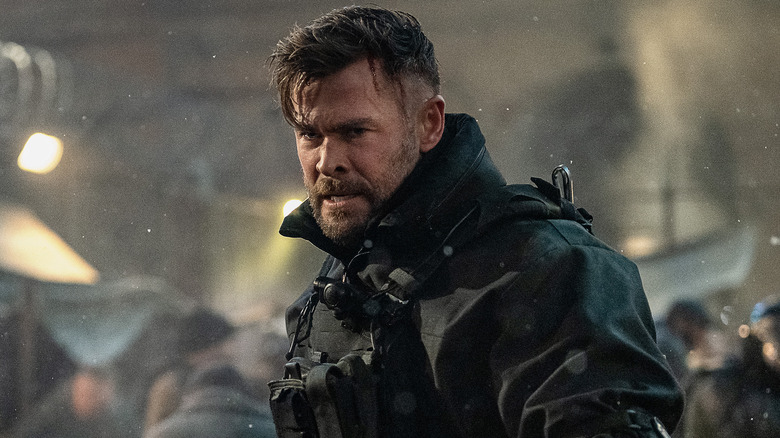 Jasin Boland/Netflix
Netflix has finally debuted the first trailer for "Extraction 2," the latest action thriller from director Sam Hargrave. Best known for coordinating stunts on "Captain America: Civil War" and "Avengers: Endgame," Hargrave made the jump to directing with "Extraction." Backed by Netflix, the flick saw jaded mercenary Tyler Rake (Chris Hemsworth) head to Bangladesh to save a kidnapped teenager (Rudhraksh Jaiswal). Produced by The Russo Brothers, the supporting cast of "Extraction" was rounded out by heavyweights, which included David Harbour, Randeep Hooda, Pankaj Tripathi, and Golshifteh Farahani.
Released during the early days of the COVID-19 pandemic, when much of the world was still in the beginning phases of lockdowns, "Extraction" was a welcome distraction for audiences around the world. The film quickly rose up the ranks on Netflix's charts, becoming the streaming service's most-watched flick at the time, per CNET. While it's since been usurped by the likes of "Red Notice" and the Oscar-nominated "Don't Look Up," the Hargrave-directed film is clearly one of Netflix's most important properties.
Talks of a sequel manifested shortly after the film was released but "Extraction" fans didn't get the go-ahead to start cheering until late fall 2021, thanks to a teaser released during Netflix's Tudum event. Now, after two years of anticipation, the first look at "Extraction 2" is out, and it looks like the wait was worth it.
Extraction 2 has bigger, bolder action than its predecessor
As expected, "Extraction 2" is chock-full of chaotic action sequences, with Chris Hemsworth's Rake at the helm. The last time we saw Rake, the merc seemingly succumbed to his wounds. Depending on how you read the film's ending, it's possible that Rake survived his many bullet wounds and was somehow OK. Well, Rake is literally back, and he's clearly better than ever as he performs death-defying stunts. Plot details on "Extraction 2" are slim, but Rake's fellow merc Nik (Golshifteh Farahani) is back, making this an exciting reunion.
Like its predecessor, Joe Russo is penning the screenplay, which this time takes place in Europe. Sam Hargrave also returns to direct the bombastic Netflix flick, which should break a record or two when it releases later this summer. Hargrave previously teased the sequel's action sequences, promising that it would be bigger than the first's. "With the title of '2' behind your name, you have to bring at least twice the action," the director teased in a behind-the-scenes video. The same video confirmed that "Extraction 2" is set to feature another lengthy, intricate one-shot take. The sequence will involve a helicopter landing on a moving train, which Hargrave personally filmed, per Entertainment Weekly.
Should the sequel prove to be successful, maybe the Russo Brothers will finally kickstart their much-talked-about "Extraction" cinematic universe. 
"Extraction 2" hits Netflix on June 16.