AHS' Sarah Paulson Compares Jessica Lange's On-Set Behavior To A Cat On A Wire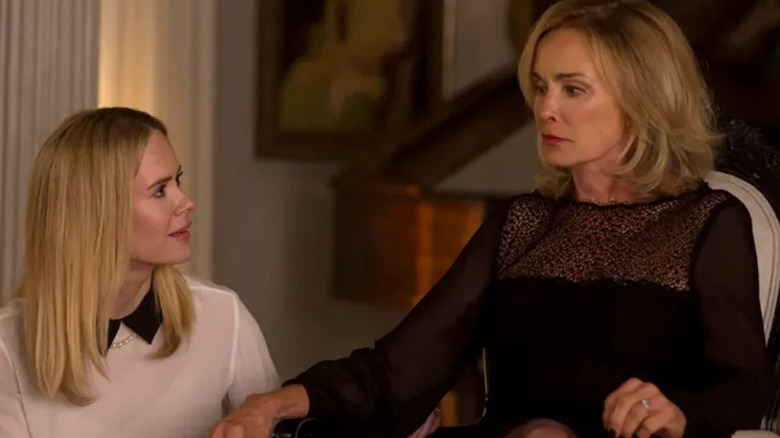 FX
During her five seasons in Ryan Murphy's anthology, "American Horror Story," Jessica Lange showed off her strengths as an actor with her portrayal of several memorable characters who exhibit questionable morals due to their upsetting backstories. In any given season featuring Lange, viewers can watch the "Grey Gardens" star have an electric scene with Sarah Paulson. 
During an appearance on a 2018 Television Academy panel with several of her "AHS" co-stars, Paulson opened up about acting with Lange. Paulson noted that she performed with the "Tootsie" actor during her stint as a Broadway actor six years before starring alongside her in "American Horror Story." Despite their close working relationship, Paulson suggested she believes Lange is an intimidating scene partner. 
"She to me is like a cat on the wire," Paulson said. "She's very alive and incredibly present and totally scary as hell. There's something very unnerving about a person that is that alert in a scene with you." The "Ratched" star also revealed that she appreciates Lange's uninhibited acting choices. 
"She's very instinctual," Paulson said. "She doesn't come in with an entire plan about how to play a scene at all, which I think is very interesting." In addition, Paulson revealed Lange stayed in character while filming "AHS" scenes, even when she was not in the frame.
Sarah Paulson is grateful to Jessica Lange
In a 2018 interview on the SiriusXM program "Sandyland," Sarah Paulson revealed Jessica Lange had a hand in her becoming an "AHS" cast member. She suggested Lange wanted her company during her time shooting "AHS" Season 1 because she was unhappy living in Los Angeles for the show. 
"She's not an L.A. person," Paulson said. "She would rather like be in a potato farm in Minnesota somewhere. That's truly where she's happiest." 
The actor explained she happened to be in Los Angeles during the production of "AHS" Season 1 because her plans to star in a New York play were canceled. Paulson also shared that Lange invited her to go to a dinner where she had a conversation with Ryan Murphy. During the meal, Lange requested that Murphy hire Paulson, who previously had a minor role on his show "Nip/Tuck." 
"She said, 'can't you find something for her to do [on AHS] because it would be great to have her around,'" Paulson said. "He just looked at me and paused for 10 seconds and said 'Yeah, lady. I think I can find something for you.'" Paulson noted that Murphy decided she was suitable to portray the "AHS" Season 1 character Billie Dean Howard. 
Paulson also spoke about feeling grateful toward Lange for encouraging Murphy to hire her in an October 2020 interview on "The Jess Cagle Show with Julia Cunningham." She joked that she planned on purchasing Lange a substantial gift. 
"I'm going to buy her a potato farm in Minnesota," Paulson said. "Nothing would make her happier."