Ted Lasso Creator Bill Lawrence Said He Stepped Back To Let Jason Sudeikis Shine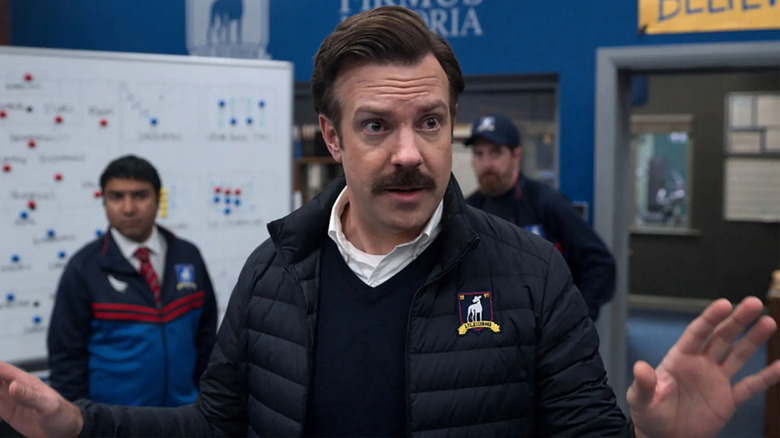 Apple TV+
Over the past few years, Apple TV+'s "Ted Lasso" has become one of the most popular shows in the streaming landscape, thanks in large part to its exuberant optimism and winning lead performance from "SNL" veteran Jason Sudeikis. Sudeikis, who created the character back in 2013, writes for and produces the show alongside an incredible creative team, including co-creator Bill Lawrence. Lawrence, a veteran of the television industry, also created shows like "Spin City," "Scrubs," and "Cougar Town." Though Lawrence is typically regarded as the mind behind "Ted Lasso," he's actually stepped aside a little bit. This is largely because Sudeikis was involved in nearly every part of the production, and Lawrence ceded the floor to him.
Speaking to The Hollywood Reporter about his work on "Ted Lasso," Lawrence revealed something that might surprise you: he's actually pretty hands-off when it comes to the acclaimed comedy. When asked if it's true that he's stepped back a bit on "Ted Lasso," Lawrence confirmed that he has. 
"I ran that show the first year because Jason was still shooting movies while we were doing the writers' room," Lawrence recalled. "Then, at the end of that year... I was like, 'Ah, I'll spend a couple of months teaching him how to edit.' But after like a day or two, he's like, 'Yeah, I got it.' So, the second year, we ran it together, and I'm only able to do other things now because that guy ran the show himself the third year, as it should be. It's his voice and his world this season."
Bill Lawrence is hard at work on another new comedy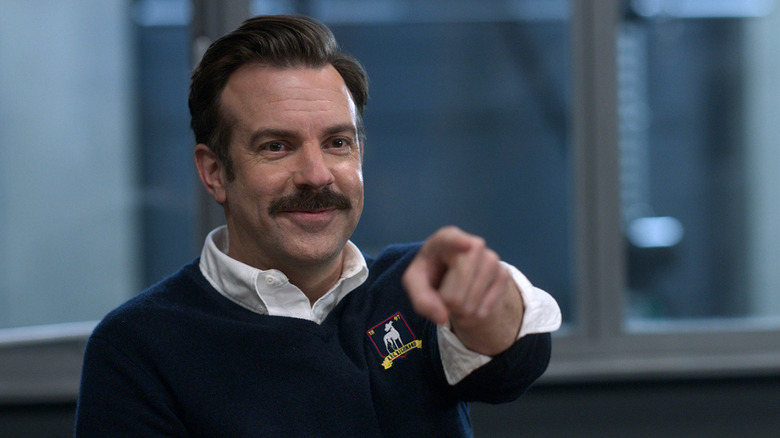 Apple TV+
Though Bill Lawrence is still a co-creator and executive producer on "Ted Lasso," he's working on other stuff right now — and when The Hollywood Reporter asked if it was difficult for him to take space during "Ted Lasso" Season 3, he basically said it was complicated. "Well, the positive was I got to do two things, 'Shrinking' and 'Bad Monkey,' that I've been dying to do," Lawrence said. 
"Shrinking," which stars Jason Segel and was created by Segel, Lawrence, and "Ted Lasso" star Brett Goldstein, is airing on Apple TV+, earning plenty of critical acclaim for itself. As for "Bad Monkey," there's no release date for that one just yet as of this writing, but the drama series stars Vince Vaughn as a detective who ends up working as a restaurant inspector, and it will also air on Apple TV+ whenever it premieres.
All in all, Lawrence seems at peace with his decision, saying, "It was healthy for me to let go because Jason [Sudeikis] is Ted Lasso and certainly deserves, especially landing the plane, for it to be his vision... And he has, without a doubt, earned that with this show. So, it didn't sting as much as I thought it would, but that's also partly because I think he crushed it."
The third and final season of "Ted Lasso" is streaming on Apple TV+ now.