American Horror Story's Evan Peters Was Inspired By Tom Hanks & Leonardo DiCaprio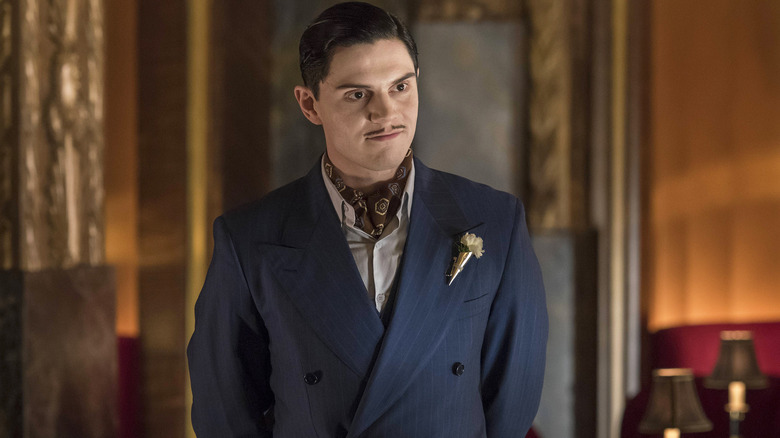 FX
Evan Peters has proven to be an actor worth watching. His career has spanned appearances on various series to starring roles in prominent films. For the versatile performer, he was originally inspired by two well-established talents. Peters revealed that Tom Hanks and Leonardo DiCaprio showed him the joys of acting and transformation. In an interview with SRU Rocket, Peters said he admired their ability to convincingly change for a role. 
"I always wanted to do that and try to be a part of that," Peters said. "I think that is driving me the most." Transforming for a role is something that Peters knows all too well. "American Horror Story" not only gave him a major starring role, but its anthology format also allowed the actor to transform with each new season. 
At the time of his interview, he mentioned "Coven" offered him his most difficult role so far with Kyle Spencer as it required a lot of research and work. For instance, he went through the script and wrote out how he would approach each emotion without speaking. Despite his work on the character, some fans disliked Kyle so much that they chose Kyle as the least memorable American Horror Story's character portrayed by him.
Mare of Easttown presented a character close to Peters' own personality
Studying the work of award-winning actors like Tom Hanks and Leonardo DiCaprio paid off for Evan Peters. Beyond the "American Horror Story" franchise, he's excelled in a pair of roles that couldn't be farther from each other. 
"Mare of Easttown" put the star in the company of Oscar-winner Kate Winslet, and Peters was even terrified to work with Winselt initially. The actor found this role to be more like himself than others, as he described Detective Zabel as down-to-earth and normal during an AwardsWatch interview. 
"This is just kind of a nice switch-up and a change from things I've been playing in the past," Peters said. The role would pay off in more ways than one, and he would go on to win the 2021 Emmy for Outstanding Supporting Actor in a Limited or Anthology Series or Movie. Nevertheless, another project would test Peters in a way no other had before.
Ryan Murphy created controversy by making "Dahmer – Monster: The Jeffrey Dahmer Story." Peters dove into the titular role of this disturbing person with a zeal, even working to assume the killer's posture and movement.  As difficult and troubling as the character was to portray, Peters found yet another connection to his acting idols by transforming into a character like they have in the past.