Chicago Med S8: Will's Love Life Has Fans Rolling Their Eyes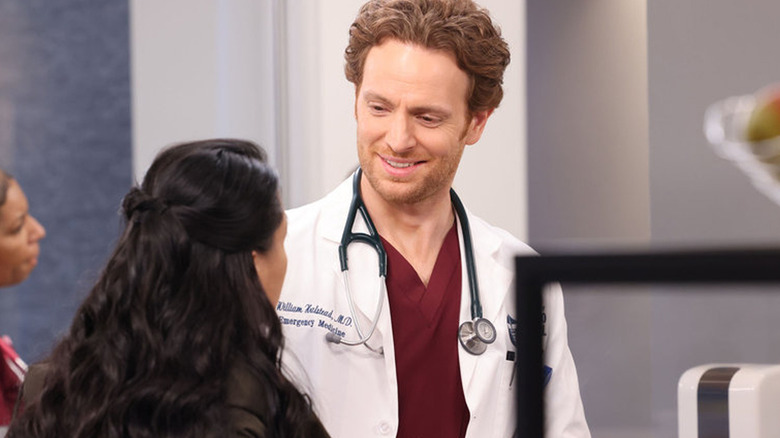 George Burns Jr/NBC
As the actor who portrays Dr. Will Halstead, Nick Gehlfuss is one of the longest tenured stars of NBC drama "Chicago Med." In an interview published around the time of the "Chicago Med" Season 8 premiere, Gehlfuss shared that he sees a relationship in Will's future, in light of the fact that the actor playing his brother left his "Chicago P.D." role, leaving Will without one of his closest confidants. While actor Jessy Schram thinks her character and Will might rekindle their romance, this has yet to come to fruition. In fact, in "Chicago Med" Season 8, Episode 17, Will repeats what some fans believe to be a troubling pattern that has come to define his love life.
"Chicago Med" Season 8, Episode 12, notably, newly introduces Dr. Grace Song (T.V. Carpio) to the Gaffney Chicago Medical Center, and in Episode 17, Will confirms that he's fully interested in pursuing Grace romantically — naturally earning a "Will and Grace" joke from Dr. Hannah Asher (Schram).
In discussions of this development online, many fans have commented on the fact that Will frequently dates his coworkers, to the extent that it's seeming to become either unhealthy or tedious. For instance, @upstcad on Twitter wrote, "why can't will have plots that have nothing to do with him dating his coworkers," in one of many posts essentially characterizing the current state of Will's love life as ridiculous.
Fans think Will's interest in Grace might not be the best idea based on his past relationships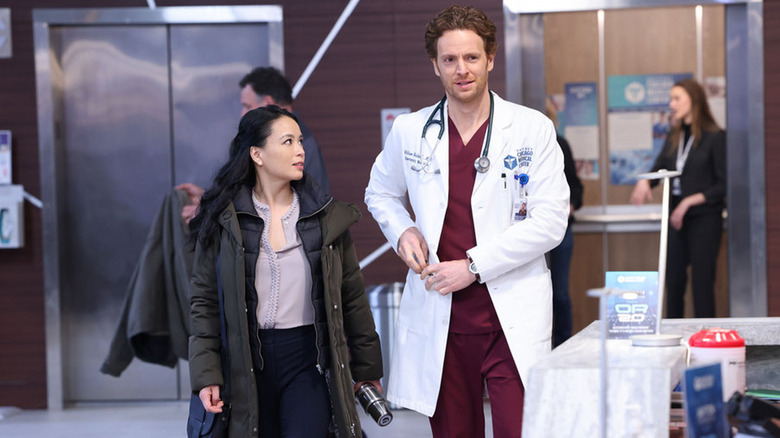 George Burns Jr/NBC
A Reddit discussion thread about "Chicago Med" Season 8, Episode 17 includes multiple comments about the trajectory of Dr. Will Halsted's character now that he's vocally interested in pursuing new arrival Dr. Grace Song. User mug3n, for example, wrote, "Will going for coworkers again... how many times is he gonna try before he realizes he needs to stop dipping his pen in company ink?" in the most upvoted reply to the original post.
Meanwhile, user katcloud thinks that Will's pursuit of Grace is merely the latest in a tired pattern, and even argued that Will and Grace don't have any palpable chemistry with one another. Similarly, user Misspunkag1984 kicked off a lengthier analysis of a few different storylines in the episode with, "Will, my fav gingy. Always making dumb decisions falling for coworkers knowing full well it won't end well."
The consensus among plenty of "Chicago Med" fans, then, seems to be that Will and Grace — though the name of their pairing might be fun — probably aren't meant for one another, and any relationship that may develop between them may well be doomed from the start.