Lee Child Personally Taught Alan Ritchson How To Be Jack Reacher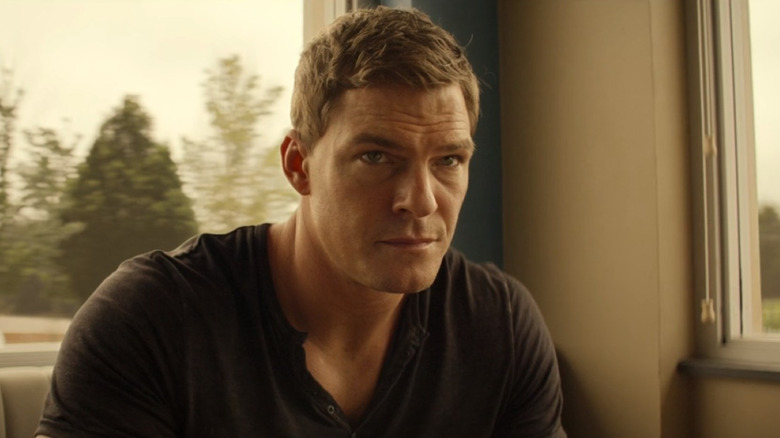 Amazon Studios
Although Lee Child's legendary literary character, Jack Reacher, had a divisive start on the live screen, Amazon seems to have found the formula in their series that became a hit on their streaming service last year. In the lead-up to the release of Season 2 of "Reacher," fans are looking forward to seeing the larger-than-life character come alive again thanks to Alan Ritchson's larger-than-life portrayal of the giant.
The story of how Ritchson developed his iteration of the character is a fascinating tale that leads back to the author himself. In an interview with Empire Magazine, Ritchson revealed that the author himself became his study for getting some of the more minor details of Reacher's tics. "I think the way that he kind of speaks out of the side of his mouth and the way that he kind of holds his face. In one of the books, he says something like, 'his face is frozen in a half smile, like somebody who's waiting to smile before the shutter releases on a camera' or something. That's where you start to really see Lee in Jack," he said.
While Tom Cruise may have caused a good amount of backlash with his casting due to the lack of physical stature that the character in the books has, Ritchson fits the bill as a beefed-up version the fans can get behind and maybe even hide behind if need be.
Jack Reacher is a beefed-up version of Lee Child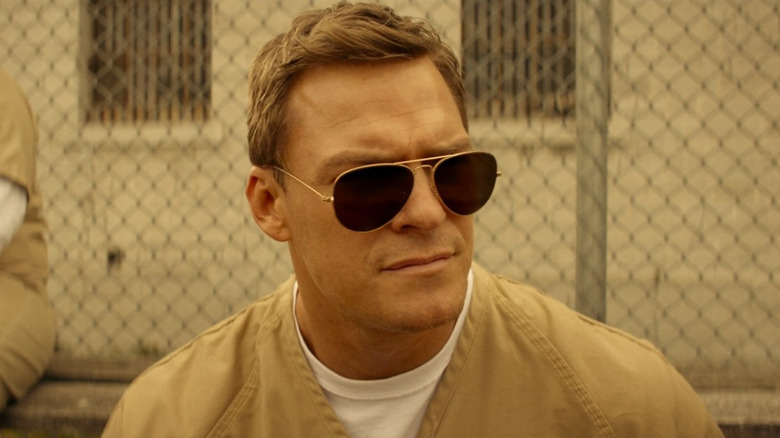 Amazon Studios
It can't be all that uncommon for authors to leave a little piece of themselves in their work, but from what Alan Ritchson says in the interview, there are many places where Lee Child injects little parts of himself into his hero. "He kind of holds himself in the same way, and injects his idiosyncrasies or his mannerisms into Jack throughout the series," the "Titans" actor revealed about Child. "Having spent time with him in person, I see a lot of that. I think he's embellishing the weight a little bit and the power just a hair, but where he doesn't have to embellish is in his intellect. He is one of the smartest guys. He's just a wealth of information and very funny. He's a lot of fun to talk to. The intellect that Reacher has is almost superhero-esque, a kind of intellect like Batman coupled with this raw power and propensity for violence."
The "Smallville" actor went on to reveal that he was passed over the first time he auditioned along with everyone else, perhaps due to the fact that he channeled Kevin Costner in "Waterworld" — maybe using one of the most reviled Costner movies of all time isn't the best approach. He then gave in to one of the most famous sentences that Lee Child adds to his books, "Reacher said nothing." Whatever he did to reverse the thoughts of his casting execs, the fans can rejoice in the final product. Alan Ritchson is the perfect live-action interpretation of Jack Reacher, and if they ever make a movie about Lee Child, he could also play a beefed-up version of the author.