How Alan Ritchson Behaves On Reacher's Set, According To Willa Fitzgerald
It's hard to get a read on "Reacher" star Alan Ritchson by solely judging the actions of his taciturn character on the hit Amazon Prime show. A hulking, former U.S. Army military police officer who stands six feet five inches, Ritchson's Reacher — the role was previously played in two "Jack Reacher" films by Tom Cruise — could easily be classified as the strong silent type.
Eventually, though, the likes of Margrave, Georgia, Police Captain Oscar Finlay (Malcolm Goodwin), and Deputy Roscoe Conklin (Willa Fitzgerald) get Reacher to open up as they undertake a murder investigation. In the process, the officials learn the ex-solider has no patience for tomfoolery in the people who cross him. But while Ritchson's Reacher has a seemingly impenetrable tough guy exterior, Ritchson the actor is actually quite different when the camera stops rolling, said Fitzgerald.
"Alan's amazing. I love Alan," Fitzgerald told the German media outlet Kinowetter. "He's such a fun person to work with on set. He is, you know, incredibly positive, very funny ... and also just such a good spirit. He has such great energy, and we had really fun chemistry off set, and I think that translated really nicely to our work together on set."
Reacher Season 2 recently wrapped up production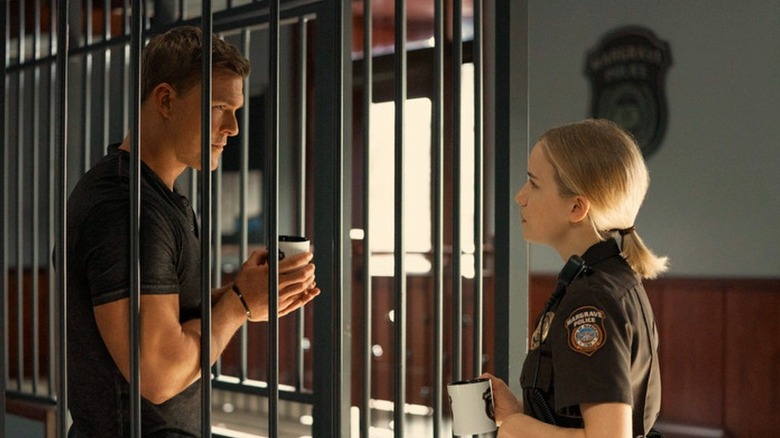 Keri Anderson/Amazon Studios
For fans patiently waiting on the next season of "Reacher," it's on the way, but there's no telling when that will be. The good news is it took a mere three days after the debut of Season 1 in February 2022 for Prime video to renew the show for a second season. The official Twitter account for the "Jack Reacher" books, @LeeChildReacher, has been posting updates on the series, and tweeted on March 4, 2023, that production had wrapped up for Season 2. In the tweet, Ritchson is standing next to a giant clapboard that states production has finished.
Unfortunately for fans, the two-dozen-plus "Jack Reacher" novels — which are penned by Lee Child — take place in different locations with different characters, which likely means Ritchson's co-stars Malcolm Goodwin and Willa Fitzgerald will not be returning for Season 2. The first season of "Reacher" was based on Child's first novel featuring the character — "Killing Floor" — while Season 2 will key in on the storyline of the author's 11th novel, "Bad Luck and Trouble."
With any luck, Ritchson's co-stars for "Reacher" Season 2 will find the same sort of fun chemistry with the actor that delighted Fitzgerald during the production of Season 1, as well as the moments of levity that Ritchson was surprised to find out playing the character over the series' first eight episodes.