The Office Couple That Was A Real-Life Romance Off The Set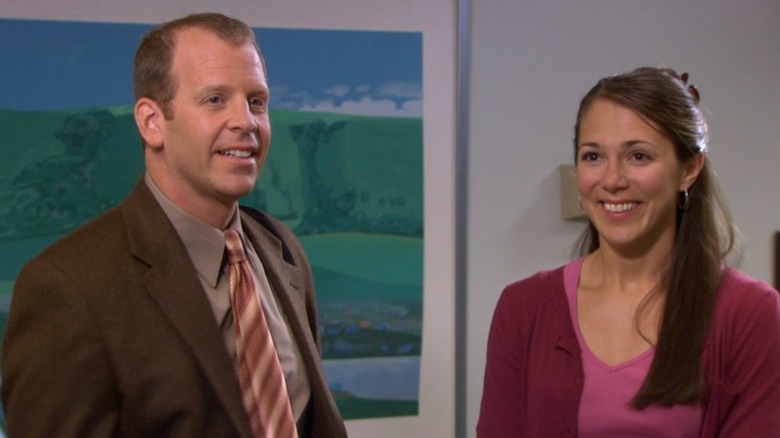 NBC
"The Office's" Paul Lieberstein is a writer, producer, director, and showrunner but is best known as the actor behind our favorite Dunder Mifflin human resources rep, Toby Flenderson. Despite being relatively mild-mannered, he has a passive-aggressive streak and inspires extreme hatred from Michael Scott (Steve Carell), who resents Toby for always ruining his impulsive or dangerous ideas. While admitting he doesn't have a passion for his work, it doesn't seem as if Toby has a passion for much of anything — except, of course, Pam (Jenna Fischer). While he almost told her about his crush in Season 3, it didn't happen, and he spent a decade pining for her.
In the Season 5 two-part episode "Dunder Mifflin Infinity," Toby discovers that Pam and Jim (John Krasinski) are dating and spitefully sends out a memo condemning PDA in the office. Then, in an attempt to make Pam jealous, he shows up at work with his girlfriend, Amy (Janine Poreba), and passionately kisses her in front of her and Jim. Janine Poreba didn't just play Lieberstein's girlfriend but was his real-life girlfriend. The two got married in 2008 and have been married ever since.
His wife has roles in many of his projects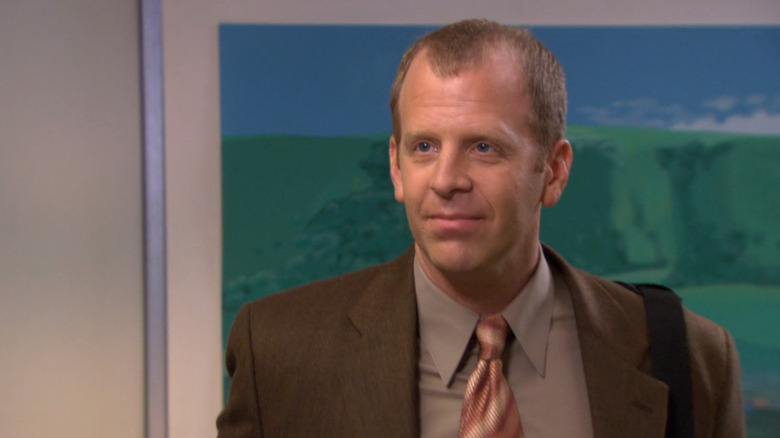 NBC
Janine Poreba is a pretty private individual and isn't active on social media. Before her appearance on "The Office," she had a small role as Girl in Season 11, Episode 19 ("Whiplash") of "Law & Order." It's obvious she supports her husband, playing the character Tracey in Lieberstein's directorial film debut, "Song of Back and Neck," which came from an idea his wife helped inspire. "I had this awful back pain for over 20 years, and I saw everybody and did everything about it. Then my wife gave me this book and three days later, my back pain was gone for good," he told the Observer. Poreba also played Derby in his TV movie, "Out of the Office," and appeared on his podcast series, "Middlespace: The Rebels Attack, and Then the Other Side Attacks as Well" (via IMDb.com). 
Besides having his girlfriend/future wife appear on the show, Paul Lieberstein really couldn't go to work at "The Office" without also being around family. His brother, Warren, was married to Angela Kinsey, who plays the conservative, authoritarian Angela Martin, until 2010, and his sister, Susanne, has been married to Greg Daniels — who developed "The Office" — since 1991. 
Lieberstein has been busy since "The Office" ended and is currently the showrunner and executive producer of "Lucky Hank," Bob Odenkirk's newest series.