Ted Lasso Fans Are Buzzing Over Roy's Iconic Princess Diaries Reference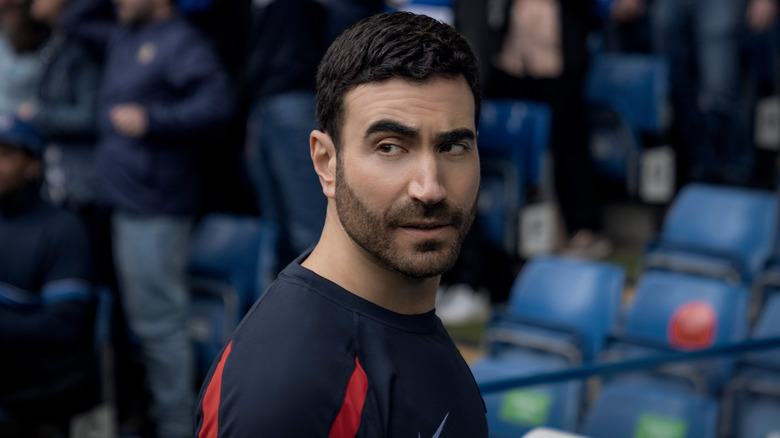 AppleTV+
Contains minor spoilers for "Ted Lasso," Season 3, Episode 3 — "4-5-1"
The world patiently awaits any updates on "The Princess Diaries 3," but at least it doesn't seem like we're alone. It looks as if the AFC Richmond coaching staff from "Ted Lasso" is equally as excited by the idea, with Trent (James Lance) and Roy (Brett Goldstein) voicing their support for the iconic Disney comedies.
Season 3, Episode 3, "4-5-1," featured a roundtable of the coaches putting forward their favorite Julie Andrews roles. They covered all of the go-to's, including Maria from "The Sound of Music" and Mary Poppins from, of course, "Mary Poppins," but Trent offered a unique but correct take: Clarisse Renaldi, Queen of Genovia. The answer then prompts Roy to give an incredible reply, stating, "F*** yeah, 'Princess Diaries,'" proving that "Ted Lasso" can still make fans love it more.
Roy's tough exterior doesn't give off an "obsessed with Julie Andrews" vibe, but his strong feelings towards "Princess Diaries" show he's just a lovable softy on the inside. On Reddit, u/Lyrawhite said, "'F*** yeah, Princess Diaries.' God, I love Roy Kent. I can only imagine how many times he watched this movie," while u/Stonewolf87 suggested that the comment seemed like a little bit of Goldstein peaking out from behind the Roy Kent curtain.
Fans are living for Roy Kent's Princess Diaries era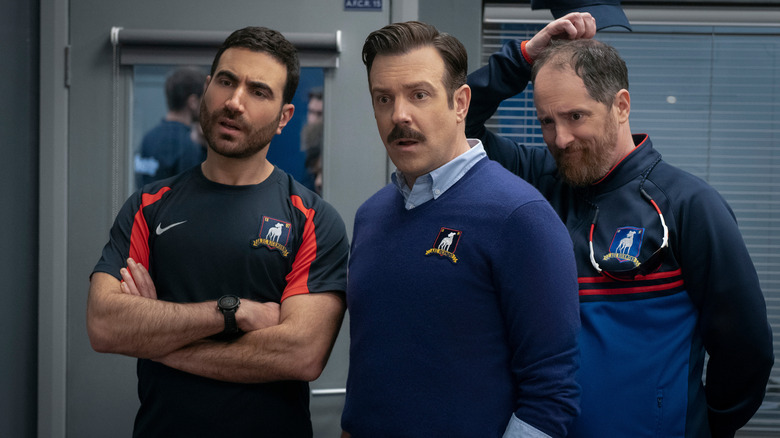 AppleTV+
Roy Kent's love for "The Princess Diaries" proved that even after all this time, "Ted Lasso" still has secrets to reveal about its fan-favorite characters. On Twitter, @lou_815 wrote, "Roy Kent saying 'F*** yeah, Princess Diaries' is my favorite thing this year so far," while the comment made @balfescoconut's day, giving them an early win to start the day. @Ladyccrawley couldn't believe the fandoms that Roy Kent associates with, saying, "Roy Kent?? the sound of music and the princess diaries stan?? MY MAN."
Other fans pointed out that the random "Princess Diaries" callout further cements the greatness of "Ted Lasso." @Lill_waters said, "Trent Crimm (Independent) picking Queen Clarisse Renaldi and Roy Kent responding excitedly 'Princess Diaries' is the reason 'Ted Lasso' is absolute perfection." @JessicaHarries couldn't get enough of the reference, calling the series "absolutely ridiculous" but loving every minute.
However, @aylinishere made a good point, pointing out that the AFC Richmond coaches called the reference a "deep cut," stating they grew up on the "Princess Diaries" movies. @Sudslasso stood up for the younger audience, saying that the older Julie Andrews projects they listed are deeper cuts than "Princess Diaries," proving there is an entire generation that grew up on the series.
Whether you associate Julie Andrews with "The Princess Diaries," "The Sound of Music," or any other project, it's clear that there's still plenty of love in the world for the actress. Hopefully, this shows her that her fans need her to return for "Princess Diaries 3."