Julie Andrews Casts Major Doubt On Returning For Princess Diaries 3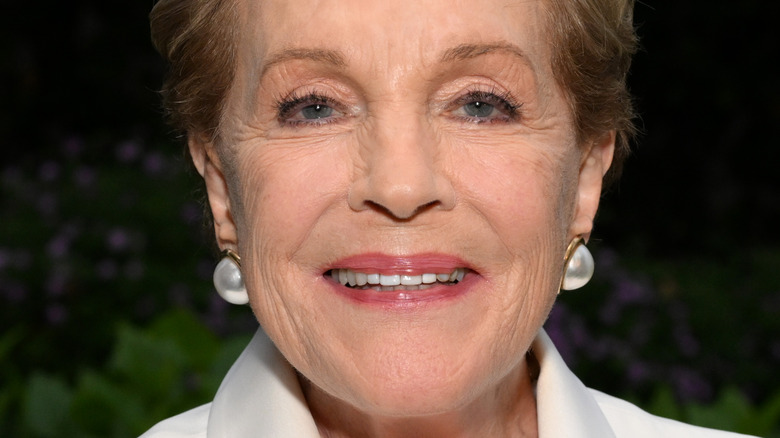 Michael Kovac/Getty Images
Fans of the 2001 hit film "The Princess Diaries" and its 2004 sequel "The Princess Diaries 2: Royal Engagement" recently rejoiced when news broke of a forthcoming third installment. Eighteen years after Mia Thermopolis (Anne Hathaway) was crowned Queen of Genovia, and her grandmother Clarisse Renaldi (Julie Andrews) tied the knot with her right-hand man Joe (Héctor Elizondo), a brand new script is being penned by Aadrita Mukerji (via The Hollywood Reporter). However, not every beloved character is definitely returning for the project.
It's difficult to imagine any "The Princess Diaries" film without its two leading ladies. Beginning with the inaugural movie, which raked in $165,335,153 worldwide at the box office (via Box Office Mojo), Hathaway and Andrews have an undeniable chemistry on screen. From Mia and Clarisse's rather tense first days together to the grandmother/granddaughter bond that's formed by the end, their relationship is a massive part of the flick. This continues into the sequel when Clarisse passes the crown to Mia.
In an interview with ET, Hathaway expressed excitement over the possibility of reprising her role and working with Andrews once again. She said, "I would more than entertain it. I'm pulling for it. If there's any way to get Julie Andrews involved, I think we would make it work. We would go to where she was and put a green screen behind her and just make it happen."
Yet according to comments made by Andrews, audiences shouldn't get their hopes up too high for a Clarisse appearance.
Julie Andrews 'probably' won't be involved in third Princess Diaries
Julie Andrews recently revealed some heartbreaking news — it's doubtful that she'll be involved in the highly-anticipated third "The Princess Diaries" film. The 87-year-old actor told Access Hollywood, "I think we know that it's probably not going to be possible. It was talked about very shortly after two came out, but it's now how many years since then? And I am that much older and Annie the princess, or queen, is so much older. And I am not sure where it would float or run. In terms of us doing it, I doubt that now."
Many fans expressed their devastation over this news and admitted that they're now less keen on the film. On Twitter, @emviega said, "Then I don't think I want it," while @gmizrachi exclaimed, "Nooooooo!!"
Still, when taking into consideration Andrews' credits these past few years, it's not surprising that such a large undertaking is unlikely. The "Mary Poppins" star has mostly been doing voice work for various projects, including as Lady Whistledown on "Bridgerton," Gru's Mom in "Minions: The Rise of Gru" and Karathen in "Aquaman," among others (via IMDB).
Though it seems a detailed Clarisse plotline — including how her marriage to Joe has flourished over the years — isn't going to happen, Andrews didn't explicitly give a concrete "no." It's possible that she can have a small cameo, whether it's a physical presence or simply her voice, which would be special for her fans and co-stars alike.
Regardless, for those who grew up waiting for the perfect "foot pop" moment and believing that "miracles happen," returning to Genovia after nearly two decades will certainly be a nostalgic experience.