Concept Art Of Zac Efron As The Human Torch Was 'Perfect' Casting To Marvel Fans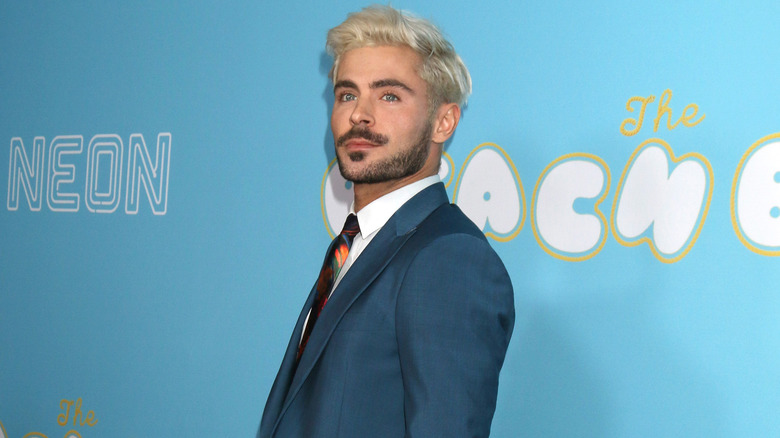 Kathy Hutchins/Shutterstock
Two things are indisputable for "Fantastic Four" and Zac Efron fans. First, Efron wants to join the Marvel Cinematic Universe. After all, he said as much in a 2022 interview with Extra TV in which he claimed, "If the right character comes along ... I would jump at the opportunity." Additionally, Efron seems like the ideal Human Torch. It's perhaps this perfect storm of desires, then, that led artist Yadvender Singh Rana to imagine Efron as the Human Torch on Instagram, quickly delighting proponents of the Efron-as-the-Human-Torch movement.
"@zacefron is perfect for the human torch," wrote @t0mm45 in reply to the art, which features a smoldering Efron next to Captain America. "This right here," wrote @ametakinetos. "Love it!!!" Overall, the juxtaposition has not only reminded fans of Chris Evans' past stint as Johnny Storm, aka the Human Torch, but has also drawn more calls for Efron to take over the role from him.
Fans think Efron looks right at home in the role
Unfortunately, fan art is not a prediction of things to come. However, that hasn't stopped commenters from clamoring for Zac Efron as the Human Torch. "Zac would be an incredible choice for the role, please make this happen @marvel," wrote @portiz1nin, while @foreignfaygo eloquently claimed, "Zack [sic] would be a good ass [sic] fit for the [H]uman [T]orch."
Not everyone was a supporter of Efron in the role, though. In fact, it appears that there is at least one "Fantastic Four" purist out there in the world. @rhyslittlespoon wrote, "Honestly now that Chris Evans isnt Cap anymore, let him bulk down a bit and return as Johnny!"
Of course, it's anyone's guess whether Chris Evans fans would approve of him "bulking down" his now iconic physique. But it's certainly looking like there's a strong case for Efron, not Evans, suiting up as Johnny Storm in the future.