The Fantastic Marvel Role Chris Evans Wouldn't Mind Revisiting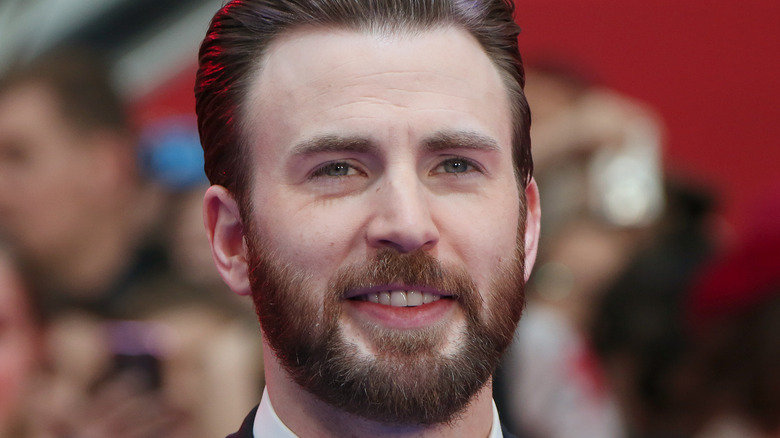 BAKOUNINE/Shutterstock
Chris Evans is no stranger to playing iconic characters. This year has even seen Evans offer his subtly different take on Buzz Lightyear, one of Pixar's most beloved characters, in "Lightyear." Additionally, while Evans is likely best known for his performance as Steve Rogers AKA Captain America in the Marvel Cinematic Universe, that role did not mark the first time that he played a well-known superhero on-screen. As a matter of fact, six years before Evans made his debut as Steve Rogers in 2011's "Captain America: The First Avenger," the actor appeared for the first time as Johnny Storm AKA The Human Torch in 2005's "Fantastic Four."
Unlike "Captain America: The First Avenger," which earned a fairly strong 79% Tomatometer score on Rotten Tomatoes, "Fantastic Four" was not received well by critics. The film currently holds a 28% Tomatometer Score, while its sequel, 2007's "Fantastic Four: Rise of the Silver Surfer," boasts only a slightly better 37% score (via Rotten Tomatoes). The latter film marked the last time that Evans appeared as Johnny Storm on-screen, and four years after the release of "Fantastic Four: Rise of the Silver Surfer," the actor made his 2011 MCU debut as Steve Rogers.
In other words, Evans has not appeared as Johnny Storm in a movie since 2007. However, it sounds like the former MCU star isn't opposed to reprising his role as the fiery Fantastic Four hero.
Chris Evans is open to playing Johnny Storm again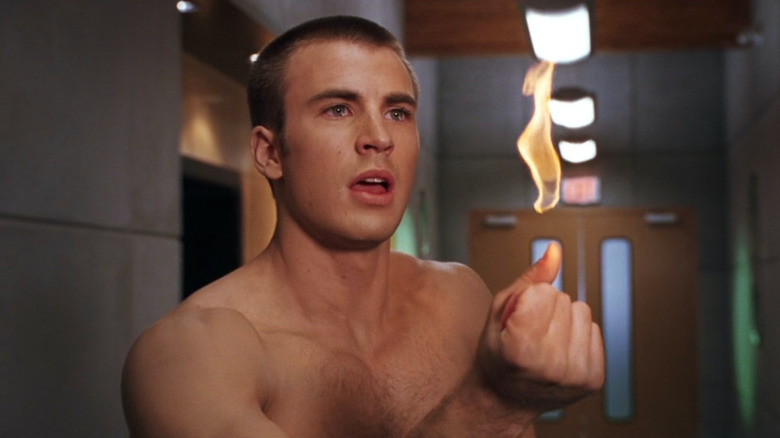 20th Century Fox
It has been rumored for some time now that Marvel Studios might bring Chris Evans back to the MCU as an alternate reality version of Johnny Storm. Those rumors remain unsubstantiated, but when he asked about them in a recent interview with MTV News, Evans said, "God, wouldn't that be great? Wouldn't that be great?"
The actor went on to confirm that, although he has not yet been approached by Marvel about reprising his role as the Human Torch, he would be open to playing the character again — even if it was just as a multiversal variant of Johnny Storm. "I guess all bets are off. ... I would love it. That would actually be an easier sell to me than coming back as Cap," Evans said. The actor added, "Johnny Storm, I feel like he didn't really get his day. That was before Marvel really found its footing. So I loved that role and, you know, who knows?"
Evans did note in the interview that Marvel Studios is currently developing its own take on the Fantastic Four. However, there's still a lot of mystery surrounding the Fantastic Four's future in the MCU. As a matter of fact, while John Krasinski briefly appeared as Reed Richards in "Doctor Strange in the Multiverse of Madness" earlier this year, it has yet to be confirmed if his iteration of the character is the MCU's prime version of Mister Fantastic or just a variant of him.
All of which is to say that, given how little is known about Marvel's plans for the Fantastic Four, there is still a chance that Evans could one day reprise his role as Johnny Storm in the MCU. Of course, fans will have to wait to see whether or not that ends up actually happening.