Gilmore Girls Fans Never Understood The Friday Dinners
Long before "The Marvelous Mrs. Maisel," Amy Sherman Palladino's "Gilmore Girls" was such a massive hit that fans are still talking (and complaining) about it years later. The series premiered in October 2000 and ran for six full-length seasons on what was then the WB network, predecessor to The CW, which aired the show's 7th and final season in 2007. It was so successful, gaining even more fans through streaming on Netflix, that the streamer ordered a short series of four new 90-minute episodes, called "Gilmore Girls: A Year in the Life," nine years later in 2016.
As headstrong single mom Lorelai Gilmore (Lauren Graham) and intellectual daughter Rory (Alexis Bledel) deal with the wacky inhabitants of their small town of Stars Hollow, Connecticut, they're also trying to rebuild Lorelai's fractured relationship with her mother and father, Emily (Kelly Bishop) and Richard (the late Edward Herrmann). One way they attempt to do that is through their often-forced family Friday Night Dinners at Richard and Emily's house. Even now, seven years after the miniseries ended, fans on Reddit still don't fully understand the "FNDs."
In a Reddit thread asking for people's "dumbest nitpick" about the show, u/Pearls_and_Flats listed the FNDs as theirs. "Why Friday night dinners?" they asked. "If Lorelai and Emily were going to make a standing weekly appointment to see each other, Friday is literally the worst night." They listed lots of reasons why this is so, leading to other comments about the dinners and their timeline.
Emily Gilmore chose Fridays intentionally to exert her power
In the Reddit thread, u/Pearls_and_Flats gives several reasons why Friday is a terrible choice for having their family dinners, essentially boiling it down to the fact that all three of the women would have other things to do on Friday nights. Emily, as a socialite, would likely have fancy events to attend, Lorelai would probably need to be at the inn she owns, to host events and take care of potential emergencies, and Rory is a teenager who would probably much rather be out on dates or at parties. As u/pinkpink0430 said, "Sunday night dinners would solve so many problems."
But it's likely because of those other options that Emily insists on Friday nights. "It's ~because it's the most inconvenient and wack night," u/doyoulovethebeatle said. "Emily loves power." u/Poutine_My_Mouth agreed, adding, "Yeah, and if they have to cancel because of a social event, a make up night is another thing they owe to Emily." It seems to illustrate how controlling Emily and Richard are over Lorelai's life.
However, one Redditor poked a hole in u/Pearls_and_Flats' theory. "Fundraisers and fancy corporate dinners actually rarely happen on Fridays," they said, explaining that they're usually on Saturday evenings, to give women the day to prepare. But they also acknowledged Emily's exertion of power. "Friday night makes the most sense for Richard & Emily, and they were both significantly more selfish at the beginning of the series so what do they care if it inconveniences Lorelai and Rory?" they continued.
There are too many hours in the day in Stars Hollow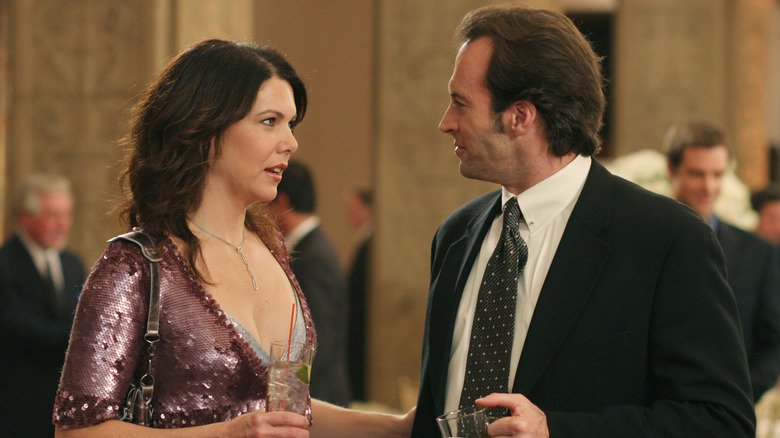 The CW
Pearls_and_Flats' nitpick about Friday Night Dinners also bothered u/trainsounds31, who specified, "it's not even like they majorly use it to progress the story anyways." FNDs rarely seem to stop Lorelai or Rory from making plans for after dinner. This brought up several questions about the timeline in Stars Hollow, particularly of FNDs.
"I've never understood the timeline of Friday Night Dinner," u/BuffaloEnough703 said. "They arrive at 7, as per the agreement. But yet dinner is also served at 7, despite there always being a cocktail hour." Add to that some 20 to 30 minutes of travel time, and the fact the dinners have several courses. It doesn't seem likely that they'd have time for other plans after dinner — or that there's much to do in the small town past 9 p.m. Though in a separate thread dedicated to the timeline for FNDs, one commenter mentioned they likely arrive around 6 p.m., not 7.
As far as post-dinner activities, u/karenosmile made a very important point. "Luke stays open late on Friday nights providing regular therapy sessions post-FND." This does seem to be quite a long day for Luke (Scott Patterson). "Yeah. According to what's shown, Luke works about 15 hours a day 7 days a week," u/Pretty_Ad_8197 pointed out. "That would be such a miserable existence if it were real." But perhaps it's not as bad as it seems, because as u/loveofGod12345 pointed out, "The show is in a universe that has more than 24 hours in a day lol."