Sylvester Stallone Jumped At A Chance To Be In Tulsa King (& Fulfill A Dream)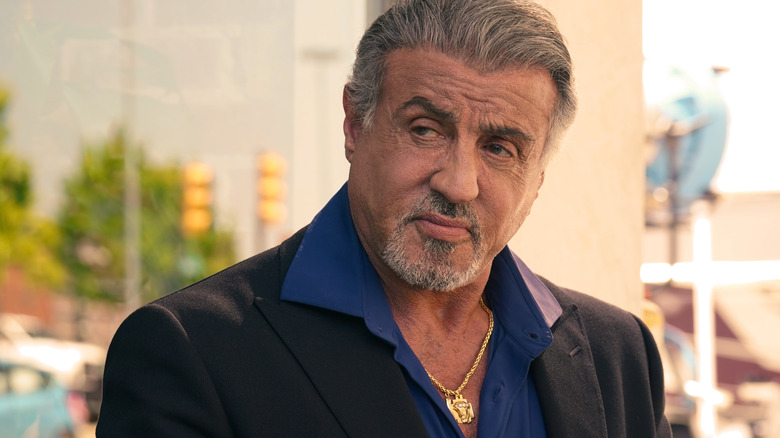 Brian Douglas/Paramount+
Action megastar Sylvester Stallone finally made the jump to television with the Paramount+ series "Tulsa King." In it, he plays Dwight "The General" Manfredi, a Mafia crime boss who was released from prison after a 25-year sentence. He's a fish out of water in Tulsa, Oklahoma, where he begins to set up his new mob organization. Not only is this Stallone's first TV outline, but it's the first time he really gets to play a gangster. That's something the actor has wanted to do for a long time.
According to an interview with USA Today, acting in a mob-related project has been a long time coming for the action star. Stallone said, "I made this a quest: 'Someday, I'm going to play this Mafioso type, which I can embody quite authentically.'" It wasn't for lack of trying, either. The "Rocky" star tried to get into movies made by Mafia movie experts Francis Ford Coppola and Martin Scorsese, dating back to Coppola's 1972 classic "The Godfather."
Stallone recalled a conversation he wanted to have with the legendary "Goodfellas" filmmaker, "I wanted to grab Scorsese by the shoulders and go: 'What are you waiting for? You mean I don't look thuggish enough?'"
Now that he finally gets to check the crime genre off his to-do list, he admitted that it wasn't easy despite it being something he's always wanted to do. Stallone said of filming in Oklahoma, "Wonderful people, but a tough piece of topography. It's called the Badlands for a reason. Hail one day, then it's 100 degrees, then an air raid siren is going off for a tornado." He continued, "It was brutally intensive."
Stallone realized that streaming was the way to go
The time has finally come for Sylvester Stallone to fulfill his dream of playing a mobster as he brings Dwight Manfredi to life for the Paramount+ series in "Tulsa King." While a screen version of the mob has been something Stallone has always wanted to get into, streaming or television wasn't always in the cards for the big-time movie star. However, Stallone noticed a change in the industry, saying, "It's an evolutionary process – either adapt or you cease to exist. The golden era of film I came up with, in the 1970s and '80s, is gone. These days, the best talent, directors and writers, are going to streaming."
Stallone is trying to get another actor from that golden era with deep ties to the crime genre, Al Pacino, into the series at some point. Stallone said, "And [Pacino] was ready to go, until there were scheduling conflicts, But there are people popping into 'Tulsa King,' and I hope it's him soon. He's amazing. We have to work together." The series was renewed for a second season, so fans will have to wait and see if a Stallone-Pacino team-up comes to pass in "Tulsa King."
When asked about returning for another season, Stallone said, "Is the pleasure of performing worth the pain of being isolated, away from your loved ones? That will have to be debated." It looks as if Stallone will indeed be back for Season 2. No return date has been revealed at this time, but it also looks like a "Tulsa King" universe may be on the horizon as well.