Modern Family Fans Loved Lily's Tender Background Moments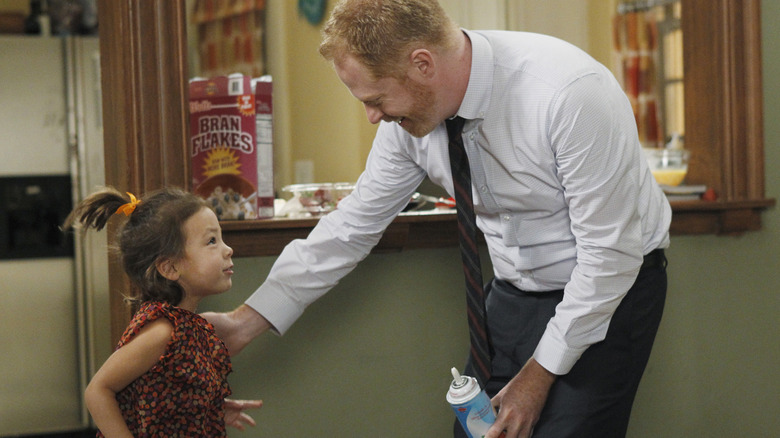 ABC
By the final season of "Modern Family," Lily (Aubrey Anderson-Emmons) was a headstrong, sarcastic, and rebellious teen with a flair for the dramatic. The combination was enough to make her parents, Cam (Eric Stonestreet) and Mitchell (Jesse Tyler Ferguson), both confused and elated. But Lily wasn't always a sassy young woman. At the start of the series, Lily was just a cute baby played by two twin actresses named Ella Hiller and Jaden Hiller before being replaced by Anderson-Emmons, that is. And judging by the r/Modern_Family subreddit, those halcyon days for Lily were a panacea for fans — especially when Lily interacted with other characters.
"Sometimes when the main interaction is happening in a scene, there's just Haley or Alex or Gloria being all cute with Lily, like playing with a toy with her, giving her a snack, or her just sitting on their lap," wrote one Reddit user. "It's just a nice adorable background thing that I've noticed." Then, other users chimed in with their thoughts, revealing an overwhelming love for young Lily.
Some fans wanted the interactions between Lily and her family to continue
While many fans agreed that those early scenes with Lily were cute, others noted a lack of similar interactions once Lily grew up. "I've noticed those too," wrote u/Adorable_Front2253 in reference to scenes between Lily and her extended family. "Which is why it's disappointing that Lily isn't closer to any of them as she gets older." 
Of course, Lily also became more sarcastic and cynical once she grew up, due in no small part to the fact that her kooky cousins, aunts, and uncles had always been engaging in wild antics around her. But other users seemed to agree with the comment that Lily could have become closer to other characters on "Modern Family." "As Lily, she doesn't seem to have formed a closeness with anyone, including her fathers," wrote u/Patient-Panda-714. Added another Redditor, "They all developed their own relationships with [Lily] when she was young and it would've been awesome to see how those relationships grew as she got older."
While it's too late to revise Lily's story on "Modern Family," there are at least those early scenes of Lily with her family to keep fans feeling warm inside. After all, who doesn't love watching Haley (Sarah Hyland) sneak snacks to Lily as their other family members argue?